Taking a family trip to Jackson Hole? Epic National Parks, world-class ski resorts, and wildlife: Jackson Hole is full of adventure!
FUN FAMILY ACTIVITIES NEAR JACKSON HOLE, WY
Jackson Hole is everything. It's a mountain, a valley, a town, a way of life. There are so many activities for families to do, it almost requires multiple trips out there. At least a summer and a winter trip, for sure. With the gates of Yellowstone National Park just on the horizon, and the Snake River passing by, Jackson Hole is truly an adventure seeker's paradise. Pack up your gear, grab the kids and their gear, and set your sights on western Wyoming. You'll be glad you did.
1. HIT THE SLOPES WITH THE FAMILY
Enjoy a half-day being driven around Grand Teton National Park as you explore wildlife and take in the scenery. Choose from a morning tour or afternoon tour and get ready for excitement. The tour guide will pick you up at your hotel in Teton Village or Jackson and drop you off afterward. This is a memorable way to experience a significant portion of The Tetons.
Few people have the willpower to visit Jackson Hole and skip Yellowstone National Park. There are many ways to tour Yellowstone, but having a personal guide take you to many of the attractions, and provide a private picnic lunch – now that is luxury. Make sure your camera is ready, you will need it!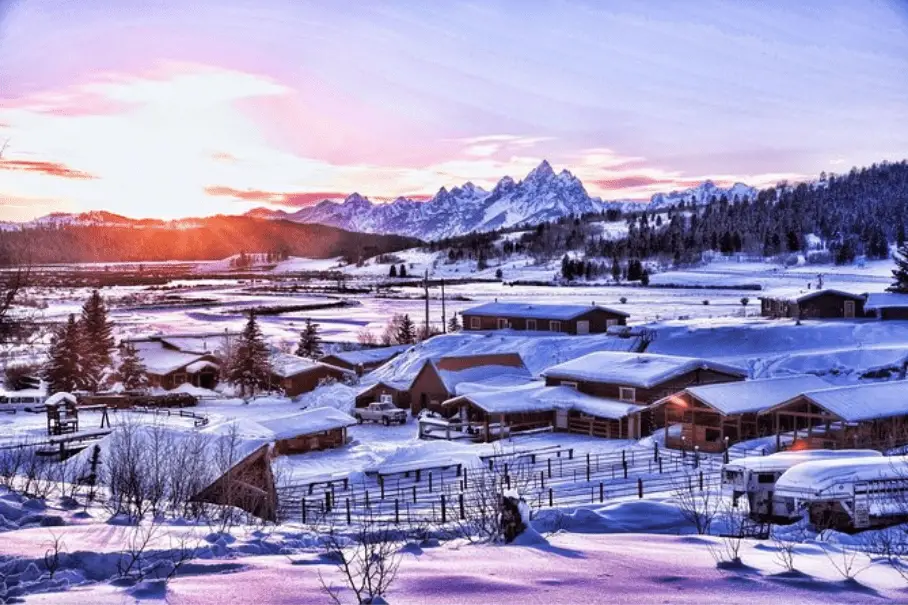 Want a real thrill? Pack a lunch and spend the day snowmobiling at the Heart Six Ranch in Moran, WY. The guides will help with any issues you may encounter operating the snowmobile, as well as share their wisdom on all things related to local wildlife and ranch life. I won't blame you for not wanting to leave. The first time I stepped foot on the ranch was when I was a kid for a weeklong trip to ride horses and fire black powder muskets. If you want to book a longer stay at the Heart Six Ranch, you may not want to leave either.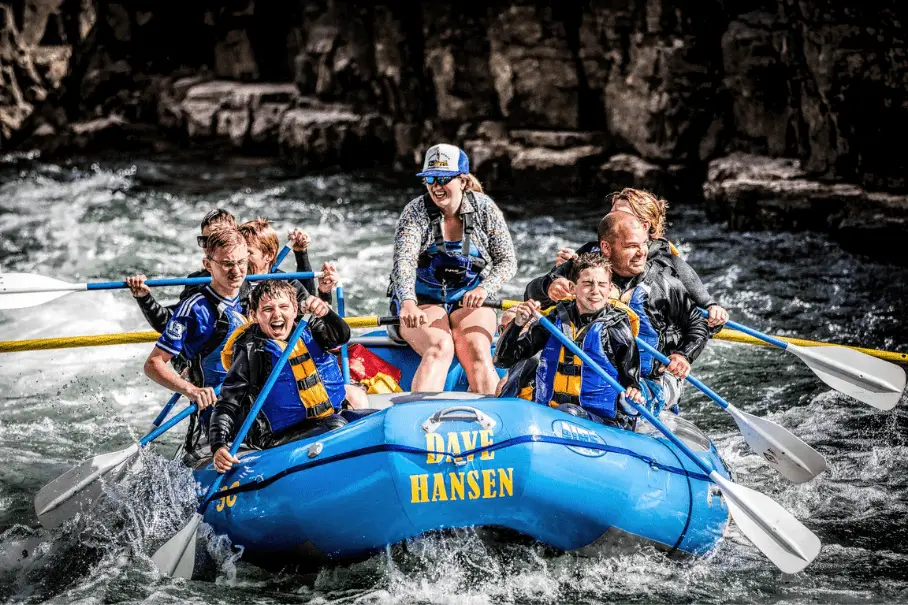 Load the family up in a raft and float down a portion of the Snake River in Wyoming! If you haven't been on a guided raft tour, then you are surely missing out on a lot of natural beauty and wildlife. River otters are not exactly visible from the window of your car in most regions. Have a chance to see bald eagles, moose, and deer as you learn about the geology and history of the Snake River. This isn't a whitewater trip (that can be found here), so all skill levels are encouraged to go!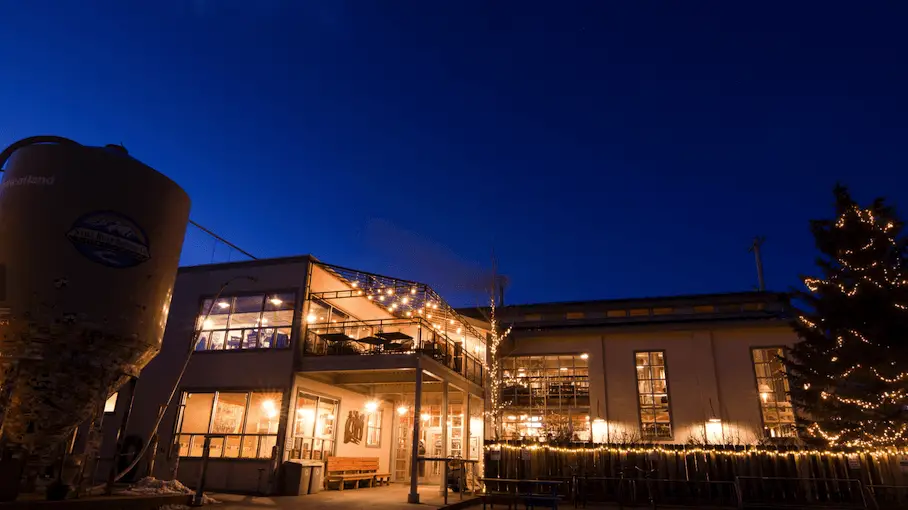 6. EAT DINNER AT WYOMING'S OLDEST BREWERY
Gather around the table and dine on some bison chili and wood-fired nachos at the oldest brewery in Wyoming. This 2x Small Brewery of The Year winner has an impressive menu of both tasty brews and foods to satisfy the most foodie of foodies. And before the kids ask, yes, they do serve chicken fingers and french fries.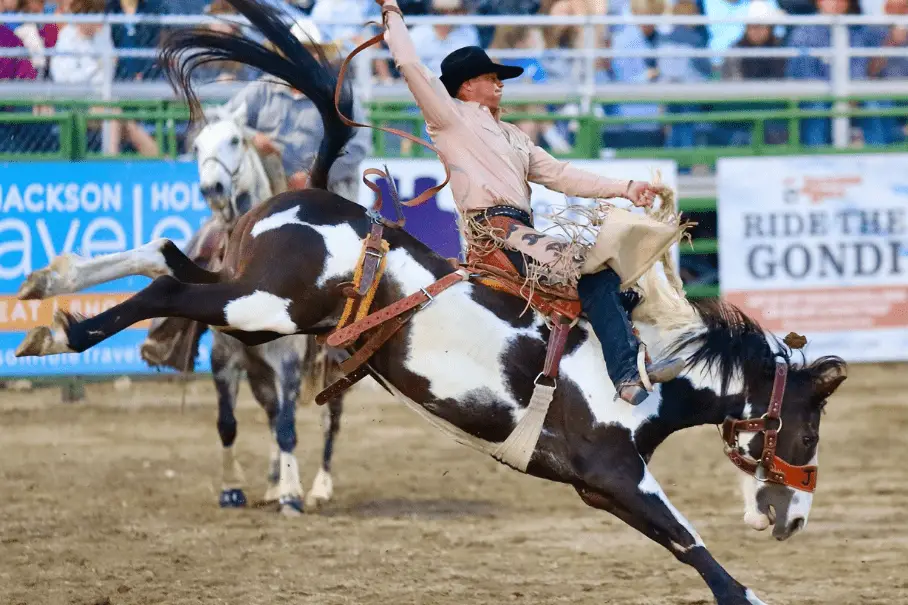 7. CHEER ON YOUR FAVORITE COWBOYS
The Jackson Hole Rodeo has been thrilling families at the base of Snow King Mountain for over 100 years. No family trip to Jackson Hole during the summer is complete without watching this display of man vs. animal. Kids under 2 years old are free, and the rodeo is scheduled for 2 or 3 events per week.
As I have stated before, dogsledding dogs are tough as nails. From braving the cold to hauling humans and gear, these furry little guys are impressive. Bring the family back on over to the Heart Six Ranch and experience an adventure in the same fashion as the original fur traders. Watch the mushers as they work with highly trained dogs, and take in the ever-changing scenery from the sled.
One of my favorite "wow moments" was hopping on a snowmobile and racing through The Tetons and then enjoying a soak in the Granite Hot Springs at the halfway point. There are changing areas at this natural spa, and the water is always warm. This activity can be enjoyed as part of a large group, or gatherings as small as 8 people. The half-day Granite Hot Springs Snowmobile Tour guided by the Teton Touring Company is the best.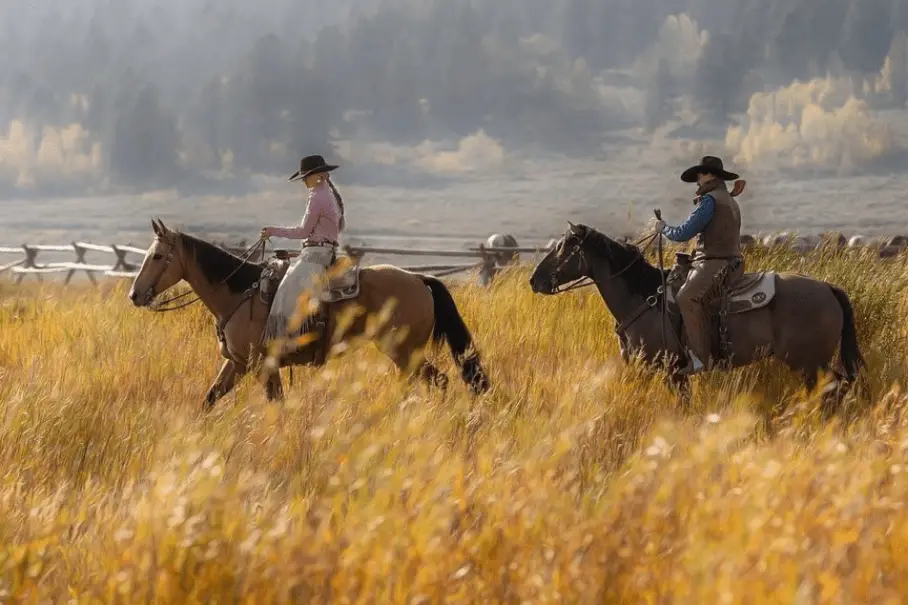 When the weather warms up, and the chairlifts shut down, the fun doesn't stop. Channel your inner cowboy and saddle up for a family-friendly must-do. Taking a trail ride through Bridger-Teton National Forest is an unparalleled experience. Surround yourself in the solitude of nature and enjoy the views from the side of the horse trails. Children 6 years and older can enjoy the ride as well!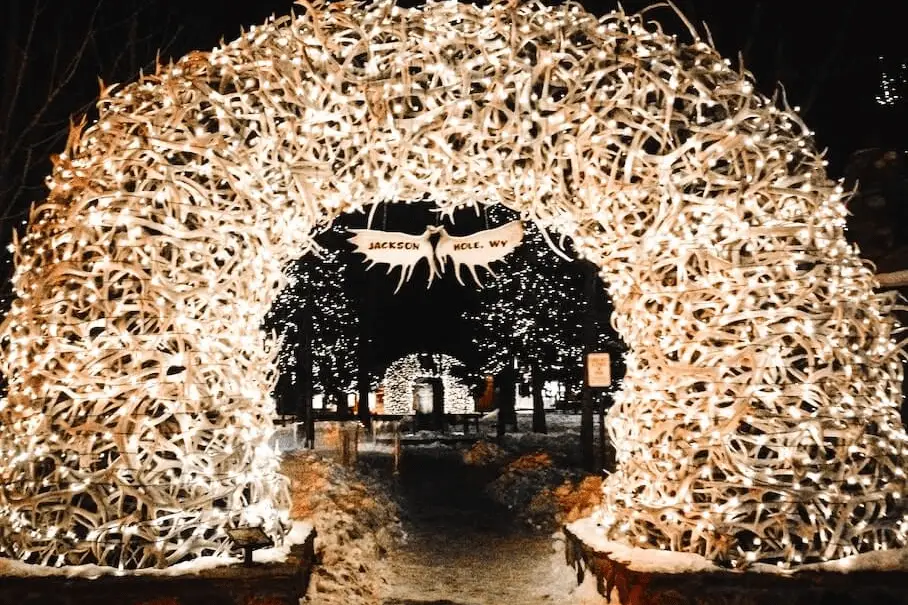 11. TAKE AN INSTAGRAM WORTHY SELFIE AT THE ANTLER ARCHES
Before you do the Texas Two-Step at the Million Dollar Cowboy Bar, make sure you go across the street and snap a pic of you and the family at the Antler Arches as proof of your epic family trip to Jackson Hole.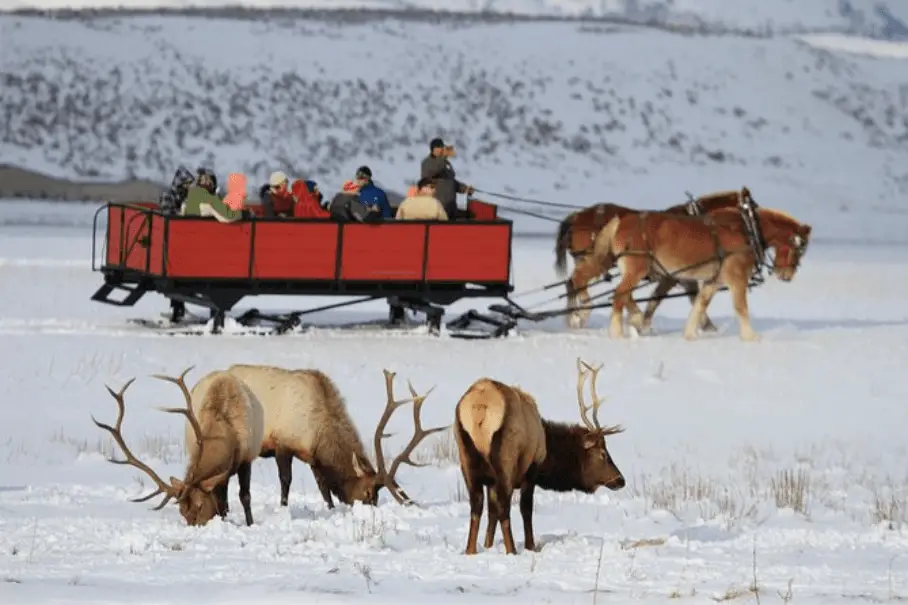 It's rather hard to sneak up on a herd of elk while riding a snowmobile. For that reason, I strongly suggest you take a full-day wildlife safari while bundled up in a horse-drawn sleigh. The Grand Teton and National Elk Refuge is open all year, however, during the quiet winter months, the crowds have thinned out, making photo opportunities almost limitless. Don't forget your DSLR camera!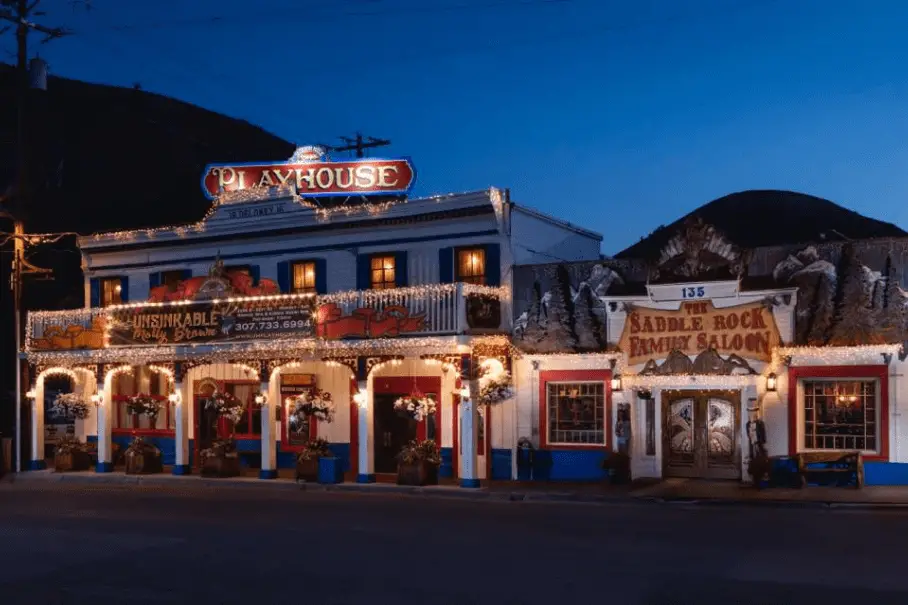 13. ENJOY THE LOCAL PERFORMING ARTS
In the words of The Playhouse "We are committed to bringing people together through art, fine dining, laughter, and community." Come and support the local arts community by taking in a performance at this dinner theater set in a 100-year-old building!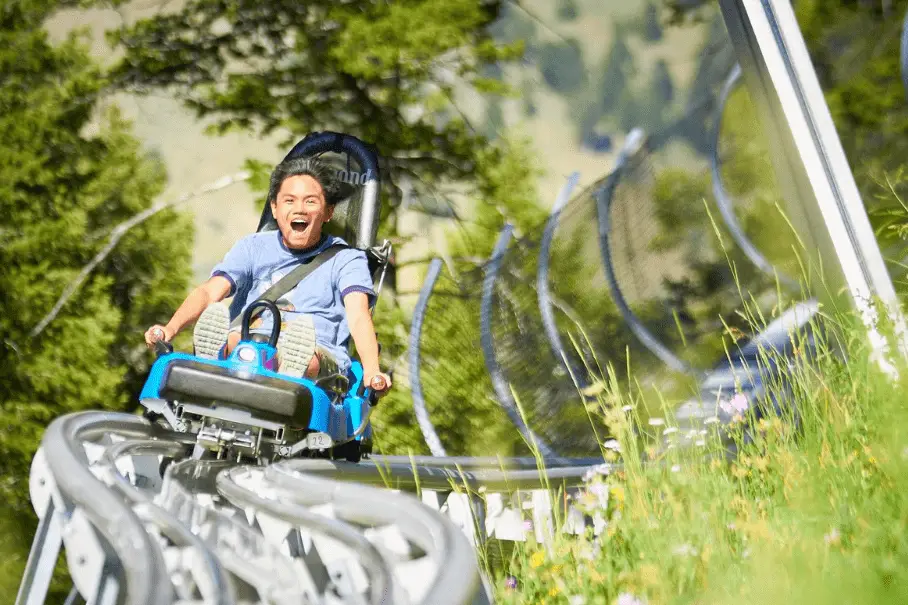 14. GLIDE DOWN A MOUNTAIN ON AN ALPINE SLIDE
The Cowboy Coaster at Snow King Mountain is thrilling from start to finish. The ride takes you up almost 500 feet before letting gravity take over and you go racing down almost 45 stories twisting and turning the whole time! Bring your GoPro to take an epic first-person video of the ride!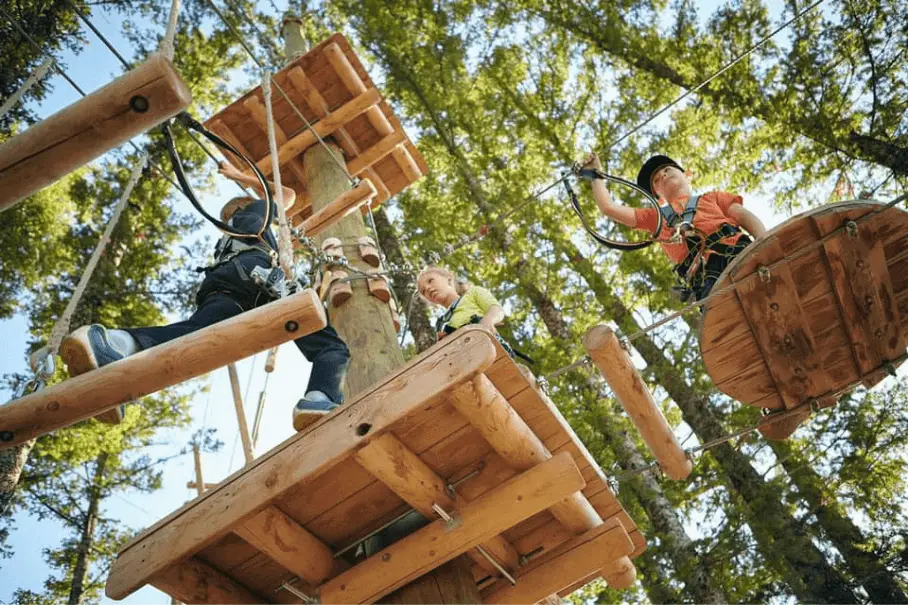 15. ENJOY A TREETOP ADVENTURE
If the idea of the Cowboy Coaster at Snow King gets your heart racing, then you will surely enjoy their Treetop Adventure. This ropes course and zip line complex has 7 different routes. Some for kids, some for daring adults. Test your balance, while strapped in of course, by crossing swinging logs and even riding an aerial skateboard!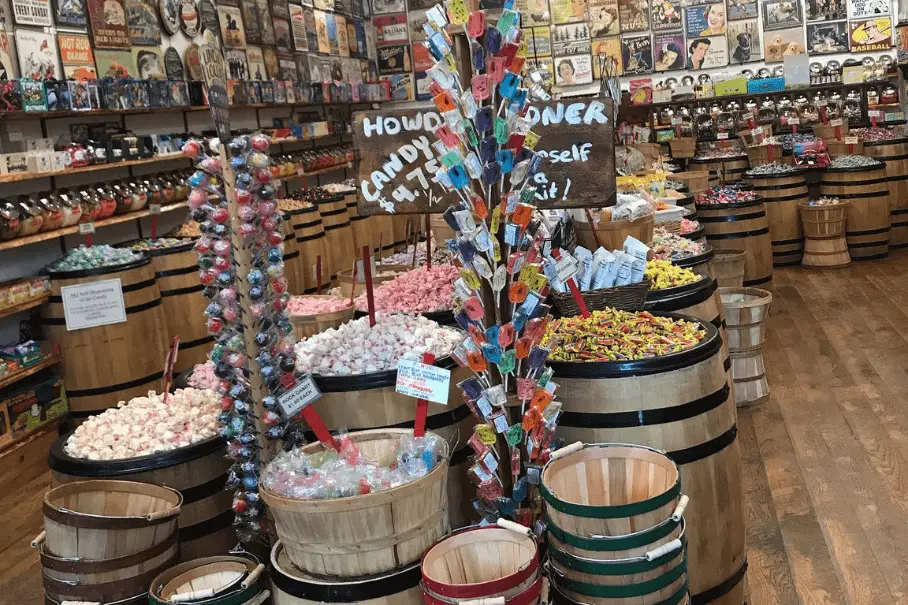 16. SATISFY YOUR SWEET TOOTH
Loaded with barrels of your favorite candies, Yippy I-O Candy Co is constantly referred to as the best candy store in Jackson, WY. There are over 1,000 varieties of candy to choose from, as well as local huckleberry products, jams, sauces, and soaps. Stock up on some sweets for your trip home, and remember to stop in on your next family trip to Jackson Hole! They are located at 84 E Broadway, Jackson WY, 83001.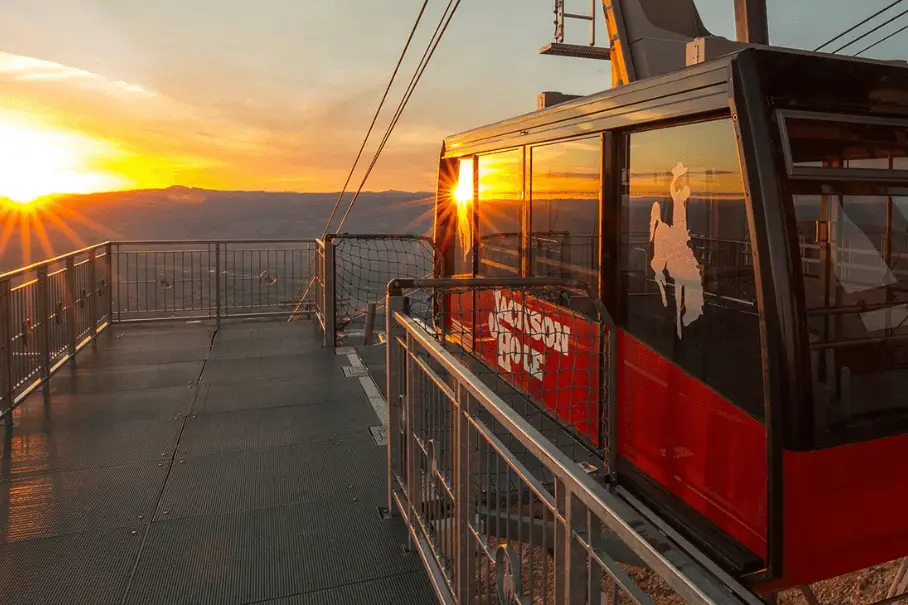 17. SEE JACKSON HOLE FROM A DRAMATIC VANTAGE POINT
Cap off your family trip to Jackson Hole, WY with a trip on Big Red, the tram to the top of Jackson Hole Mountain Resort. The views are incredible from the top, and the sunsets are dazzling. Take in the fresh mountain air and stunning scenery from the top of Rendevouz Mountain, at an elevation of 10,450 feet above sea level. The price for the tram ride is included in the cost of lift tickets.
What are your favorite activities you and your family like to do while visiting the good people of Jackson Hole? Mine, aside from the skiing, would have to be dogsledding or trail riding at the Heart Six Ranch!
MORE FUN STUFF TO CHECK OUT: