These chili recipes are fantastic. On a relaxing weekend afternoon, they'll taste just right, feed a hungry crowd, and use basic ingredients.
Chili is one of those foods that I can eat all the time. Morning, noon, or night! When I was a teenager I worked for a large landscaping nursery loading trees on trucks all day. I could eat whatever I wanted since I was young and constantly lifting fir trees onto flatbeds. Each morning I would stop at this greasy spoon establishment on the way to work, and order a breakfast sandwich: Bacon, Egg, Sausage, Cheese, and Chili on a Kaiser Roll. It was hearty, and kept me going until it was time for some equally dangerous lunch decisions at the diner nextdoor.
Chili can be as complex or simple as you want. Beans? Sometimes. Meat? Sometimes. Heat? Always! These chili recipes are equally welcome at a tailgate party, Sunday dinner, or even my breakfast sandwich.
Texas Chili, also referred to as "Bowl o' Red," is a traditional, hot, bean-free chili that is flavorful, smokey, and full of meat. Perfect for cookouts, crockpots, and game day!
Hearty, meaty, and bursting with flavor and spice is Cowboy Chili! Learn how to make this simple chili recipe.
Kidney beans, onions, peppers, tomatoes, cumin, and a spicy chili powder are used to make a Wendy's Chili knockoff. The Ideal Copycat!
The Southwestern characteristics we love are all here in this simple Crock Pot White Chicken Chili recipe, and it is amazing! Loaded with chicken, beans, and corn…beer is also included for good measure.
Buffalo chicken enthusiasts will LOVE the slow cooker version of this chili, which is a wonderful way to switch up chili night.
Slow Cooker Cream Cheese Crack Chicken Chili: This chicken chili is incredible! Cumin, chili powder, onion, ranch seasoning, bacon, cheddar cheese, chicken, corn, black beans, chicken broth, diced tomatoes, and green chiles. Serve it up with tortilla chips or cornbread!
This chili recipe from The Pioneer Woman features ground beef, beans, and the ideal combination of ingredients. Cook it on the stovetop or in a slow cooker!
Beans, ground turkey, and pumpkin puree are the main ingredients in Easy Pumpkin Chili. It's one of my favorite quick and healthy fall chili recipes!
Vegan cream cheese is used to make this vegetarian white chili, which is also really simple to prepare. It's totally gluten-free and plant-based.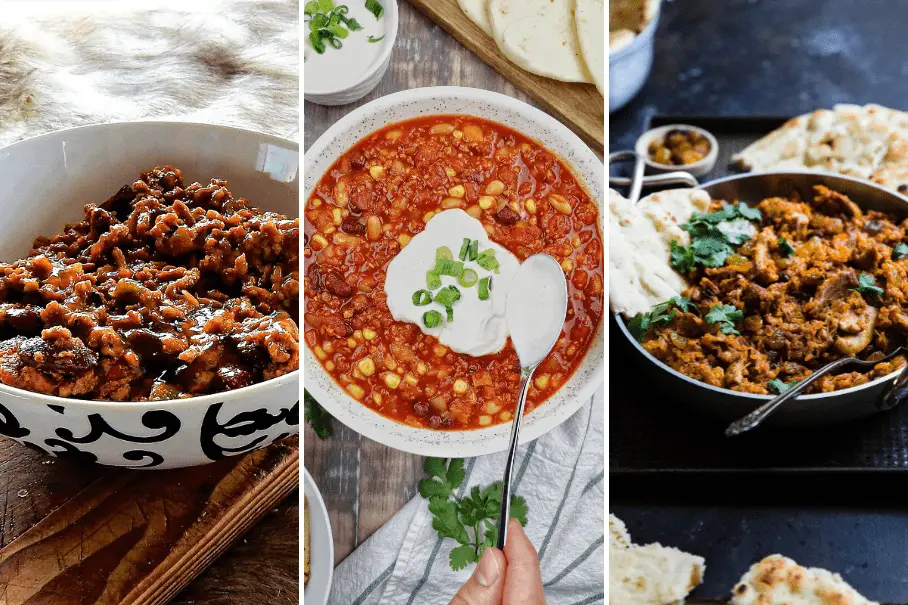 Instructions
Choose your favorite chili recipe.

Gather all the necessary ingredients.

Prepare a delightful chili recipe and enjoy!