These campfire dessert recipes will have you filling the forest with gourmet aromas! Enjoy these sweet treats around the campfire or stove!
After you have enjoyed your awesome camping dinner, it is time to gather around the fire pit, get ready to tell some stories, and treat yourself to a sweet treat with one of these delicious campfire dessert recipes. Remember, some parks don't always allow campfires, and some never allow them. No worries, if that is the case, most of these recipes can also be made over a propane camp stove!
The ideal camping treat is Peanut Butter Cup S'mores Campfire Cones, which are made with miniature peanut butter cups, marshmallows, and sugar cones and baked over a fire.
Campfire Cappuccino Monkey Bread is delicious pull apart breakfast bread coated in cinnamon, sugar & Salted Caramel Cappuccino mix, baked in tin foil over a campfire.
The recipe for campfire cinnamon rolls is a necessity. Perfect for a post-dinner treat or breakfast while camping. A great dish for any camping trip is this one!
A fun banana boat dish that you can make on your grill or bonfire is S'mores Banana Boats. Graham crackers, chocolate chips, marshmallows, and grilled bananas!
This easy-to-make Cherry Mountain Pie (also known as Pie Iron Cherry Pies) recipe just calls for four simple ingredients and a campfire.
This recipe for Banana Split S'mores Dip adds a tasty twist to the campfire delight. The best dessert dip is created in a cast iron skillet using layers of graham crackers, bananas, chocolate, strawberries, and toasted marshmallows.
The ideal no-bake camping dessert: S'mores Puppy Chow. It's a simple 10 minute recipe that will be a hit the whole camping crew!
This campfire chocolate cake, which is thick and moist, is a delightful addition to any camping cuisine.
Two basic ingredients, including pie filling, make up this simple Dutch oven blueberry cobbler. A quick and simple dessert dish for a campfire.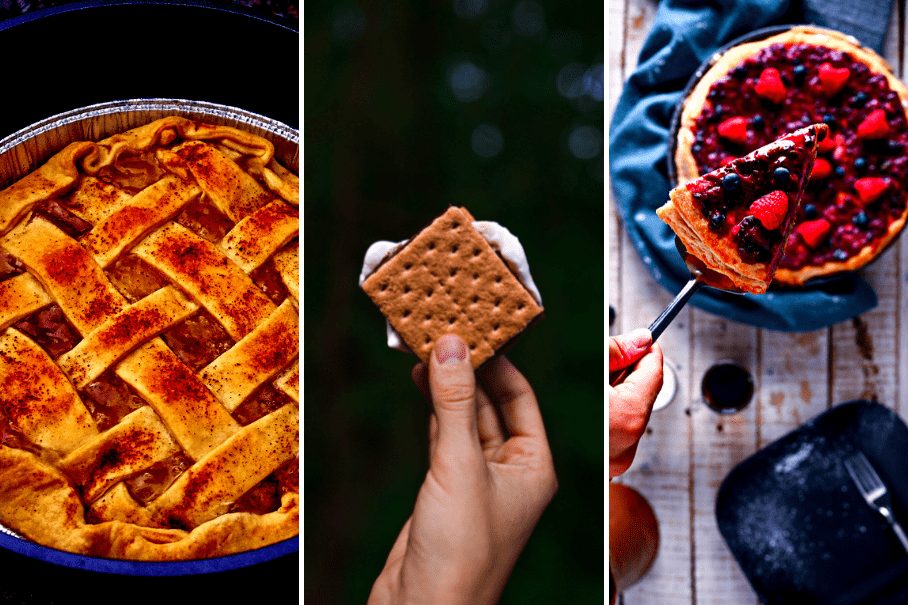 Instructions
Choose your favorite campfire dessert recipe.

Gather all the necessary ingredients.

Prepare a delightful campfire dessert recipe and enjoy!