From classic almond flour cookies to decadent almond flour cakes, these recipes will satisfy any sweet tooth. Whether you're looking for a quick and easy snack or an impressive dessert to serve to guests, these almond flour dessert recipes are sure to please. So preheat your oven and get ready to bake up some delicious almond flour desserts!
AMAZING ALMOND FLOUR DESSERT RECIPES
Almond flour is a great alternative to traditional wheat flour, as it is gluten-free, low in carbohydrates, and high in protein and healthy fats. It is also a great source of vitamin E, magnesium, and fiber. Almond flour can be used to make a variety of baked goods, including breads, muffins, cakes, cookies, and pancakes. It has a nutty flavor that adds depth and richness to recipes. Additionally, almond flour is a great choice for those who are looking to reduce their sugar intake, as it is naturally sweet.
Even though they are made completely of almond flour and can easily be made dairy-free and paleo, these almond flour brownies are every bit as good as classic gooey brownies.
This lemon almond flour cake is a breeze to make and is packed with flavor. It features only 5 ingredients and is perfect for any occasion.
This recipe is perfect for those of you who are looking for a delicious and easy-to-make gluten-free and paleo chocolate chip cookie recipe. They will be soft and chewy on the inside, and crispy on the outside.
These gluten-free almond flour shortbread cookies are vegan and easy to make – just three ingredients. They're also dairy-free, paleo, and egg-free, so they're perfect for anyone who wants a gluten-free, healthy cookie.
These almond flour chocolate chip cookies taste just like cookies with all-purpose flour, and can be made in just 30 minutes! They are fluffy and gooey, making them perfect for a quick snack or dessert.
Keto lemon bars are a refreshing and light dish with the sweet and sour flavors you love. They have only 3g net carbs, making them a great choice if you are looking to maintain your keto diet.
This Almond Flour Chocolate Cake is a healthier and delicious way to enjoy a chocolate cake. Made with almond flour, this cake is gluten-free and full of flavor. The chocolate buttercream is the perfect way to top it off.
This grain free carrot cake is delicious and healthy, and the frosting is a delicious combination of cream cheese and powdered sugar. The cake is made with almond flour, so it's tender and moist, and the frosting is perfect to finish it off. This cake is perfect for a Springtime get-together, and it's sure to be a hit with your guests.
This gluten free peach cobbler is made with almond flour and fresh or frozen peaches. It is easy to make, and just as delicious as the gluten version. If you are looking for a delicious dessert that is gluten free, this is the recipe for you!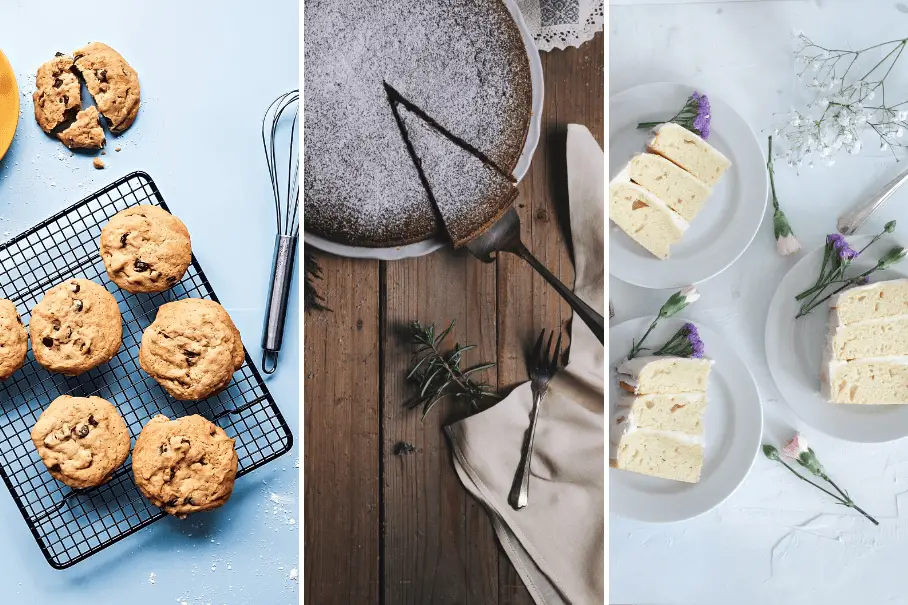 Instructions
Choose your favorite almond flour dessert recipe.

Gather all the necessary ingredients.

Prepare a delightful almond flour dessert recipe and enjoy!