Elevate your desserts with these 19 delectable chocolate cake mix recipes!
CHOCOLATE CAKE MIX RECIPES FOR EPIC COCOA MOMENTS
Chocolate cake mix is a versatile ingredient that can help you whip up decadent desserts in no time. Whether you want to make a poke cake, a dump cake, a cake roll, or even waffles and donuts, you can use chocolate cake mix as a shortcut to save time and hassle. Plus, you can customize your creations with different toppings, fillings, and frostings to suit your taste buds. Here are 19 chocolate cake mix recipes that will satisfy your sweet tooth and impress your guests.
Creamy Oreo Poke Cake is a decadent dessert that will wow your guests. It's made with a moist chocolate cake, a rich cream cheese filling, and a crunchy Oreo topping. You'll love how easy it is to make with a cake mix and a few simple ingredients.
Chocolate Cherry Dump Cake is the ultimate comfort food for any occasion. It's a one-bowl, one-pan recipe that requires no mixing or measuring. Just dump the ingredients in a baking dish and bake until bubbly and delicious. Serve it warm with whipped cream or ice cream for a heavenly treat.
Cake Mix Brownies are a quick and easy way to satisfy your chocolate cravings. They're fudgy, chewy, and loaded with chocolate chips. All you need is a box of cake mix, some oil, eggs, and water. Mix everything together and bake for 20 minutes. You'll have a batch of brownies that taste homemade in no time.
Doctored Chocolate Cake Mix is a simple trick to make any cake mix taste like it came from a bakery. You just need to add some sour cream, instant pudding mix, and chocolate chips to the cake batter. The result is a moist, fluffy, and rich chocolate cake that will impress your family and friends.
Strawberry Fudge Poke Cake is a dreamy dessert that combines two of your favorite flavors: strawberry and chocolate. It's a soft vanilla cake that's poked with holes and filled with strawberry pie filling and hot fudge sauce. Then it's topped with whipped cream and fresh strawberries. It's a refreshing and indulgent dessert that's perfect for summer.
Reese's Poke Cake is a peanut butter lover's delight. It's a chocolate cake that's soaked with sweetened condensed milk and peanut butter sauce. Then it's covered with whipped topping and chopped Reese's cups. It's a decadent dessert that's easy to make and hard to resist.
Turtle Chocolate Poke Cake is a caramel lover's dream come true. It's a chocolate cake that's poked with holes and drizzled with caramel sauce and sweetened condensed milk. Then it's sprinkled with pecans and chocolate chips. It's a gooey, crunchy, and delicious dessert that will make you swoon.
Chocolate S'mores Pudding Cake is a campfire-inspired dessert that you can enjoy all year round. It's a chocolate cake that's baked with marshmallows, graham crackers, and chocolate bars on top. Then it's served with a creamy chocolate pudding sauce that makes it extra moist and yummy.
Creme de Menthe Cake is just like grandma made it. It's a minty green cake that's infused with creme de menthe liqueur and topped with a fluffy white frosting. It's a festive and fun dessert that's great for St. Patrick's Day or any occasion.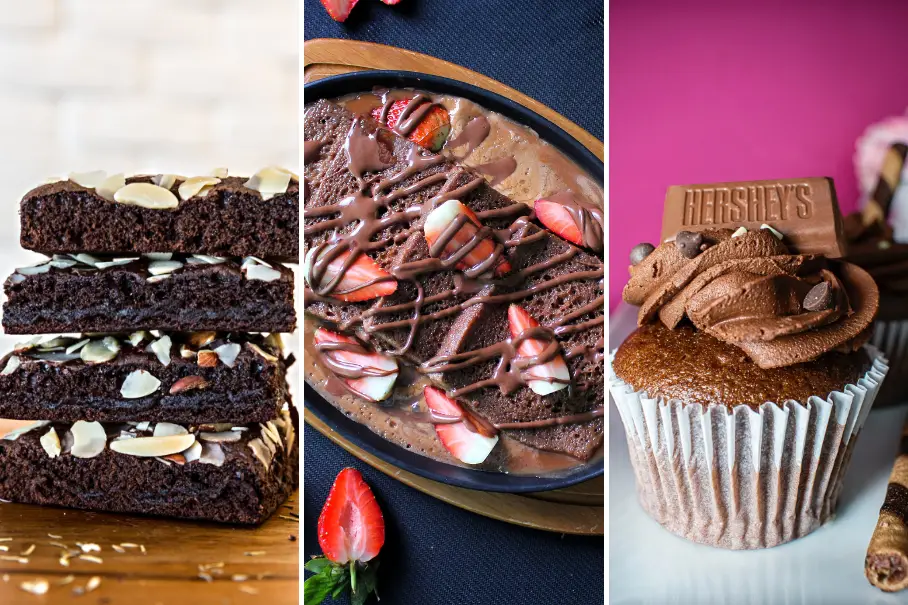 Instructions
Select your favorite chocolate cake mix recipe.

Gather all necessary ingredients.

Create a tasty chocolate cake mix creation using simple steps and enjoy!