Explore a delightful array of vegan cupcake recipes! From classic flavors to creative combinations, your next party will be sweet!
THESE VEGAN CUPCAKES MAKE FOR VERY GOOD PARTIES!
Cupcake lovers! It's our time to shine! Get ready to embark on a scrumptious journey into the world of vegan cupcakes that are guaranteed to delight your taste buds! Whether you're a seasoned vegan or simply curious about plant-based treats, these recipes are here to prove that vegan cupcakes can be just as fluffy, moist, and flavorful as their traditional counterparts. From classic vanilla and chocolate to exciting flavors like peanut butter, tiramisu, and peppermint chocolate, there's a cupcake for every craving and occasion. So, roll up your sleeves and prepare to be amazed by the magic of these fun and enticing creations. Let's dive in and whip up some irresistibly delicious plant-based cupcakes that will leave you craving more!
Get ready to delight in the ultimate fluffy and moist Vegan Vanilla Cupcakes with Vanilla Buttercream! They're light, tender, and irresistibly gorgeous!
Dive into the world of ultra-moist peanut butter cake baked into delectable cupcakes, topped with peanut butter cream cheese buttercream swirled with fudge!
Indulge in the incredible goodness of vegan tiramisu cupcakes featuring an easy vanilla cupcake, coffee soak, espresso fudge filling, and heavenly coffee frosting.
Celebrate the holidays with Vegan Peppermint Chocolate Cupcakes! Mint chocolate cake meets peppermint-infused frosting, creating a festive treat for all!
Spring has arrived, and these Vegan Banana Blueberry Cupcakes are a must-have! With banana cake boasting a hint of cinnamon and bursts of warm blueberries, they're pure joy!
Dazzle your taste buds with the beauty of Vegan Strawberry Cupcakes, generously studded with fresh strawberries and topped with luscious pink frosting. A guaranteed hit!
Relive your childhood with these homemade Copycat Hostess Cupcakes, now gluten-free and vegan! Nostalgia meets delectable goodness in every bite!
Embrace fall with rich and moist vegan pumpkin cupcakes, crowned with a velvety pumpkin spice frosting and a sprinkle of crushed pecans. Pure autumn delight!
Indulge in the chocolate lover's dream with these classic vegan chocolate cupcakes – moist, fluffy, and oozing with chocolatey goodness, crowned with the silkiest vegan chocolate buttercream.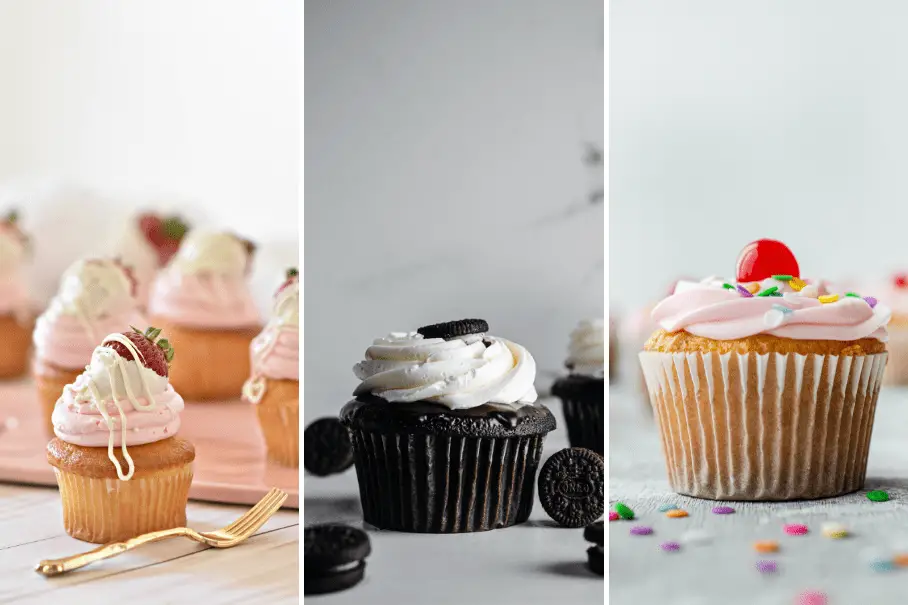 Instructions
Choose your favorite vegan cupcake recipe.

Gather all the necessary ingredients.

Prepare a delightful vegan cupcake recipe using simple steps and enjoy!