Get ready for vegan cheesecake heaven! Explore this collection of luscious and vegan cheesecake recipes that'll satisfy any sweet tooth.
THE BEST VEGAN CHEESECAKES
If you're looking to treat yourself to some plant-based indulgence, you've come to the right place! I've gathered a lineup of the most scrumptious, creamy, and downright dreamy vegan cheesecake recipes that will have you swooning with each delightful bite. From classic flavors like chocolate and strawberry to inventive twists like banoffee and passionfruit, these dairy-free creations will leave you wondering why you didn't hop on the vegan cheesecake train sooner! So, grab your apron, crank up the music, and let's embark on a journey of divine desserts that'll make your taste buds do a happy dance. Let's dig in!
Indulge in a dairy-free delight with this vegan banana cheesecake on a no-bake biscuit crust. It combines the luscious flavors of banoffee pie and cheesecake in one irresistible dessert.
Sink your teeth into this vegan chocolate cheesecake with its rich dark chocolate filling and Oreo cookie crust. It's freezer-friendly and unbelievably luscious.
Take a tropical escape with this vegan passionfruit cheesecake tart featuring a coconut shortcrust pastry and a creamy filling. No vegan cream cheese needed, and it's a breeze to make!
Creamy, tangy, and entirely dairy-free! This vegan cheesecake gets its texture from Miyoko's Creamery's cultured nut-based cream cheese, a creation of the visionary vegan, Miyoko Schinner.
Fall in love with this delectable caramel apple cheesecake boasting a creamy tofu cashew filling. This baked dessert is egg-free, dairy-free, vegan, and gluten-free for an easy, guilt-free treat!
Embrace the taste of summer with this divine vegan mango cheesecake. It features layers of creamy cheesecake and luscious mango curd on a no-bake crust.
Get ready to be wowed by this creamy vegan strawberry cheesecake that requires no cashews! It's the ultimate no-bake strawberry dessert you'll keep craving.
These No Bake Vegan Peach Cheesecake Bars are pure heaven! Made with wholesome ingredients, it's a 3-layer dessert that's both rich and refreshing.
Treat yourself to this vegan key lime cheesecake made with non-dairy cream cheese and fresh key lime juice. All nestled in a graham cracker pie crust – absolute yum!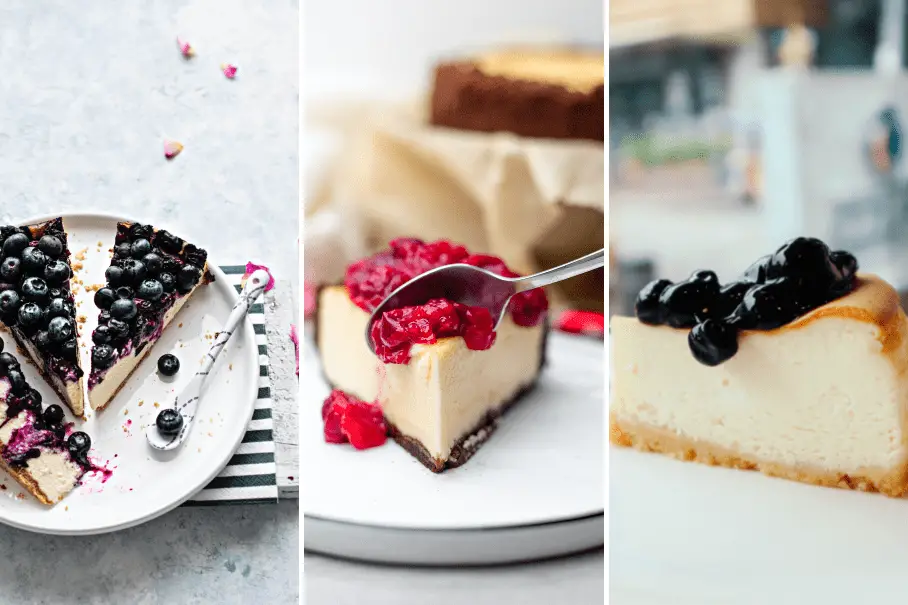 Instructions
Choose your favorite vegan cheesecake recipe.

Gather all the necessary ingredients.

Prepare a delightful vegan cheesecake recipe using simple steps and enjoy!