Toast to 17 delightful vintage cocktail recipes! From Tom Collins to Vesper, timeless sips and vintage cocktails await!
ENJOY A CLASSY, CLASSIC HAPPY HOUR WITH THESE VINTAGE COCKTAIL RECIPES
Today, we're traveling back in time to discover a delightful array of vintage cocktail recipes—perfect for a touch of classic elegance and nostalgia. From the sophisticated Martinez to the bubbly Vintage Champagne Cocktail, these sips are timeless and effortlessly stylish. Whether you're a whiskey lover yearning for an Old Fashioned, a gin enthusiast seeking the Vesper cocktail inspired by James Bond, or craving the zest of the Pisco Sour, these cocktails have something special for everyone! Join us on a mixology journey to sip, savor, and celebrate the exquisite flavors of the past. So, grab your shakers, raise your glasses, and let's dive into a world of vintage delights! Cheers to timeless sips and unforgettable moments!
Meet the sophisticated Martinez cocktail—a classic cousin to the Martini and Manhattan. Classy and perfect for slow sipping, it's a true gem!
Get ready for a refreshing and citrusy sparkler with the Classic French 75 cocktail! Easy to whip up at home, it's a gin delight with a punch!
Indulge in the timeless Old Fashioned cocktail—a true classic made for whiskey enthusiasts! With whiskey, sugar, bitters, and a garnish of orange peel or cherry, it's a recipe worth savoring.
Introducing the Sidecar cocktail—one of the best classic cocktails ever! Revel in the perfect balance of Cognac, Cointreau, and lemon—a sour sensation!
Join the bourbon bliss with the Classic Bourbon Manhattan cocktail! Embrace quality bourbon, excellent vermouth, and a dash of bitters for this timeless sip.
Originally a morning cocktail, the Corpse Reviver No. 2 is a pre-Prohibition gem. But don't be bound by time—enjoy it any moment of the day!
Calling all gin lovers—the Bee's Knees cocktail is a strong, refreshing, and delicious classic! Embrace the gin, lemon, and honey goodness!
Experience the unbeatable classic gin fizz cocktail—it's fresh, light, and oh-so-timeless. Perfect for any occasion!
Delve into the exquisite world of the Brandy Crusta cocktail! A little effort yields a splendid drink with a sugar rim and a long lemon twist.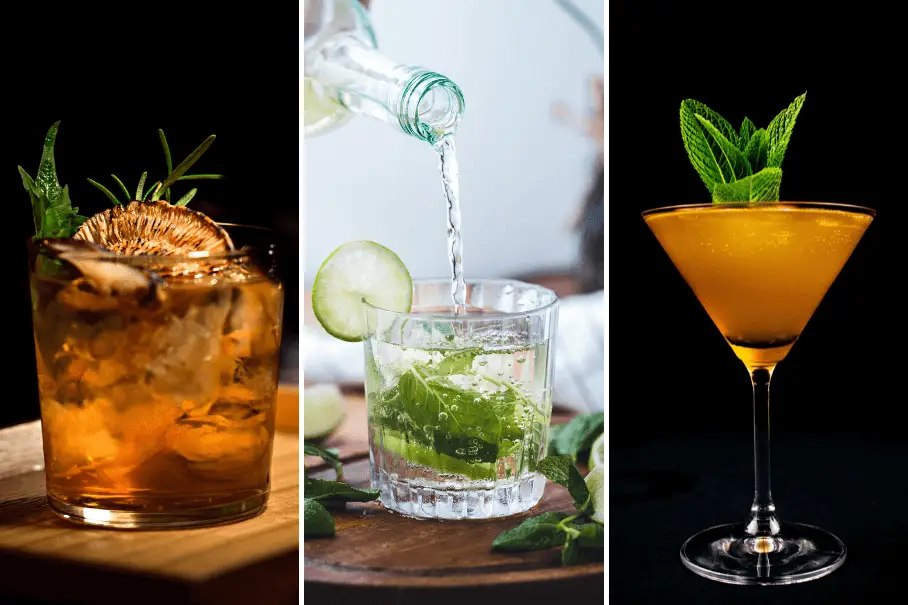 Instructions
Choose your favorite vintage cocktail recipe.

Gather all the necessary ingredients.

Prepare a delightful vintage cocktail recipe using simple steps and enjoy!