Absinthe makes the heart grow fonder! These absinthe cocktails deliver an herbal kick, and are sure to liven up the party!
AWESOME ABSINTHE COCKTAILS
I had previously written about a once-in-a-lifetime trip I had taken to the French Riviera in another post. I was happy to go into detail about the little shop I popped into that sold craft olive oils and vinegars. What I forgot to mention was I also ducked into the business nextdoor. A French absinthe bar. We grabbed a little table and enjoyed absinthe the old fashioned way: little glasses, flaming sugar cubes, and quantities slightly more than necessary for the middle of the day! If drinking absinthe almost straight up isn't your thing, try your hand with one of these absinthe cocktails.
This herbal cocktail, which is strong on the flavors of anise and absinthe, will stimulate your appetite. A long finish that is sweet and silky.
The Sazerac cocktail has been replaced with the La Louisiane! This spirit-forward concoction, which features vermouth, rye whiskey, and absinthe, is stunning.
Quick history lesson: Before absinthe was outlawed in many countries in 1912, a cocktail called the Absinthe Frappé was invented in the 1800s.
Two infamous alcoholic beverages with festive reputations are tequila and absinthe sours. They join forces to create the Tequila Absinthe Sour. Look out!
The Big Apple treats you to the Brain Duster. Enjoy this whiskey-based cocktail originally created in New York City.
A traditional cocktail that is crisp, tangy, and wonderfully balanced is the Corpse Reviver No. 2 recipe. It's a fantastic beverage—every bit as original as its name.
This sweet, herbal drink isn't a hallucination; it's an absinthe strawberry cocktail blended with fresh basil.
The herby, botanical notes of absinthe are the ideal accompaniment to this minty cocktail that has been sweetened with honey. A great twist on the traditional mojito!
Absinthe is a strong drink, but if you like the taste of anise, you can use it as a base spirit. Absinthe is combined with elderflower, pineapple, and lemon in the My Fairy Godmother recipe.
This vivacious absinthe, elderflower, lemon, and gin cocktail recipe will brighten your day! This is a magnificent drink made with St-Germain elderflower liqueur, triple sec, and notes of lemon juice!
Ernest Hemingway's creation of the absinthe drink Death in the Afternoon is a must-try! This simple beverage has a black licorice taste and is effervescent. When it comes to absinthe cocktails (or just cocktails in general), you are in good hands with Hemingway.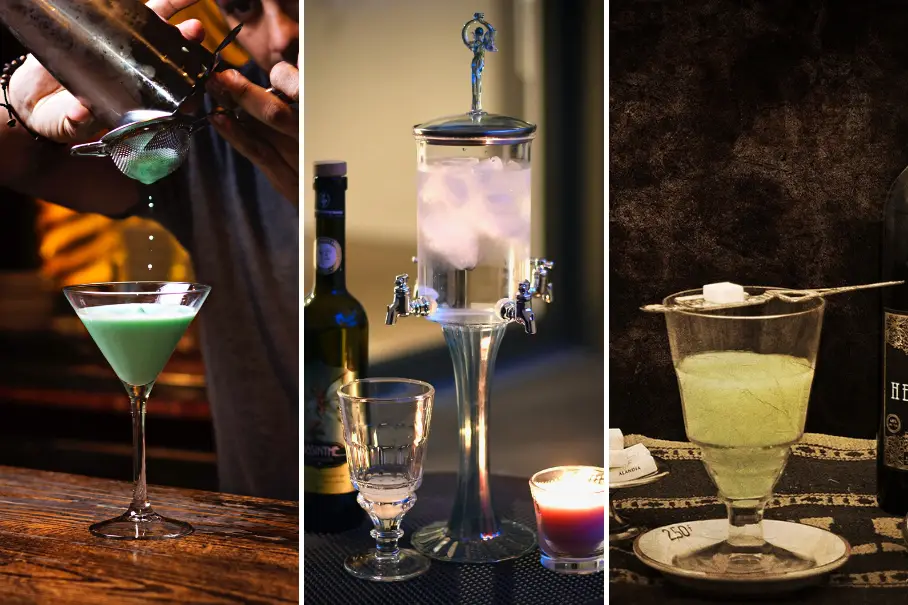 Instructions
Select your favorite Absinthe Cocktail recipe.

Gather all the necessary ingredients.