Tiki magic unleashed! Discover exotic tiki drinks for ultimate flavor paradise. Let the rum-soaked fun begin!
CATCH SOME VITAMIN SEA WITH THESE TIKI DRINK RECIPES
Ahoy, taste adventurers! It's time to embark on a thrilling journey through the vibrant world of tiki drinks. Brace yourselves for a tantalizing tiki mixology experience where we'll uncover the secrets behind the legendary Pearl Diver, a blend of rum, lime, orange, and a mysterious spiced twist! Prepare for simplicity at its best with the iconic Pina Colada, while the Nui Nui takes us back to tiki's golden age in '30s Hollywood. We'll quench our thirst with the sweet and spicy Rum Punch and set our spirits afloat with the enchanting Port Light. But the adventure doesn't stop there – the Jet Pilot and Fog Cutter will rev up your taste buds like never before! Brace yourself for the tiki magic that awaits, as we dive into a treasure trove of tropical flavors. So, let's raise our glasses and toast to endless summer vibes, fun, and a world of tiki-tastic taste sensations!
Discover the Pearl Diver, a tropical delight with rum, lime, orange, and a secret spiced twist! This classic tiki gem nearly vanished from history.
Keep it simple with the best 3-ingredient Pina Colada! Ditch the mix and enjoy the ultimate easy and delicious tropical treat.
Raise a glass to the Nui Nui, a rum-based wonder born at Don the Beachcomber's in '30s Hollywood. Pure tiki magic awaits!
Savor the sweet and refreshing Rum Punch with a touch of spice and a boozy kick. The ultimate hit at any gathering!
Unleash the magic of bourbon, passion fruit syrup, grenadine, and ice in this tantalizing tiki concoction.
Ready for liftoff? Lime, grapefruit, cinnamon, falernum, Pernod, and rums create a thrilling classic tiki Jet Pilot!
Enter the world of Lost Lake's Paul McGee, where rum reigns supreme in the delightful Fog Cutter.
Meet the legendary cure for hangovers! Join the ranks who've embraced this adapted tiki cocktail to banish woes.
Embrace the laid-back "It's 5 o'clock somewhere" spirit of the Keys with this signature libation!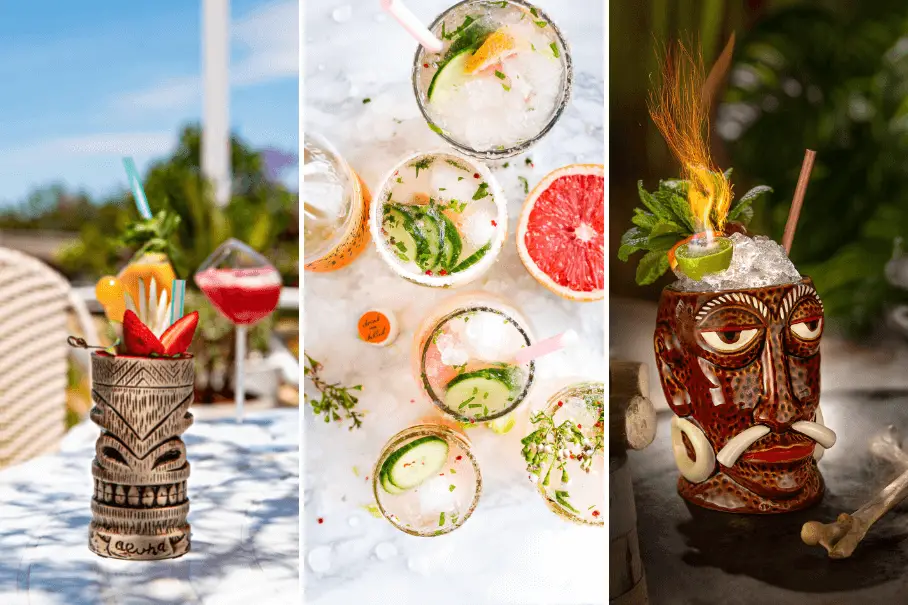 Instructions
Choose your favorite tiki drink recipe.

Gather all the necessary ingredients.

Prepare a delightful tiki drink recipe using simple steps and enjoy!