Discover 25 scrumptious vegan pie recipes, from peach to chocolate, no-bake to raw. The vegan pies are perfect for any occasion!
VEGAN PIE PARADE: RECIPES FOR PIES THAT DON'T COMPROMISE
Get ready for a mouthwatering adventure as we dive into 25 fabulous vegan pie recipes that will blow your mind without blowing your diet! From juicy peach to gooey caramel, and from classic apple to zingy key lime, these pies are the real deal—100% plant-based and 100% delicious! Whether you're a seasoned vegan or just curious about guilt-free indulgence, these recipes have got you covered. So, grab your aprons and let's embark on a delightful pie-filled journey!
Get ready to tantalize your taste buds with this peach pie extravaganza! Bursting with the juicy sweetness of fresh peaches and brimming with the goodness of all-vegan ingredients, this delightful dessert will leave you craving more. Whether you're an experienced vegan or just dipping your toes into plant-based treats, this peach pie will win your heart with every scrumptious bite!
Brace yourself for the ultimate pecan pie experience that will have you swooning in delight! Indulge in the rich, caramelized center and the abundance of crunchy pecans, all wrapped up in a delectable vegan package. Prepare to be amazed as this masterpiece takes your taste buds on a flavorful journey they won't soon forget!
Take a trip to flavor paradise with this Trinidadian macaroni pie, now completely vegan and absolutely delicious! Impress your family and friends with this egg-free rendition, crafted with a blend of mouthwatering vegan cheeses and perfectly balanced seasonings. Whether you're enjoying a laid-back weekday dinner or celebrating a special holiday, this scrumptious dish is the way to go!
Get ready for a veggie-packed party in your mouth with this hearty vegan pot pie! Enveloped in a crackly, golden puff pastry crust, the filling boasts a delightful medley of mushrooms, potatoes, carrots, and more. Comforting, filling, and utterly satisfying, this vegan pot pie is the ultimate way to warm your heart and belly!
Treat yourself to a slice of pure indulgence with this insanely easy vegan sweet potato pie! With just one bowl and Top 8 Allergen-Free, it's a dream come true for busy bakers and those with dietary restrictions. Swap out the traditional pumpkin pie for this sweet potato delight, and you'll wonder why you didn't make the switch sooner!
Say goodbye to oven-stress with this no-bake Chocolate Ice Cream Pie, a gluten-free and vegan delight that's perfect for sunny summer days! Revel in the luscious chocolatey goodness without any refined sugar—this frozen treat is a guilt-free pleasure that will keep you coming back for seconds.
Looking for a picnic-perfect dessert? Look no further than this mouthwatering vegan raspberry pie! Easy to make and irresistibly delicious, it's a surefire hit among both vegans and non-vegans alike. So, pack your picnic basket and let the raspberry magic unfold!
Embrace the joys of summer with this vegan strawberry rhubarb pie—your go-to treat for warm days! With the filling ready in advance, you'll have a quick and easy summertime dessert on hand whenever cravings strike. Enjoy the perfect balance of sweet strawberries and tart rhubarb, all wrapped up in a flaky, plant-based crust!
Say hello to your newest year-round dessert obsession—this incredibly sweet and creamy vegan banana cream pie! From the rich buttery crust to the velvety banana-infused filling, every bite is pure bliss. You won't be able to resist going back for seconds, thirds, and maybe even fourths!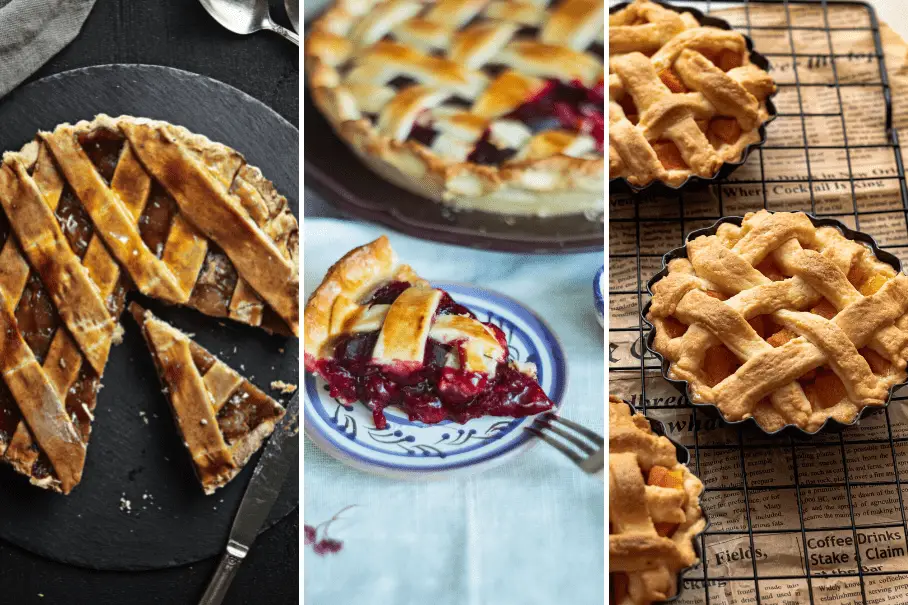 Instructions
Choose your favorite vegan pie recipe.

Gather all the necessary ingredients.

Prepare a delightful vegan pie recipe using simple steps and enjoy!