Fuel your day with 19 delicious vegan smoothies! From tropical delights to creamy classics, there's a smoothie for every craving!
GO GREEN, GO YUM, GO VEGAN SMOOTHIES!
Get ready to elevate your beverage game with 19 fun and enticing vegan smoothie recipes that'll leave you feeling refreshed and energized. From creamy mango dreams to zesty berry blends, these smoothies are all about delightful flavors and nutritional goodness! Whether you're looking for a quick breakfast on-the-go, a tasty snack, or a way to sneak in more fruits and veggies, these recipes have got you covered. So, grab your blender, put on your favorite tunes, and let's blend our way to a smoothie paradise!
Say hello to this healthy, 4-ingredient mango smoothie—a fruity, creamy delight with almond milk and coconut. A tropical escape in a glass!
Start your day with this creamy blueberry banana smoothie, ready in 5 minutes flat. Packed with 4 easy ingredients, it's a breakfast powerhouse!
Dive into the creamy goodness of a vegan tropical mango pineapple smoothie, sweetened naturally and oh-so-refreshing. Don't forget the optional ginger kick!
Vibrant and delicious, this apple celery smoothie packs a flavorful punch with avocado, lemon, and ginger. A green dream that's as gorgeous as it is tasty!
Grab this on-the-go strawberry banana smoothie made in a flash with 5 simple ingredients. A lip-smacking way to kickstart your day!
Meet the best beet smoothie, where earthy goodness blends seamlessly with 5 easy ingredients. Vegan and paleo-friendly, it's a nutritious treat!
Spice up your morning routine with this filling and flavorful spiced strawberry and goji berry smoothie—naturally vegan and absolutely delicious.
Get ready to power up with this green smoothie packed with spinach, avocado, pineapple, chia seeds, and almond milk. It's a nutritional boost like no other!
Savor summer vibes with this creamy peach oat smoothie, slightly sweet and oh-so-satisfying. A delightful treat for any day!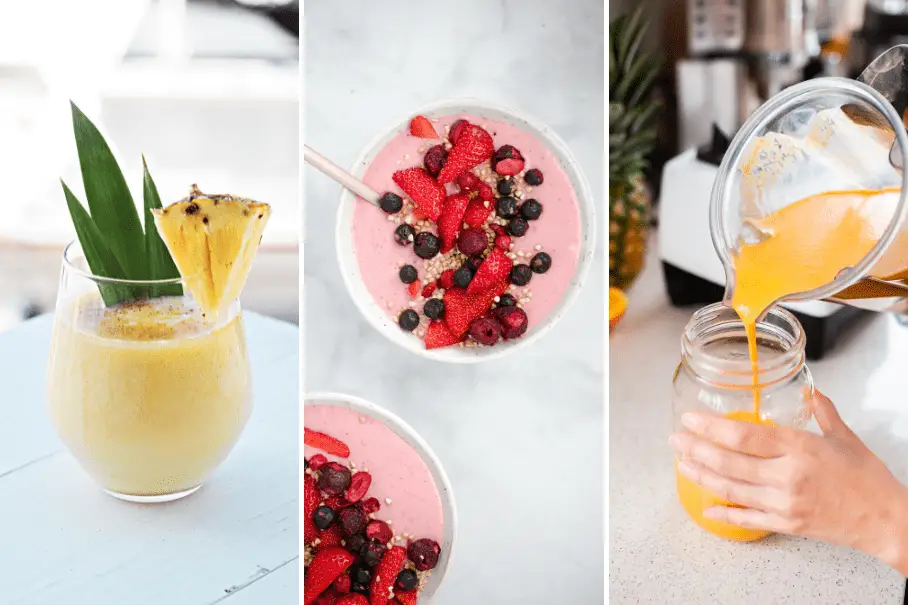 Instructions
Choose your favorite vegan smoothie recipe.

Gather all the necessary ingredients.

Prepare a delightful vegan smoothie recipe using simple steps and enjoy!