Whether you are making them for a sweetheart, or your sweet tooth, these Valentine's Day Cookies are perfect for sharing!
THE SWEETEST VALENTINE'S DAY COOKIES TO SHARE
Valentine's Day is the perfect time to show your love with delicious cookies! Whether you're baking for your sweetheart, your family, or your friends, these 24 Valentine's Day cookies are sure to make everyone feel special. From classic sugar cookies to heart-shaped shortbread, these recipes are sure to satisfy any sweet tooth. So grab your apron and your mixing bowl, and get ready to spread some love with these delicious Valentine's Day cookies!
A gourmet take on sugar cookies is these Brown Butter Heart Cookies! They have a deep flavor and are fondant-decorated in an ombre pattern.
Strawberry cake mix cookies are wonderful and very easy to prepare! These strawberry cookies are even better with the addition of white chocolate chips! Making a batch is a fantastic idea whether it's for Valentine's Day or just because!
These mouthwatering Chocolate Cookies with Raspberry Frosting are simple to make and bursting with flavor. Your entire family will love them.
These cookies aren't your typical sugar cookies because they are prepared with white chocolate chips and a traditional chocolate chip cookie recipe, which makes them incredibly soft and chewy.
These charming Valentine's Day Oreo pops are a breeze to prepare and taste delish!
Making and decorating these scrumptious chocolate-dipped madeleines is simple and enjoyable. The ideal choice for Valentine's Day!
Make your Valentine's Day extra special this year with these homemade Valentine Fortune Cookies! These delicious treats are easy to make and are sure to bring a smile to your sweetheart's face. Not only are they delicious, but they also come with a special surprise inside – a personalized fortune! So, get your baking supplies ready and whip up a batch of these Valentine Fortune Cookies for your special someone.
These Valentine Bear Holding Heart Cookies are sure to make your sweetheart swoon! With a delicious sugar cookie base and a cute bear-shaped topping, these cookies are the perfect way to show your love this Valentine's Day. Decorate with colorful sprinkles and icing, and your special someone will be sure to smile!
These Heart Meringue Cookies are the perfect way to show your love this Valentine's Day! With just a few simple ingredients, you can whip up a batch of these sweet and crunchy treats in no time. They're sure to be a hit with your family and friends!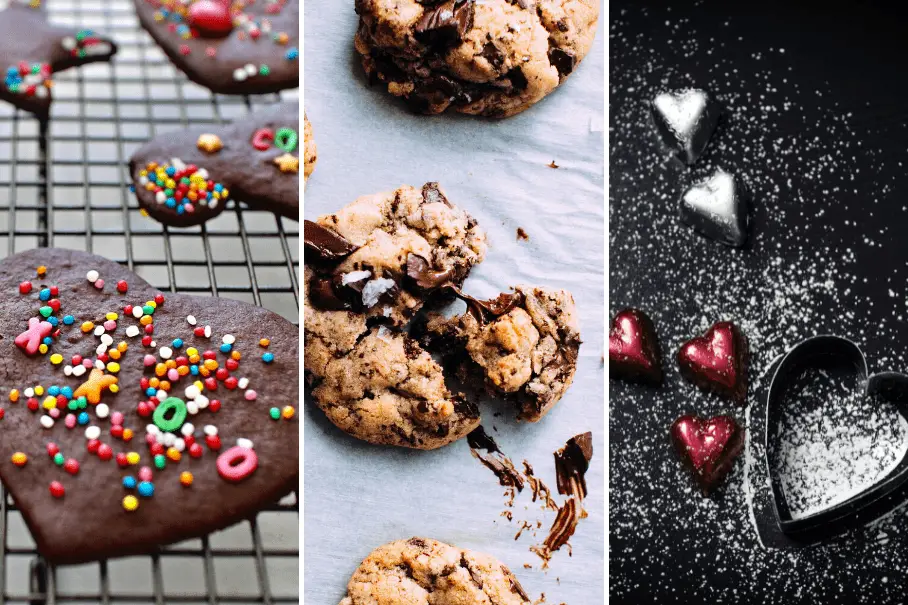 Instructions
Choose your favorite Valentine's Day cookie recipe.

Gather all the necessary ingredients.

Prepare a delightful Valentine's Day cookie recipe and enjoy!