Discover the joy of effortless cooking with this collection of 3-ingredient desserts. Indulge in simplicity and flavor.
DELICIOUS 3-INGREDIENT DESSERTS
Imagine creating delicious desserts with just three basic ingredients. No hassle, no worry – just pure, sweet magic ready to grace your table. From heavenly cakes to decadent fudge, get ready to explore a world where simplicity and flavor combine in the most delightful way possible. You'll be amazed by how easy and fun it is to whip up these desserts with minimal effort and time. Whether you're looking for a quick treat, a cozy dessert, or a special occasion indulgence, you'll find something to please your sweet tooth and mood. These three-ingredient desserts are proof that less is more when it comes to baking.
Indulge in the essence of autumn with a 3-Ingredient Pumpkin Spice Cake. This moist and utterly delicious creation embodies the cozy flavors of the season. With just three simple ingredients, this cake will effortlessly earn its spot as your go-to fall dessert. Get ready to treat yourself to a slice of pumpkin perfection!
For the chocolate and peanut butter enthusiasts out there, I present Reese's Fudge – a delightful 3-ingredient treat that's quick, easy, and downright addictive. Perfect for those holiday moments when you need a sweet fix in a snap. Whether you choose to savor it all by yourself or share the love with friends and family, this fudge will leave you wanting more.
In need of a last-minute holiday treat that dazzles? Look no further than this Rolo Pretzel Bites. These bite-sized wonders are crafted with round, salty pretzels, gooey caramel Rolo candies, and festive red and green M&M's. With just three ingredients, you can create a sweet and savory sensation that embodies the holiday spirit.
Embrace the legacy of family recipes with these 3-Ingredient Scottish Shortbread Cookies. These classic delights carry a cherished history that's been passed down through generations. With just three humble ingredients, you'll experience the melt-in-your-mouth magic that only a treasured recipe can deliver.
Indulge in the charm of simplicity with these Strawberry Cool Whip Cookies. With only three ingredients – Cool Whip, eggs, and strawberry cake mix – you can whip up these soft, low-fat cookies that are ideal for Valentine's Day or any celebration. Share the love with a treat that's as effortless as it is delectable.
Savor the taste of summer all year round with these 3-Ingredient Fresh Strawberry Sorbet. Crafted from luscious fresh strawberries, a touch of sugar, and zesty lemon juice, this sorbet is the ultimate refreshment on a scorching day. Elevate it with a splash of wine for a grown-up twist or use it to create a delightful strawberry shortcake ice cream bar.
Unwrap the magic of simplicity with Rolo Pretzel Turtles. These delectable treats are a breeze to make and are perfect for adding a touch of sweetness to your holiday spread. With minimal effort and just a trio of ingredients, these turtles will swiftly become a go-to in your festive repertoire.
Craving a cool treat without the fuss? Enter the Oreo Icebox Cake – a magnificent creation that demands just three ingredients and a bit of chill time. Indulge in layers of luscious flavor as you enjoy the simplicity of a no-bake dessert that's sure to impress.
For all the peanut butter aficionados out there, 3-Ingredient Old Fashioned Potato Candy is a delightful revelation. This addictive treat boasts the perfect blend of flavors in an easy, no-bake package. Whether you're treating yourself or delighting your neighbors, this potato candy is an ideal choice.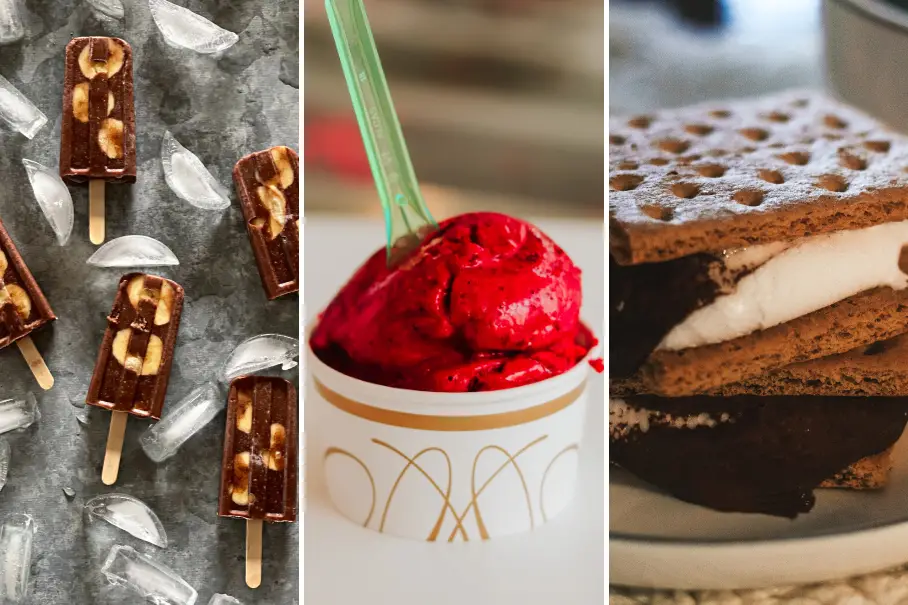 Instructions
Choose your favorite 3-ingredient dessert recipe.

Gather all necessary ingredients.

Prepare a delightful 3-ingredient dessert using simple steps and savor the flavors!