Explore 23 delectable Chinese New Year recipes, a celebration of savory, spicy, sweet, and sour flavors.
PARTY-WORTHY CHINESE NEW YEAR RECIPES
Chinese New Year is a time to celebrate with family and friends, and what better way to do that than with some delicious recipes? Whether you're looking for traditional dishes or modern twists, I've got you covered with 23 amazing recipes that will make you reach for the sesame oil. From lion's head pork meatballs to sesame seed balls, from dan dan noodles to eight-treasure rice, from cashew chicken to sweet and sour pork, and more, these recipes are easy to make and full of flavor. You will love the combination of savory, spicy, sweet, and sour tastes that make Chinese cuisine so unique and satisfying. So grab your apron and get ready to cook these amazing dishes. These are the best Chinese New Year recipes you need to try.
Lion's head pork meatballs are a traditional Chinese dish that is named after their large size and shape. They are made with ground pork, scallions, ginger, garlic, soy sauce, and cornstarch. They are simmered in a savory broth with napa cabbage and mushrooms. They are tender, juicy, and flavorful. You can serve them with rice or noodles for a hearty and satisfying meal.
Moo shu vegetables are a colorful and healthy stir-fry dish that is vegan and gluten-free. They are made with shredded cabbage, carrots, mushrooms, and tofu, seasoned with soy sauce, rice vinegar, hoisin sauce, and sesame oil. They are served with thin pancakes or tortillas that you can wrap around the filling and dip in more hoisin sauce. They are crunchy, tangy, and delicious.
Cashew chicken is a popular Chinese takeout dish that you can make at home with simple ingredients and 20 minutes of your time. It's made with chicken breast, cashews, bell peppers, garlic, ginger, soy sauce, honey, and rice vinegar. It's stir-fried until the chicken is cooked and the sauce is thickened. It's nutty, sweet, and savory. You can serve it with rice or quinoa for a complete meal.
Chinese noodle soup is a comforting and versatile dish that you can customize to your liking. It's made with fresh or dried noodles, chicken or vegetable broth, soy sauce, sesame oil, and scallions. You can add any toppings you like, such as boiled eggs, bok choy, mushrooms, tofu, or meatballs. It's warm, soothing, and satisfying. You can enjoy it for breakfast, lunch, or dinner.
Sichuan boiled fish is a spicy and aromatic dish that originates from the Sichuan province in China. It's made with fish fillets that are poached in a hot and numbing broth with Sichuan peppercorns, dried chilies, garlic, ginger, and bean sprouts. It's garnished with cilantro and sesame seeds. It's tender, fragrant, and mouthwatering. You can serve it with steamed rice to balance the heat.
Dan dan noodles are a classic Sichuan street food that is spicy and addictive. They are made with thin noodles tossed in a sauce of sesame paste, soy sauce, vinegar, sugar, chili oil, and Sichuan peppercorns. They are topped with minced pork cooked with garlic, ginger, doubanjiang (fermented broad bean paste), and shaoxing wine. They are nutty, tangy, and savory. You can sprinkle some chopped peanuts and scallions for extra crunch and freshness.
Soft and fluffy Asian steamed buns are a versatile and delicious bread that you can make at home with this foolproof recipe. You only need six ingredients: all-purpose flour, instant yeast, sugar, salt, oil, and water. You can shape them into round or oval buns and steam them until they rise and become airy. You can enjoy them plain or with your favorite fillings, such as barbecue pork, red bean paste, or custard.
Peanut noodles are a quick and easy meal that is packed with flavor and protein. They are made with noodles of your choice, tossed in a creamy and spicy peanut sauce. You can add any vegetables or meat you like, such as carrots, cucumbers, chicken, or shrimp. They are great for lunch, dinner, or meal prep. You can serve them hot or cold.
Scallion pancake is a crispy and savory flatbread that is popular in Chinese cuisine. It's made with a simple dough of flour, water, salt, and oil, layered with chopped scallions and sesame seeds. It's pan-fried until golden and crisp on both sides, then cut into wedges. It's a delicious snack or appetizer that you can dip in soy sauce or vinegar.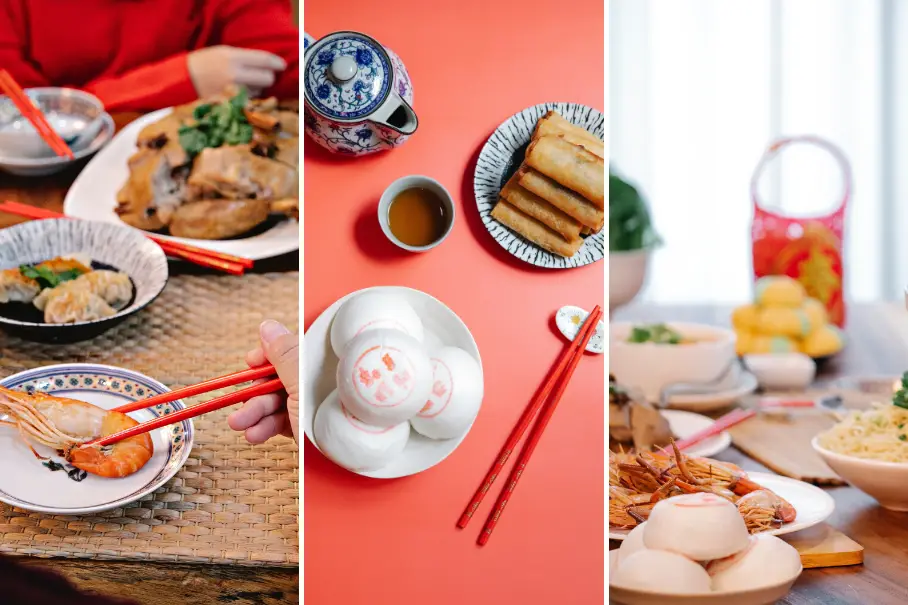 Instructions
Select your favorite Chinese New Year recipe.

Gather all necessary ingredients.

Create a tasty Chinese New Year dish using simple steps and enjoy!