Explore 14 delectable Chinese pork recipes, from classics like char siu to modern favorites.
EASY AND DELICIOUS CHINESE PORK RECIPES
Pork is a staple in Chinese cuisine, and there are countless ways to prepare it. From stir-fries and roasts to braises and soups, pork dishes are flavorful, satisfying, and easy to make. In this list, you'll find 14 Chinese pork recipes that will inspire you to cook with this versatile meat. You'll find classic dishes like pork fried rice, char siu, and peking pork chops, as well as some new favorites like ginger pork stir-fry, honey garlic pork chops, and sticky Chinese pork belly. These recipes are perfect for a weeknight meal or a special occasion. Whether you prefer spicy, sweet, or savory, there's a Chinese pork recipe for you in this list. So grab your pork, your spices, and your appetite, and get ready to enjoy some of the best Chinese pork recipes ever.
For a quick and easy weeknight meal, try pork stir-fry with sweet bean sauce. This dish has tender pork slices coated in a savory and slightly sweet sauce, along with crunchy vegetables. You can serve it with rice or noodles for a satisfying and delicious dinner.
Zongzi are traditional Chinese rice dumplings wrapped in bamboo leaves. They are usually eaten during the Dragon Boat Festival, but you can enjoy them anytime you crave a hearty and comforting snack. Learn how to make Cantonese-style zongzi with pork, salted egg yolk, and peanuts in this step-by-step recipe.
Braised pork belly, or Dong Po Rou, is a classic Chinese dish that originated from the Song Dynasty. It features pork belly that is simmered in a rich and aromatic sauce until it becomes melt-in-your-mouth tender. This recipe shows you how to make authentic braised pork belly with just six ingredients and a few simple steps.
Nothing beats a plate of classic pork fried rice when you want a satisfying and flavorful Chinese takeout dish. This recipe teaches you how to make restaurant-quality pork fried rice at home with jasmine rice, pork tenderloin, eggs, and vegetables. It's easy, versatile, and ready in 20 minutes.
Cantonese roast pork belly, or siu yuk, is one of the most popular Chinese roast meats. It has a crispy and crackling skin that contrasts with the juicy and tender meat underneath. Follow this recipe to learn how to make your own Cantonese roast pork belly with a few simple seasonings and a foolproof method.
Shanghai-style braised pork belly is a dish that combines the flavors of the East and the West. It uses pork belly that is cooked in soy sauce, Shaoxing wine, and sugar until it develops a caramelized and glossy crust. The meat is then cut into bite-sized pieces and served with steamed buns or rice.
Hunan pork is a spicy and smoky stir-fry dish that originates from the Hunan province in China. It consists of fatty pork strips, hot chili peppers, and fermented black beans that create a complex and aromatic flavor. You can adjust the spiciness to your liking and enjoy this dish with rice or noodles.
Ginger pork stir-fry is a healthy and delicious dish that you can make in less than 30 minutes. It has thin slices of pork that are marinated in coconut aminos, ginger, garlic, and lime juice, then stir-fried with broccoli and carrots. It's gluten-free, paleo-friendly, and low-carb.
Peking pork chops are crispy fried pork chops coated in a tangy, sweet, and sour sauce. They are similar to the American dish of sweet and sour pork, but with a more complex and balanced flavor. This recipe shows you how to make Peking pork chops with simple ingredients and an easy method.
Char siu, or Chinese BBQ pork, is a dish that has a sweet, savory, and smoky flavor. It's made by marinating pork shoulder in a homemade char siu sauce, then roasting it in the oven until it's charred and tender. You can slice it thinly and serve it with rice, noodles, or steamed buns.
Honey garlic pork chops are juicy and flavorful pork chops that are glazed with a sticky honey garlic sauce. They are easy to make in one pan with only a handful of ingredients. You can serve them with mashed potatoes, rice, or salad for a complete meal that everyone will love.
Moo shu pork is a Chinese dish that consists of shredded pork, eggs, mushrooms, cabbage, and scallions stir-fried in a savory sauce. It's traditionally served with thin pancakes that you can wrap around the filling and dip in hoisin sauce. This recipe shows you how to make moo shu pork from scratch with simple ingredients.
Sticky Chinese pork belly is a slow-cooked dish that has a melt-in-your-mouth texture and a rich caramel sauce. It's made by braising pork belly in a mixture of soy sauce, brown sugar, honey, vinegar, garlic, ginger, and star anise until it's tender and sticky. It's perfect for serving over rice or noodles with some green vegetables on the side.
The best slow cooker Chinese pork is a dish that will make your house smell amazing and your taste buds happy. It's made by slow-cooking pork shoulder in a sauce of soy sauce, brown sugar, ketchup, vinegar, garlic, ginger, and five-spice powder until it's fork-tender and shreddable. You can serve it on buns, rice, or lettuce wraps with some sesame seeds and green onions for garnish.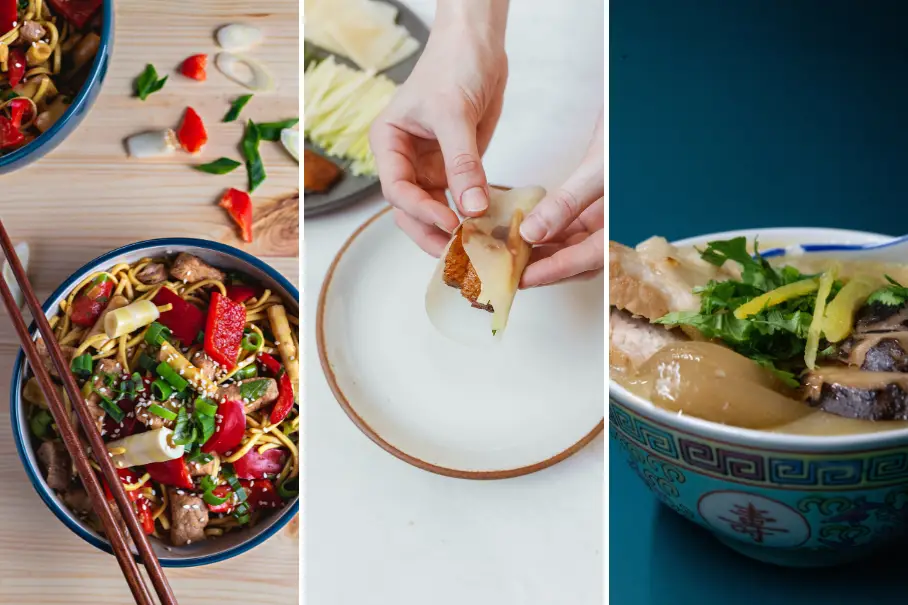 Instructions
Select your favorite Chinese pork recipe.

Gather all necessary ingredients.

Create a tasty Chinese pork dish using simple steps and enjoy!