Indulge in a world of flavors with these Asian ground turkey recipes. From Thai Drunken Noodles to lettuce wraps, discover culinary delights.
Turkey Recipes Celebrating the Magic of Asian Cuisine
Get ready for a culinary experience that will delight your taste buds with the appealing flavors of Asia. If you enjoy the aromatic spices and unique combinations that Asian cuisine offers, you will like this. Today, I'm happy to show you a series of Asian ground turkey recipes that are tasty and bring the charm of the East to your plate. From the spicy Thai Drunken Noodles, full of flavors, to the elegant zucchini boats stuffed with garlicky sesame chicken, these recipes are a variety of tastes and textures. So, put on your apron and get ready to explore the colorful world of Asian-inspired dishes that will please your family and friends.
RELATED: How To Grind Your Own Turkey at Home
Enjoy this easy and flavorful Thai dish that you can make at home in less than 40 minutes. It is GF and has no refined sugar. It is called Pad Kee Mao or Thai Drunken Noodles.
This Thai Turkey Meatloaf is a unique and tasty dish that has ginger and garlic in it. It is covered with a Sriracha glaze that is sweet and spicy. You will love this meatloaf.
Learn how to make Chinese green beans with ground turkey with this step-by-step recipe. It is one of the best ways to cook ground turkey. Give it a try and see for yourself.
These Turkey Egg Rolls are baked in the oven and they are so delicious. Your kids will love them more than the take out version.
This recipe is a low-carb and keto-friendly version of egg rolls without the wrapper. It has ground turkey or pork, cabbage, carrots, and a yummy sauce. It is fast, easy, and tasty.
Pot Stickers are a comforting and healthy dish that you can make with ground turkey. They are filled with turkey and veggies, and they are delicious. You will enjoy these pot stickers.
These Turkey Meatballs are tender and coated with a sticky sweet sauce that is amazing. They are easy to make in less than 30 minutes. They are glazed and delicious.
These stuffed peppers are a healthy alternative to Asian takeout that have broccoli and carrots in them. They also have quinoa and teriyaki turkey in them. They are a great way to eat stuffed peppers.
These lettuce wraps are filled with tender turkey and crunchy veggies that are seasoned well. They are a healthy appetizer or dinner that you will love. They have an Asian flavor and are delicious.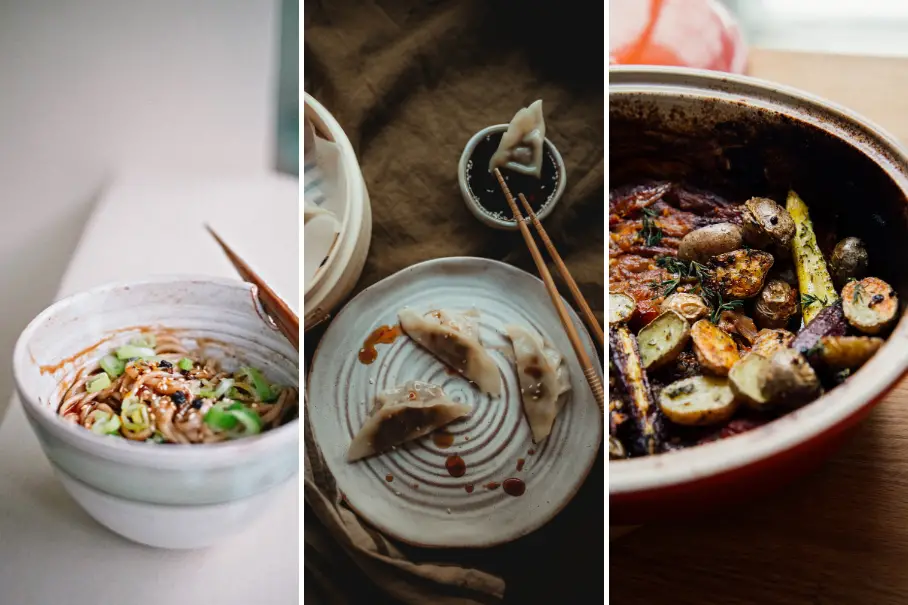 Instructions
Choose Asian ground turkey recipes that bring an exotic twist to your table.

Gather all necessary ingredients.

Craft mouthwatering Asian ground turkey dishes using simple steps and relish the fusion of flavors!