Time to bring the flavors of The Bayou to your dinner table. This Sheet Pan Cajun Shrimp recipe is simple to make, fun to eat, and a breeze to clean up.
SHEET PAN CAJUN SHRIMP BAKE
It was one of those life-changing moments. You know the kind, where you see a concert in an iconic venue or hear the passionate and encouraging message from a graduation speaker. This life-changing moment for me included picnic tables covered in newspapers. That's right folks, we are talking about my very first Cajun boil. Garbage can loads of shrimp, crawfish, sausage, and corn. Also, something that best can be described as a spice bag, though it resembled one of those chalk bags that pitchers use on the mound during games to keep their hands dry. All the ingredients were about as humble as they come. The setting, a driveway, was about as basic as it gets. Yet, the experience is one that I will remember forever and look back upon fondly.
I have always wanted to replicate those flavors for my kids, however, the idea of shampooing the carpets afterward had always been a bit of roadblock. It is time to bring the flavors of The Bayou to your dinner table. This Sheet Pan Cajun Shrimp recipe has the ability to whisk us off on a cloud of flavors, back to that driveway with the picnic tables. It's easy to make, and even easier to clean up. This will surely become a family favorite for all.
WHAT IS A SHEET PAN CAJUN SHRIMP BAKE?
A Sheet Pan Cajun Shrimp Bake is kind of like a Cajun boil. Similar flavors, but on a much smaller scale. This is something that you can make on a busy weeknight, or as a treat on a lazy summer weekend.
WHAT DOES THIS CAJUN SHRIMP TASTE LIKE?
This shrimp bake recipe's flavors come primarily from the Cajun Butter that is slathered all over every inch of ingredients. There is also the saltiness from the shrimp, sweetness from the corn, and then a hint of starch from the potatoes.
CAJUN SHRIMP BAKE INGREDIENTS
Red potatoes – 2 lbs

Raw shrimp – 2 lbs (I prefer to use the frozen, peeled and deveined shrimp, they involve the least amount of work while eating or prepping)

Corn on the cob – 4 ears, cut each ear into 3 smaller pieces

Andouille sausage – 3/4 lbs. Cut into slices about 1/2 inch thick.

Cajun Butter – 1/2 cup
HOW TO MAKE CAJUN SHEET PAN RECIPE
If you haven't made a sheet pan meal, you are probably going to wish you had started cooking these sooner. This is a fast and family-friendly meal.
Preheat oven to 425F

Fill a large pot with enough water that will cover up all your potatoes when you put them in. Bring the water to a boil.

While waiting on the water to boil, use a fork and stab a few holes in the skin of all the potatoes.

Boil potatoes for 20 minutes, or until fork-tender.

Line a baking sheet with parchment paper, and arrange the shrimp, corn, sausage, and cooked potatoes in an even layer.

Using a basting brush, generously apply all of the Cajun Butter to all of the ingredients on the tray.

Bake in the oven for 20 minutes.

Serve immediately
IS THIS CAJUN SHRIMP BAKE CONSIDERED HEALTHY?
I try to make my meals nutritionally balanced, especially when cooking for the kids. With that said, this meal is not going to rank the highest on any health food lists, if I were to create one. If you want to make sure that you are maximizing the health benefits of your food, then I would suggest selecting an Andouille sausage that is certified "organic". The fewer preservatives, the better. And, since this recipe calls for an entire stick of butter, either go with organic butter or consider going with an olive oil-based butter alternative.
CAN YOU MAKE THIS CAJUN SHRIMP BAKE AHEAD OF TIME?
This is one of those meals that you want to eat right out of the oven. Most of the ingredients would fare well in the refrigerator for a couple of days, except for the shrimp. And, if you have ever reheated shrimp in a microwave, then you know it can get rubbery. Especially if you were to nuke the shrimp for long enough to reheat the potatoes thoroughly.
CAN YOU FREEZE CAJUN SHRIMP?
See my comment above about making this meal for future use, or even for meal prepping purposes a week in advance. I don't recommend freezing this and then trying to evenly reheat potatoes, corn, and shrimp.
WHAT KITCHEN TOOLS DO I NEED TO MAKE A CAJUN SHRIMP BAKE?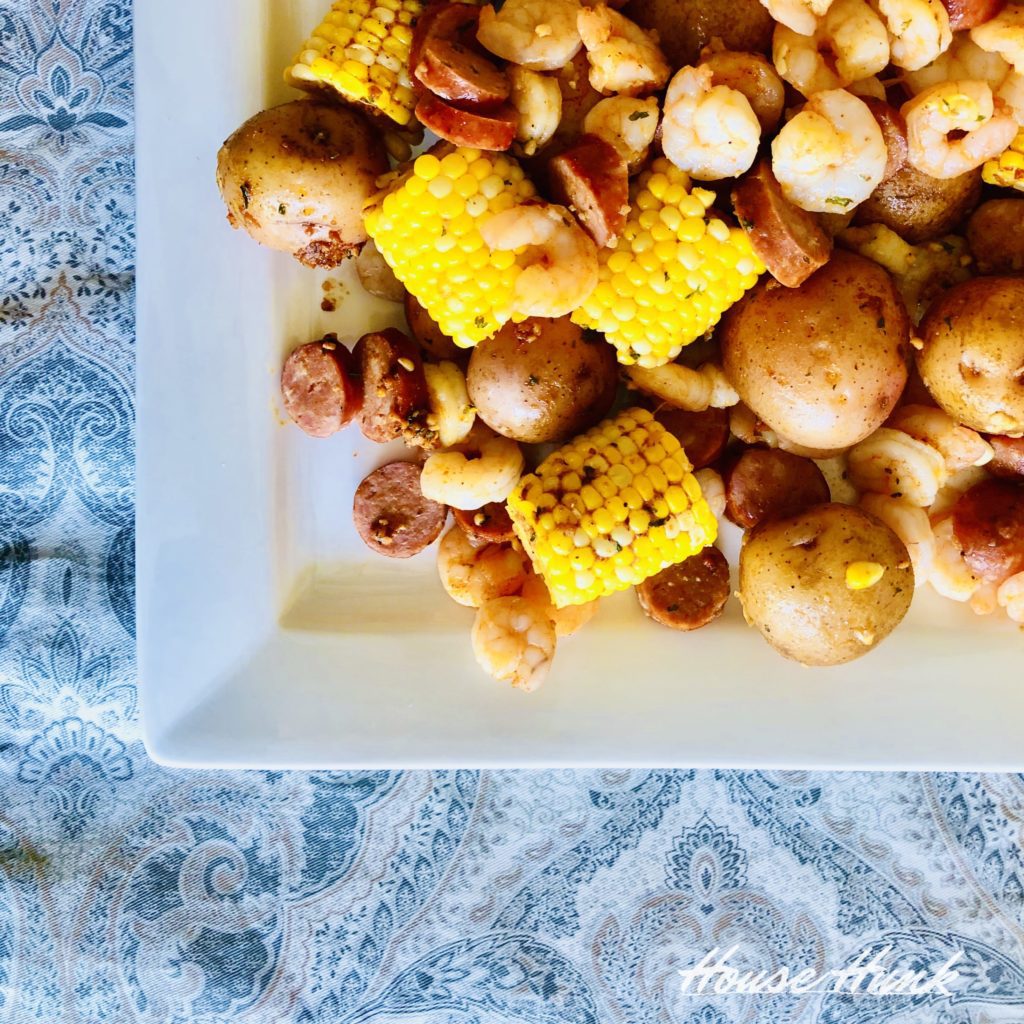 LOOKING FOR MORE EASY SHEET PAN MEAL RECIPES?​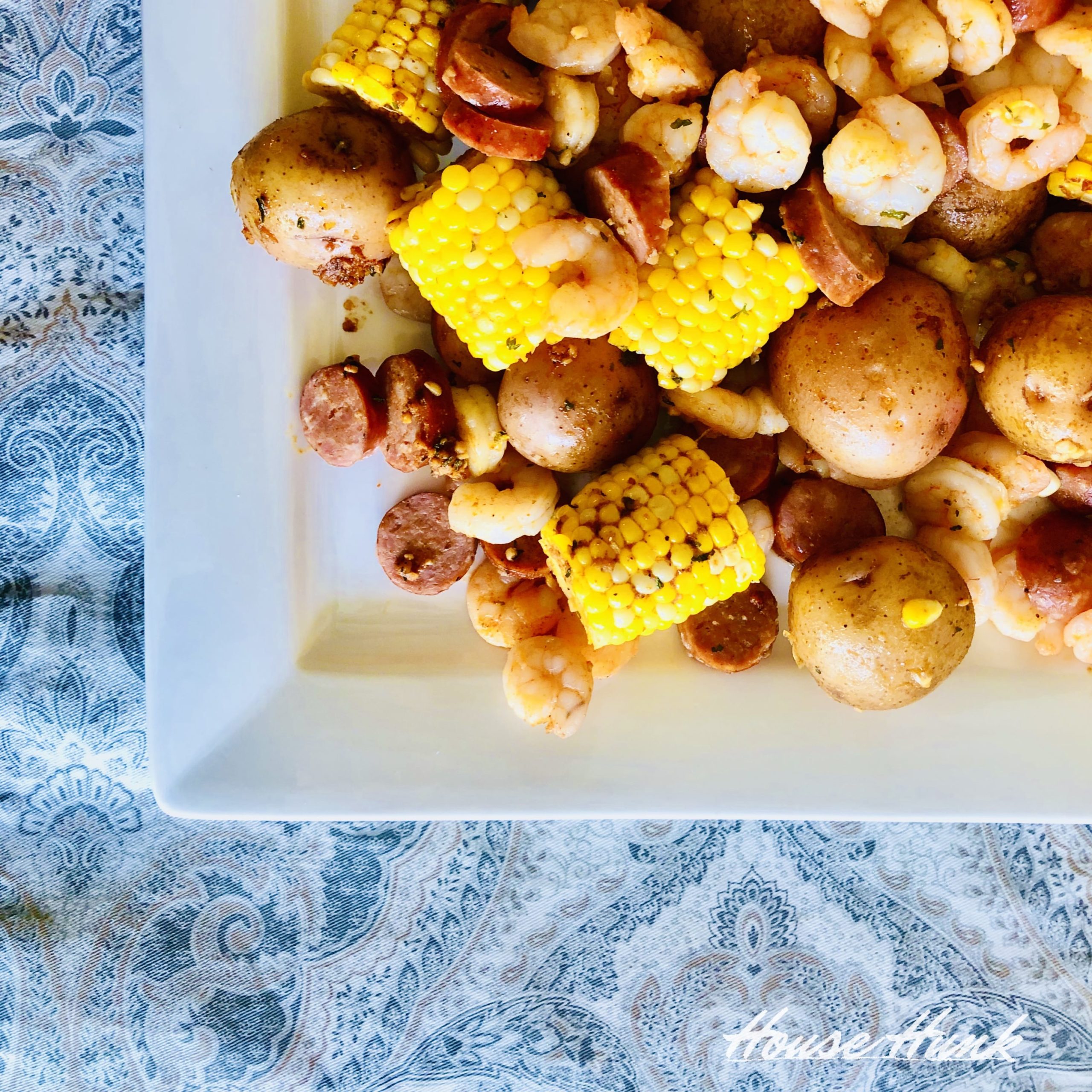 Ingredients
2

pounds

red potatoes

2

pounds

raw shrimp

peeled and deveined

4

ears

corn on the cob

cut into thirds

¾

pound

Andouille sausage

cut into 1/2 inch slices

½

cup

Cajun Butter

see recipe
Instructions
In a pot, with enough water to cover potatoes, bring water to a boil.

Using a fork, poke a few holes in the skin of each of the potatoes.

Boil potatoes for 20 minutes, until fork-tender.

On a parchment-lined baking sheet, arrange shrimp, corn, sausage, and potatoes in an even layer.

Using a basting brush, generously apply Cajun Butter to cover all the ingredients.

Bake in the oven for 20 minutes