You might have read the title of this recipe and thought: crack chicken recipe oven? This baked version of Crack Chicken takes less time and is just as delicious as the slow cooker recipe. And it will definitely satisfy your comfort food cravings.
BAKED CRACK CHICKEN RECIPE
Baked Crack Chicken is a variation of the standard recipe that is made using an Instant Pot or slow cooker. It combines all the ridiculously good flavors of chicken, bacon, ranch-flavored cream cheese, and cheddar cheese. As you can guess, the name comes from the addictive nature of this recipe.
WHAT DOES THIS BAKED CRACK CHICKEN RECIPE TASTE LIKE?
There are so many delicious flavors in crack chicken, such as ranch seasoning, cheddar and cream cheeses, and bacon…oh my the bacon. This is a very savory dish, plain and simple.
BAKED CRACK CHICKEN INGREDIENTS
Bacon crumbles – 1 cup

Extra Virgin Olive Oil – 2 tablespoons

Butter – 2 tablespoons

Boneless, skinless chicken breasts – 8 (approximately 2 pounds)

salt and pepper – to taste

Garlic powder – 1.5 teaspoons

Smoked paprika – 1 teaspoon

Cream cheese – 8 ounces (softened)

Onion Powder – 1/2 teaspoon

Dried dill weed – 1/2 teaspoon

Dried chives – 1 teaspoon

Shredded sharp cheddar cheese – 8 ounces
HOW TO MAKE CRACK CHICKEN RECIPE
There are a couple of different steps to this recipe. Frying bacon, mixing up the ranch-flavored cream cheese, and pounding/tenderizing the chicken breasts. Depending on how skilled you are with kitchen time management, you might want to make sure these are all complete before you start cooking your chicken. Below are the steps I take, in the same order, to make Baked Crack Chicken.
Preheat oven to 400°F

Grease a large casserole dish with nonstick cooking spray

To make the ranch flavored cream cheese: In a small bowl, mix cream cheese, chives, dill weed, onion powder, and 1 teaspoon of the garlic powder.

Using a meat hammer/tenderizer, pound chicken breasts until they are about 1/4-1/2 inch thick.
In a large skillet, over medium heat, add bacon and cook until crispy.

Remove bacon from skillet, keeping bacon fat.

Season chicken with salt, pepper, 1 teaspoon garlic powder, and paprika.

Heat olive oil in the pan with bacon fat, and add chicken.

Cook chicken on one side for approximately 4 minutes, or until browned. Flip chicken, add butter, and cook the other side until browned. Then set aside.

Place chicken in the baking dish, and top with equal amounts of ranch-flavored cream cheese mixture, shredded cheese, and half of the bacon crumbles.

Bake for 15 minutes

Top with remaining bacon and serve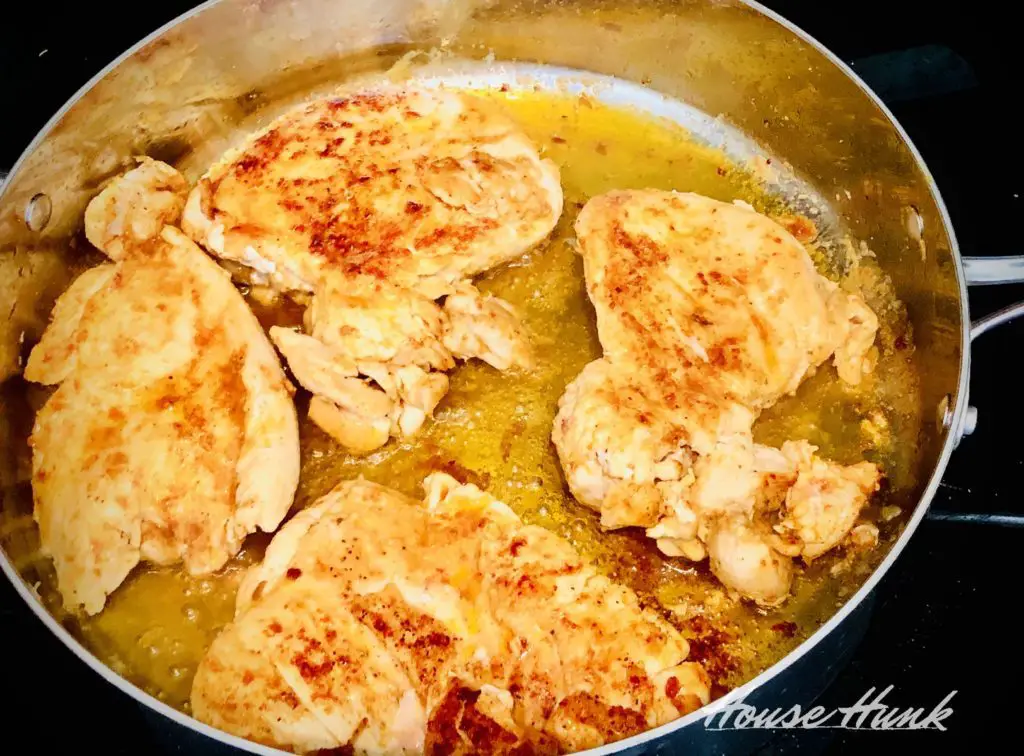 IS BAKED CRACK CHICKEN CONSIDERED HEALTHY?
I don't think you will be finding this easy baked crack chicken recipe listed on many spa menus. Crack chicken is packed with protein, and if you are maintaining a low carbohydrate diet, then this meal won't have a huge impact on your net carb consumption. However, if you are trying to watch your calorie or fat intake, then you may want to modify some of the ingredients or seek a lower fat alternative when it comes to the cheeses.
CAN YOU MAKE BAKED CRACK CHICKEN AHEAD OF TIME?
You can make this recipe ahead of time. If you are anticipating a hectic afternoon, or time crunch down the line, then you may want to consider doing some of the prep work ahead of time. Cook up the bacon, shred the cheese, make the cream cheese mixture, tenderize the chicken, get those done and the only steps you have left is a little sauteeing and baking.
CAN YOU FREEZE BAKED CRACK CHICKEN?
Yes, after making this crack chicken in oven you can freeze this recipe. You will look forward to these leftovers.
WHAT TO SERVE WITH BAKED CRACK CHICKEN?
This is a "heavy" dish. You might want to throw something green on your plate too.
Green beans

Steamed broccoli

Spinach salad
WHAT KITCHEN TOOLS DO I NEED TO MAKE BAKED CRACK CHICKEN?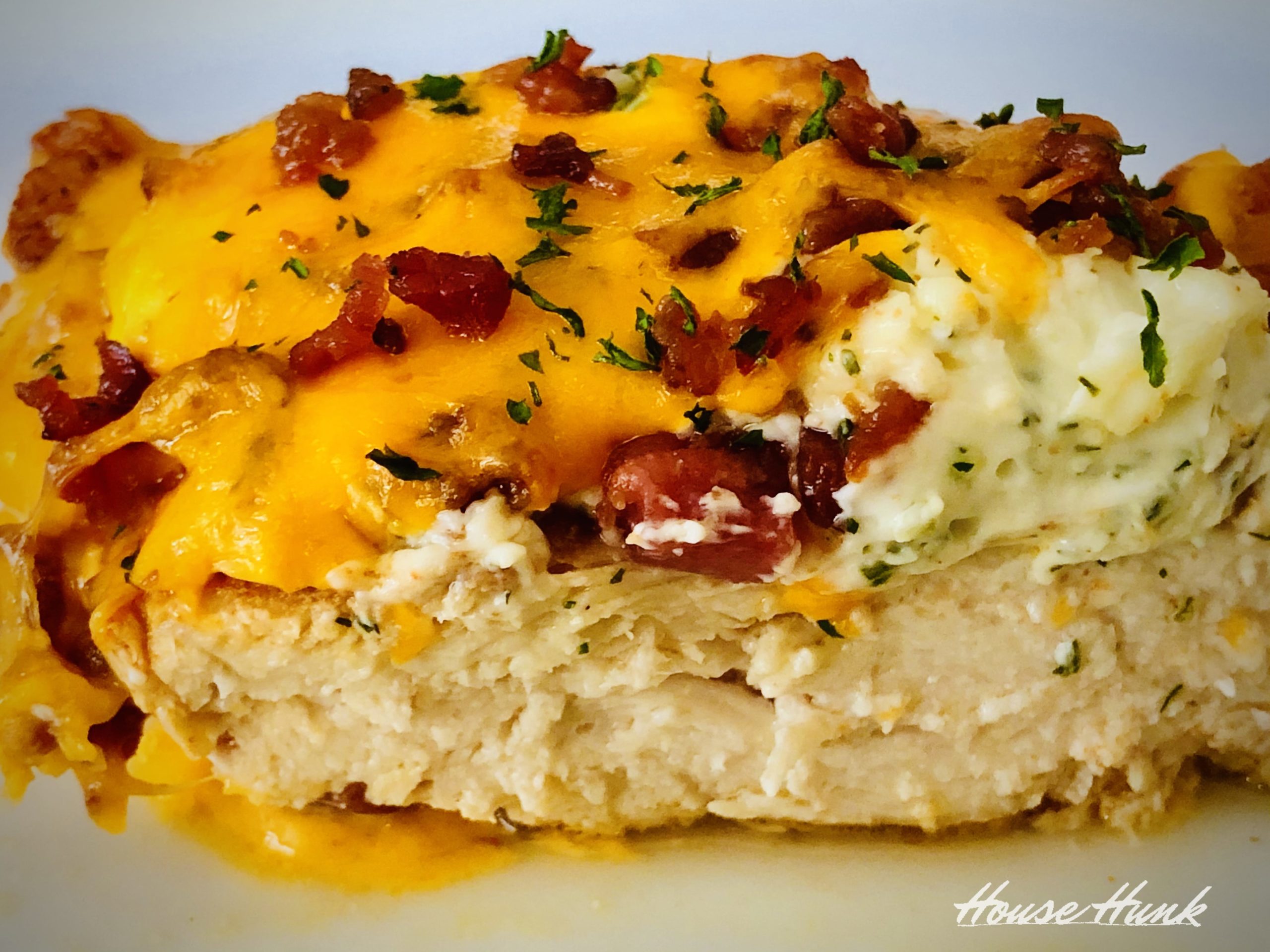 Instructions
Grease a large casserole dish with nonstick cooking spray

To make the ranch flavored cream cheese: In a small bowl, mix cream cheese, chives, dill weed, onion powder, and 1 teaspoon of the garlic powder.

In a large skillet, over medium heat, add bacon and cook until crispy.

Remove bacon from skillet, keeping bacon fat.

Season chicken with salt, pepper, 1 teaspoon garlic powder, and paprika.

Heat olive oil in the pan with bacon fat, and add chicken.

Cook chicken on one side for approximately 4 minutes, or until browned. Flip chicken, add butter, and cook the other side until browned. Then set aside.

Place chicken in the baking dish, and top with equal amounts of ranch-flavored cream cheese mixture, shredded cheese, and half of the bacon crumbles.

Top with remaining bacon and serve