Enjoy these delightful apple cocktails that capture the essence of fall. From cozy classics to creative twists, find your new favorite recipe.
EXPLORING THE WORLD OF APPLE-BASED COCKTAILS
As the leaves turn their fall colors, it's time to enjoy the warmth and coziness that this awesome season offers. What better way to do that than with a bunch of tempting apple cocktails that capture the spirit of fall? Imagine yourself savoring a feast of flavors, from the cozy notes of apple cider and cinnamon to the refreshing tang of fresh apple juice. With each sip, you'll be whisked away to orchards full of juicy fruit and the snug atmosphere of parties by the fireplace. So, grab your ingredients, put on your mixologist hat, and let's start a journey of crafting cocktails that will surely be the stars of your fall celebrations.
RELATED: 24 Tasty Apple Cider Cocktails to Warm Up Your Fall
This fall cocktail recipe is a must try with all of your favorite fall flavors. It has apple cider, cinnamon, and vanilla in it. This Apple Pie Cocktail is a delicious drink that you will love.
This Appletini (Apple Martini) is a favorite party cocktail with its superb sour apple flavor and ease. It only has four ingredients in it. It is a simple and tasty drink that you can make quickly.
This Apple Cider Cocktail is a delicious drink with a grown-up twist of bourbon. It is easy to make with just a few ingredients. It is a perfect drink for throwing a fall gathering or any occasion.
This honeycrisp apple cocktail is perfect for fall. It has fresh honeycrisp apple juice, honeycrisp apple syrup, vodka and ginger beer in it. It is a bubbly and refreshing drink that you can add a cinnamon sugar rim to – YUM.
This apple ginger smash cocktail is a refreshing and delicious drink that you can make for fall. It has a homemade apple spice simple syrup, ginger liqueur and apple cider in it. It is a perfect drink for enjoying the fall flavors.
This Lucky Shamrock is a sour apple tequila cocktail that is sweet n' sour with nuances of apple and lime. It has a pretty green hue that is perfect for celebrating St. Patrick's Day. Channel your inner Irish spirit with this boozy drink.
These simple apple margaritas have spiced sugar and salt rims that add some extra flavor. They are great cocktails for holiday fiestas and Mexican-themed dinners. They are easy and delicious drinks that you can enjoy anytime.
This Crown Apple Cocktail is a refreshing and easy drink that you can make for happy hour, holidays or any party. It has whiskey, apple juice, lemon juice and cranberry juice in it. You can make these drinks individually or for a crowd.
This Caramel Apple Sangria Recipe is the best easy Fall sangria recipe that you will love. It has apple cider sangria with caramel vodka & white wine in it. It is a sweet and tasty drink that you can make in minutes.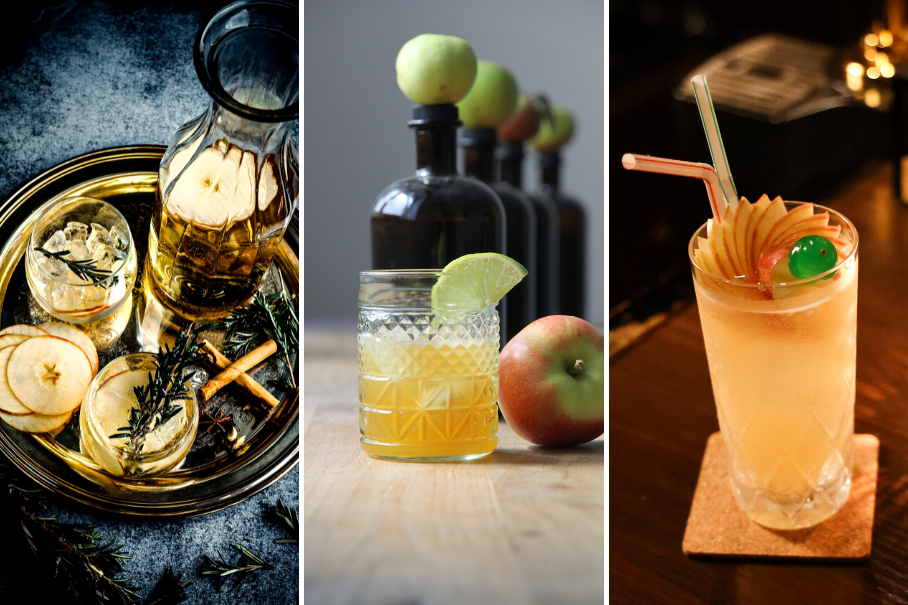 Instructions
Select your favorite apple cocktail recipe.

Gather all necessary ingredients.

Create enticing apple cocktails using simple steps and raise a glass to the harmonious flavors!