Delight your little ones with these adorable and tasty appetizers for kids. From mini grilled cheese to fruit bug kabobs, these recipes make snacking fun!
FLAVORFUL AND FUN KID-FRIENDLY APPETIZERS
Today, we're taking a trip to explore a bunch of appetizers that will make our toughest critics—kids!—happy. We all know that crafting dishes that please the little ones' taste buds while keeping them healthy can be a fun challenge. But don't worry, I've collected a variety of appetizers that are not only eye-catching but also packed with flavors that young palates will love. From the cozy comfort of mini grilled cheese to the whimsical allure of fruit bug kabobs, get set to spice up snack time with these tempting bites.
These quick and easy appetizers for kids are anything but "baby food". Cheese, check. Crispy, check. Satisfying? Oh, heck yeah.
These Mini Grilled Cheese Appetizers are ready in 20 minutes. They have crisp crostini, melting cheese, and a zesty dipping sauce. They will be a hit at any party!
These Taco Tortilla Roll Ups are a fast and easy appetizer for parties. They have cream cheese, chicken, cheddar cheese, taco seasoning, taco sauce, and parsley. They are creamy and delicious.
This is a perfect dip for fall that is creamy and crunchy. It goes well with fresh apple slices. It has cream cheese, brown sugar, vanilla, and toffee bits and is ready in 10 minutes.
These Mini Pancakes or silver dollars are a fun and bite-size breakfast option. They are perfect for your kid's lunchbox with their favorite toppings. They are a hearty and yummy meal.
These Crunchy Taco Cups are made in a muffin tin with wonton wrappers. They are fun and tasty. You will love these wonton tacos!
These Bacon Cheeseburger Meatballs are easy and flavorful meat morsels. They have cheese inside that oozes out when you bite them. They are so yummy!
These Game Day Veggie Dip Cups are perfect for snacking. They have ranch dressing and fresh vegetables: carrots, cucumbers, peppers, celery, and tomatoes. They are individual cups that you can enjoy.
These fruit bug kabobs are a cute and easy way to make a fruit platter for a party. They are perfect for a birthday or summer party buffet. They have different fruits that look like bugs on skewers.
These homemade potato chips are crispy and healthy. They are baked in the oven instead of fried. You can season them in different ways to suit your taste.
These mac and cheese bites are baked in the oven and are bite-sized balls of cheesy goodness. They have cooked macaroni, cheddar cheese, butter, milk, and eggs. They are ideal for parties, snacks, or lunch boxes.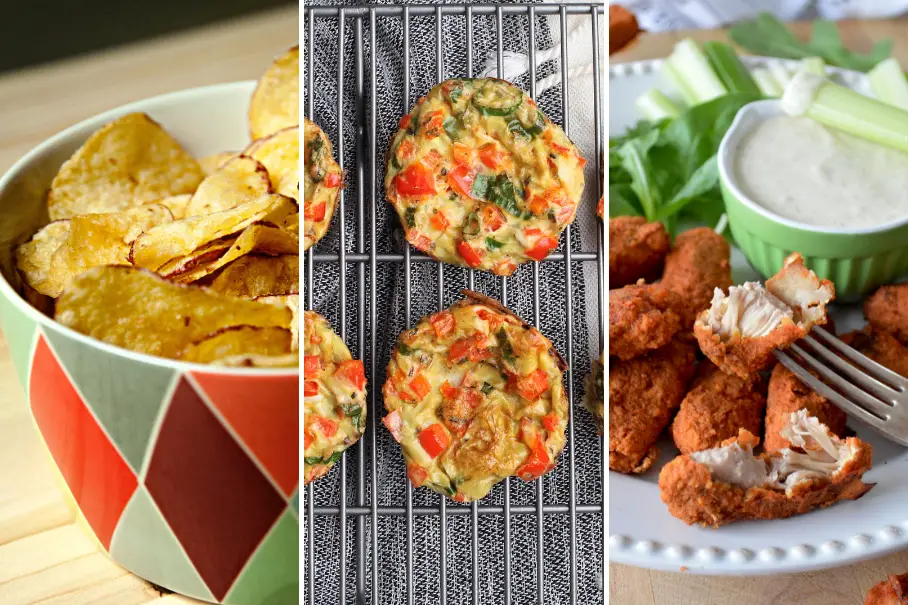 Instructions
Pick appetizers that are perfect for kids.

Gather all necessary ingredients.

Prepare delightful kid-friendly appetizers using simple steps and delight the little ones!