Indulge in a collection of vibrant and delicious vegetarian soup recipes that will awaken your taste buds.
LADLE UP THESE LUXURIOUS VEGETARIAN SOUPS
Get ready to embark on a culinary adventure as we delve into a collection of vegetarian soup recipes that will leave you eager to don your apron and grab a ladle. From creamy vegan tomato soup to comforting chickpea noodle soup, and from rustic Indian aloo curry to a velvety mushroom delight, these recipes showcase the vast array of flavors and textures that can be achieved without meat. Whether you're a seasoned foodie or just dipping your toes into the vegetarian realm, these enticing dishes are guaranteed to captivate your taste buds and nourish your body. Get ready to savor the goodness as we explore the world of vegetarian soups.
Indulge in the velvety smoothness of this creamy vegan tomato soup that combines the vibrant flavors of canned tomatoes with the lusciousness of coconut milk. Whether enjoyed as a satisfying lunch or a delightful dinner, this easy vegan tomato soup recipe is sure to tantalize your taste buds and leave you craving more.
Embrace warmth and comfort with a single pot of goodness in the form of this plant-based, gluten-free chickpea noodle soup. Bursting with a rainbow of colors and an array of wholesome ingredients, this nourishing soup not only promises a feast for the eyes but also a burst of flavors that will leave you feeling truly satisfied.
Experience the wonders of a comforting winter dish with this amazing Vegan White Bean Soup. Packed with robust flavors and hearty ingredients, this oil-free and gluten-free creation is a true testament to the art of plant-based cuisine. Brace yourself for a spoonful of deliciousness that will warm your heart and nourish your soul.
Dive into a bowl of ultimate comfort with this one-pot Vegan Cream of Celery Soup. By gently simmering cashews in the soup, they transform into a velvety softness that effortlessly blends into the creamy goodness. Indulge in the luxuriously smooth texture and savor the delicate flavors created right in the heart of the soup.
Embark on a culinary journey to the sun-drenched south of Spain with this easy and delicious ajo blanco recipe. This cold almond and garlic soup invites you to experience a taste of Mediterranean bliss in just a few simple steps. Delight your senses with a refreshing and delightful dish that will transport you to the shores of Andalusia.
Allow yourself to be embraced by the simplicity and warmth of this savory pumpkin soup. Crafted from scratch with only eight ingredients, this wholesome delight is a perfect companion for colder weather. Prepare to be nourished, satisfied, and captivated by the aromatic flavors that dance on your palate with each spoonful.
Transport your taste buds to the vibrant streets of India with the rustic charm of Aloo Curry, an Indian version of potato soup. With just a handful of ingredients, this humble recipe captures the essence of simplicity and flavor. Don't be surprised by how quickly this aromatic delight comes together, making it an ideal choice for those seeking a quick and comforting meal.
Immerse yourself in the smooth and creamy indulgence of this vegan Apple & Celeriac Soup. Sweetened with the natural goodness of apples, this comforting soup offers a delightful combination of flavors that will leave you craving more. Experience the ease and satisfaction of preparing this truly comforting dish, perfect for any occasion.
Let the heavenly aroma of Indian spices fill your kitchen as you embark on a culinary adventure with this vegan mulligatawny soup. Infused with the sweetness of apple and the richness of coconut milk, this tantalizing creation offers a harmonious balance of flavors that will transport you to the vibrant streets of India with every spoonful.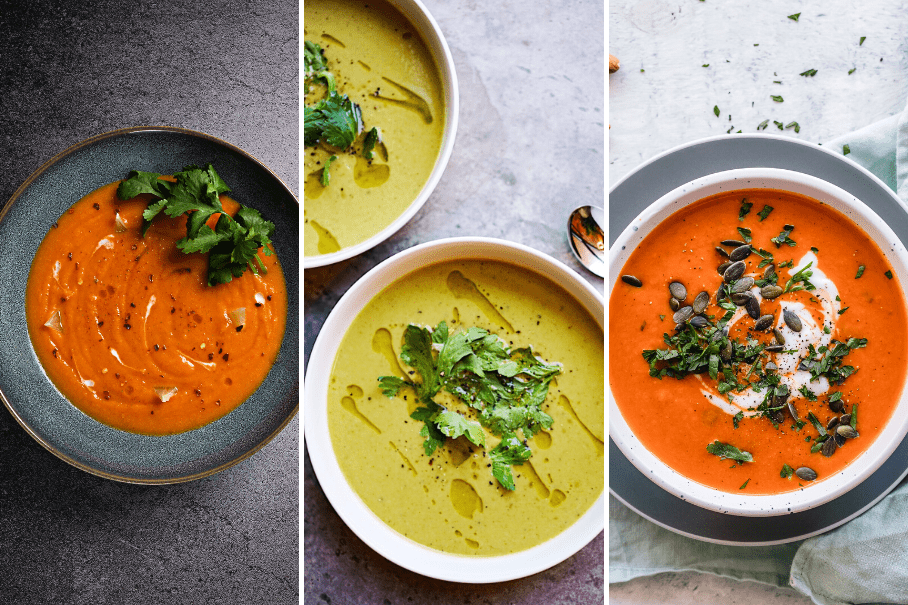 Instructions
Choose your favorite vegetarian soup recipe.

Gather all the necessary ingredients.

Prepare a delightful vegetarian soup recipe and enjoy!