Indulge in 19 delectable chocolate desserts for a sweet and satisfying treat.
THE BEST SWEET TOOTH SATISFYING CHOCOLATE DESSERT RECIPES
If you're looking for some indulgent and delicious chocolate desserts, you've come to the right place. I've rounded up 19 of the best chocolate recipes from around the web, featuring everything from cheesecakes and cookies to pies and puddings. Whether you prefer dark, milk, or white chocolate, there's something for everyone in this list. So grab your apron and get ready to satisfy your sweet tooth with these amazing chocolate desserts.
Coconut and white chocolate are a match made in heaven in this creamy cheesecake. It has a crunchy graham cracker crust, a smooth and rich filling, and a toasted coconut topping. It's a showstopper dessert for any occasion.
Spice up your cookie game with these Mexican hot chocolate cookies. They're soft, chewy, and loaded with cocoa, cinnamon, and cayenne pepper. They're also dipped in melted chocolate and sprinkled with sea salt for a sweet and salty finish. They're perfect for a cozy winter treat.
This chocolate tart is a decadent dessert that's easy to make and elegant to serve. It has a buttery pastry crust and a silky chocolate ganache filling. It's also served with a dollop of chilli crème fraîche for a subtle kick of heat. It's a chocolate lover's dream come true.
Chocolate pasta may sound unusual, but it's actually delicious and fun to make. It's made with cocoa powder, flour, eggs, and water, and cooked until al dente. It's then tossed with a chocolate hazelnut cream sauce and topped with white chocolate shavings and fresh berries. It's a unique and indulgent dessert that will wow your guests.
This chocolate chip dessert pizza is a giant cookie that's topped with cream cheese frosting and mini chocolate chips. It's soft, chewy, and irresistible. It's also easy to make with store-bought or homemade cookie dough and frosting. It's great for parties, kids, or as a sweet treat.
This chocolate peanut butter avocado pudding is a healthy and delicious dessert that you can whip up in minutes. It's made with ripe avocados, cocoa powder, peanut butter, maple syrup, and almond milk. It's also vegan, gluten-free, and refined sugar-free. It's creamy, rich, and satisfying.
This Kentucky bourbon pie is a classic Southern dessert that's full of flavor and texture. It has a flaky pie crust and a custardy filling that's studded with chocolate chips and pecans. It's also spiked with bourbon for a boozy kick. It's best served warm with some whipped cream or vanilla ice cream.
These molten chocolate lava cakes are the best and the easiest you'll ever make. They're made with just six ingredients and ready in 25 minutes. They're also ooey, gooey, and bursting with melted chocolate in the center. They're perfect for Valentine's Day, date night, or any special occasion.
This Reese's cake is a peanut butter and chocolate lover's dream come true. It has two layers of moist chocolate cake and a layer of peanut butter cheesecake in between. It's also frosted with peanut butter buttercream and topped with Reese's cups and chocolate ganache. It's decadent, delicious, and irresistible.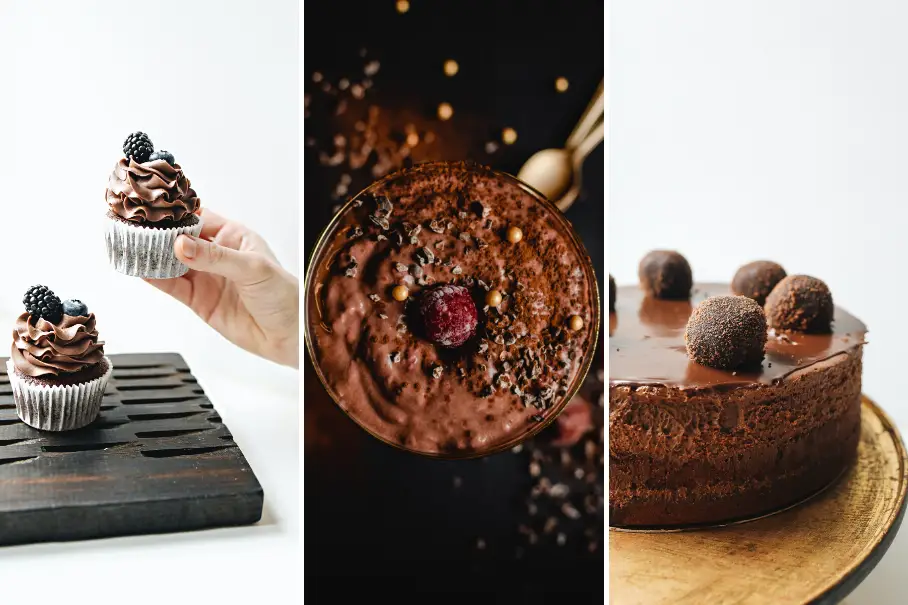 Instructions
Select your favorite chocolate dessert recipe.

Gather all necessary ingredients.

Create a tasty chocolate dessert using simple steps and enjoy!