Elevate your feast with 21 decadent chocolate desserts for Thanksgiving. From cakes to cookies, sweeten your celebration.
GO OVER THE RIVER AND THROUGH THE WOODS FOR THESE CHOCOLATE THANKSGIVING DESSERTS
Thanksgiving is a time to celebrate with family and friends, and what better way to do that than with some decadent chocolate desserts? Whether you're looking for cakes, pies, bars, or cookies, you'll find a recipe that will make your Thanksgiving table more delicious and festive. In this list, you'll find 21 chocolate desserts for Thanksgiving that are easy, impressive, and irresistible. You'll find recipes that feature seasonal flavors like pumpkin, pecan, and cranberry, as well as some fun and creative ones like turkey cupcakes, chocolate raspberry eggs, and chocolate chess pie. These chocolate desserts are sure to make your Thanksgiving sweeter.
Surprise your kids with these adorable turkey cupcakes for Thanksgiving. They're easy to make with chocolate cake mix, frosting, and candy corn. They're also a fun activity to do together as a family.
Nothing says romance like a strawberry chocolate cake. This decadent dessert features layers of moist chocolate cake, fresh strawberries, and whipped cream. It's perfect for Valentine's Day or any special occasion.
If you love chocolate, you'll love this angus barn chocolate chess pie recipe. It's a rich and creamy pie with a crispy crust and a gooey filling. It's simple to make with just a few ingredients and a store-bought pie crust.
Treat yourself to a slice of double chocolate no-knead bread. This easy recipe requires no mixer, no kneading, and no fuss. Just mix, rise, bake, and enjoy. It's a chocolate lover's dream come true.
This flourless sweet potato chocolate cake is paleo, vegan, gluten-free, and delicious. It's made with wholesome ingredients like sweet potatoes, almond butter, cocoa powder, and maple syrup. It's moist, fudgy, and satisfying.
This mocha pudding pie is a heavenly dessert for coffee and chocolate fans. It has a chocolate cookie crust, a smooth mocha pudding filling, and a fluffy whipped cream topping. It's easy to make ahead and refrigerate until ready to serve.
This raspberry chocolate coffee cake is a delightful treat for breakfast or brunch. It has a tender vanilla cake base, a sweet raspberry filling, and a crunchy chocolate streusel topping. It's best served warm with a cup of coffee or tea.
This chocolate crème brûlée is an elegant and indulgent dessert that will impress your guests. You only need six ingredients and a few simple steps to make this custard with a caramelized sugar crust. It's a perfect way to end a special meal or celebrate an occasion.
These salted chocolate coconut bars are a delicious snack or dessert that you can make in no time. They're vegan, gluten-free, and refined sugar-free. They're made with shredded coconut, cocoa powder, maple syrup, coconut oil, and sea salt. They're chewy, chocolatey, and satisfying.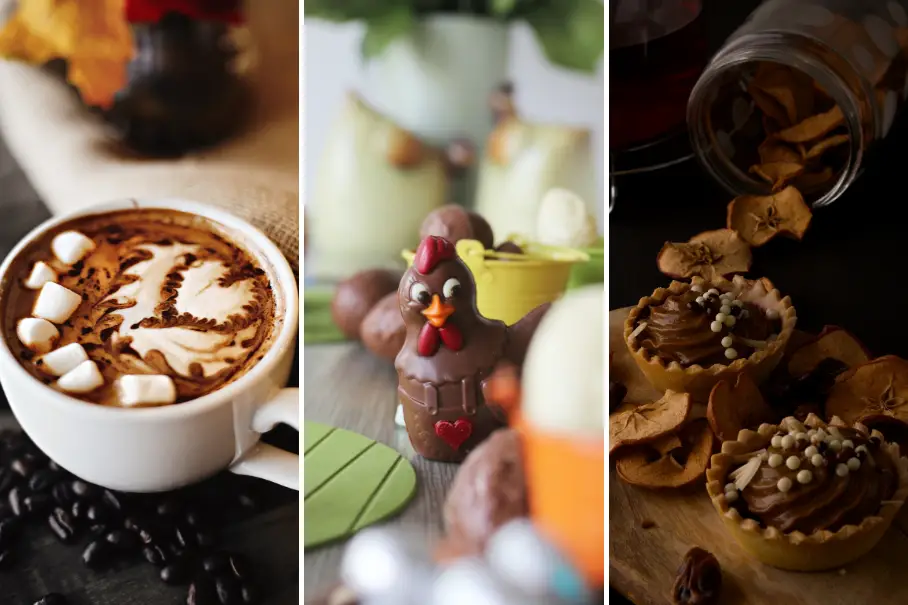 Instructions
Select your favorite chocolate dessert for Thanksgiving recipe.

Gather all necessary ingredients.

Create a tasty chocolate Thanksgiving dessert using simple steps and enjoy!