Explore 21 indulgent chocolate peanut butter desserts – a match made in heaven. Creamy, rich, and absolutely irresistible.
THE BEST CHOCOLATE PEANUT BUTTER DESSERTS!
Chocolate and peanut butter are a match made in heaven. They're rich, creamy, and irresistible. If you love this classic combination, you'll want to check out these 21 chocolate peanut butter desserts that are sure to make your mouth water. From clusters and bars to cakes and pies, these recipes are easy, decadent, and perfect for any occasion. Whether you need a quick treat or a show-stopping dessert, you'll find something to satisfy your cravings in this list. So grab your ingredients and get ready to enjoy some of the best chocolate peanut butter desserts ever.
Satisfy your sweet tooth with these chocolate peanut butter clusters. They're made with only four ingredients and no baking required. Just melt some chocolate and peanut butter, stir in roasted peanuts, and drop by spoonfuls onto parchment paper. They're a simple and delicious treat that everyone will love.
Indulge in these chocolate peanut butter cheesecake bars, a decadent dessert that's easy to make and serve. They have a buttery chocolate cookie crust, a creamy peanut butter cheesecake filling, and a smooth chocolate ganache topping. They're perfect for any occasion or just because.
Enjoy a slice of this slow cooker peanut butter chocolate cake, a moist and rich cake that's made with a cake mix and a few other ingredients. It's topped with a peanut butter glaze and chocolate chips for extra indulgence. It's a great dessert to make ahead and keep warm in the slow cooker until ready to serve.
Bake a batch of these peanut butter M&M cookies, a soft and chewy cookie that's loaded with peanut butter flavor and colorful candies. They're easy to make with basic ingredients and ready in under 30 minutes. They're fun to make and even more fun to eat.
Try these vegan chocolate peanut butter caramel bars, a healthy and delicious snack or dessert that's gluten-free and refined sugar-free. They have a crunchy oat crust, a creamy peanut butter caramel layer, and a rich chocolate topping. They're made with wholesome ingredients and no baking needed.
These peanut butter chocolate chip bars are soft, chewy, and loaded with nuts and chocolate chunks. They're easy to make with brown butter, brown sugar, and vanilla extract. They're the ultimate cookies for any occasion.
This chocolate peanut butter lasagna is a layered dessert that is sure to impress your guests. It has a chocolate cookie crust, a cream cheese layer, a chocolate pudding layer, and a whipped topping layer. It's sprinkled with mini chocolate chips and peanut butter cups for extra decadence.
These chocolate peanut butter dream bars are a scrumptious treat for any occasion. They have a buttery shortbread crust, a gooey peanut butter caramel layer, and a layer of melted chocolate on top. They're easy to make and cut into bars.
This chocolate peanut butter no-bake dessert is a breeze to make and a joy to eat. It's packed with crunchy graham crackers, creamy peanut butter, and rich chocolate pudding. It's topped with whipped cream and shaved chocolate for extra indulgence.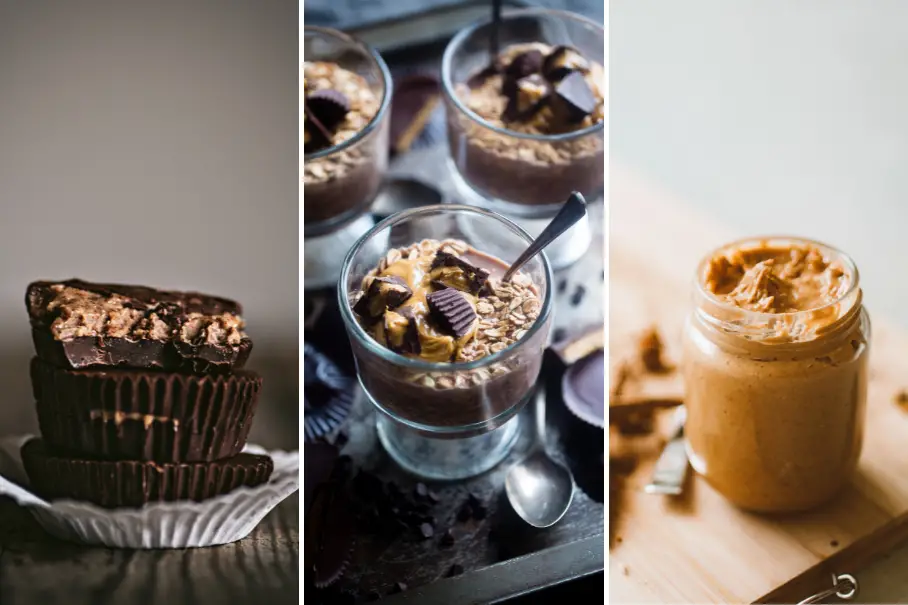 Instructions
Select your favorite chocolate peanut butter dessert recipe.

Gather all necessary ingredients.

Create a tasty chocolate peanut butter dessert using simple steps and enjoy!