Indulge in the rich allure of red velvet desserts with these 24 delectable recipes that redefine dessert delight.
Delightful Red Velvet Dessert Delicacies
Do you have the courage to embark on a red velvet quest that will challenge your palate and satisfy your cravings? Today, I present to you 24 remarkable red velvet recipes that are decadent, delicious, and dashing. You'll discover a variety of treats, from crunchy and smooth bars to tempting cupcakes to a magnificent trifle that will win your heart. Join me as we delve into these red velvet marvels that are suitable for any occasion.
Elevate your dessert game with the Best Red Velvet Bars recipe. Starting with a sophisticated boxed cake mix, these bars are dressed to impress. A luscious homemade buttercream frosting adds a thick and creamy touch, making these treats a must-try.
Indulgence takes a crunchy twist in the Red Velvet Seven Layer Bars. This decadent dessert combines the timeless charm of red velvet cake with the satisfying crunch of Oreos. With a medley of gooey ingredients—chopped Peeps, red velvet chocolates, white chocolate chips, and M&M's candies—held together by a drizzle of sweetened condensed milk, these bars redefine indulgence. The base, crafted from a simple red velvet cake mix dough, bakes to a golden crisp. Don't miss the chance to add extra creaminess and crunch with the new Red Velvet Cake Oreos. Trust me, you'll be grateful for these heavenly delights!
Prepare to be swept away by the irresistibility of these moist and fluffy Red Velvet Cupcakes. Adorned with a generous dollop of cream cheese frosting, these cupcakes offer a beyond delicious experience that disappears in a flash.
Discover the art of crafting moist and soft Red Velvet Whoopie Pies, brimming with a luscious cream cheese filling. These cake-like cookie sandwiches are an irresistible delight that captures hearts with every bite.
Unite the creamy custard base of your favorite ice cream with the beloved flavors of classic red chocolate cake in Homemade Red Velvet Ice Cream. A delightful creation that satisfies your cravings for both cake and ice cream in one delectable scoop.
Red Velvet Crinkle Cookies present a delightful fusion of thickness and fudginess, with a subtle hint of cocoa flavor. An effortless and festive treat that suits both Valentine's Day and Christmas celebrations.
Embark on a journey of taste and texture with Red Velvet Cream Cheese Muffins. These soft and fluffy red velvet muffins feature a tantalizing swirl of cream cheese within the batter, topped with a crispy, crumbly butter topping.
Transform red velvet skeptics with the Red Velvet Cake with Cream Cheese Frosting recipe. A conversion born from experience, this cake's texture is perfected through tried-and-true tricks. Your doubts will dissipate with every delectable bite.
Fast and easy, these Red Velvet Donuts are a mouthwatering delight that will have you baking batch after batch. Their irresistible flavor guarantees their speedy disappearance.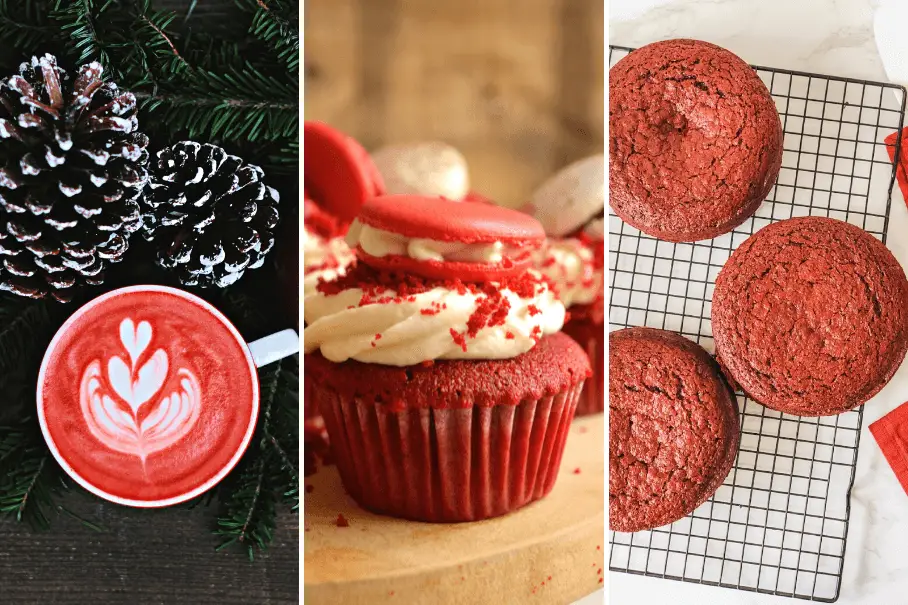 Instructions
Select your favorite red velvet dessert recipe.

Gather all necessary ingredients.

Craft delightful red velvet treats using simple steps and enjoy the velvety richness!