Unleash a medley of delightful flavors with these red cocktails. From classics to creative blends, raise your glass to indulgence.
RED Cocktails That Redefine Vibrant Flavor
Whether you're throwing a holiday bash, commemorating a momentous occasion, or simply unwinding at your abode, these red cocktails will make you feel spirited and splendid. From traditional beverages like cosmopolitan and bloody mary to inventive mixtures like cherry cobbler and love potion, there's something for everyone to savor. Plus, they're all effortless to prepare with basic ingredients and directions. So seize your shaker, your goblets, and your pals, and let's get set to guzzle some delectable drinks. Cheers!
This Holiday Pomegranate Gin Cocktail captures the essence and flavor of Christmas. It's a refreshing gin cocktail that combines the zesty notes of orange, the vibrant burst of pomegranate, the natural sweetness of honey, and a touch of thyme for a delightful twist.
Strike the right balance between sweetness and tartness with this impeccable cosmopolitan cocktail recipe. Whether you're making a single serving or preparing for a larger gathering, this recipe is your go-to choice.
Indulge in the Strawberry Prosecco Slushie, a simple yet sophisticated prosecco cocktail created in a blender. By blending prosecco with frozen strawberries, orange juice, and a hint of honey, you'll have a homemade wine slushie ready in minutes.
Elevate your mimosa game with the Cranberry Mimosa, also known as the Poinsettia Cocktail or Christmas Mimosa. The tanginess of cranberries complements the effervescence of champagne, all served in a glass rimmed with a touch of sugar.
Craft your own Bloody Mary cocktails at home with this delightful recipe. From scratch, using essential ingredients, you'll have a Bloody Mary mix that's perfect for your next brunch gathering.
Warm up with the timeless Classic Mulled Wine recipe. With just a handful of basic ingredients, you can create a steaming cup of mulled wine in just 15 minutes, perfect for cozy moments.
Enjoy the simplicity of the Easy Traditional Red Sangria, a quintessential Spanish delight. With only six ingredients and straightforward steps, you'll be sipping on this fruity, adaptable, and delicious beverage in no time.
Beat the summer heat with the luscious Frozen Strawberry Daiquiri. The blend of frozen and fresh strawberries is key to its irresistible appeal, making it a guaranteed hit among your crowd.
Experience a unique winter bourbon cocktail with The Blizzard Cranberry Bourbon Cocktail. Its subtle sweetness combined with the rich flavor of bourbon offers a distinct and enjoyable taste for the colder months.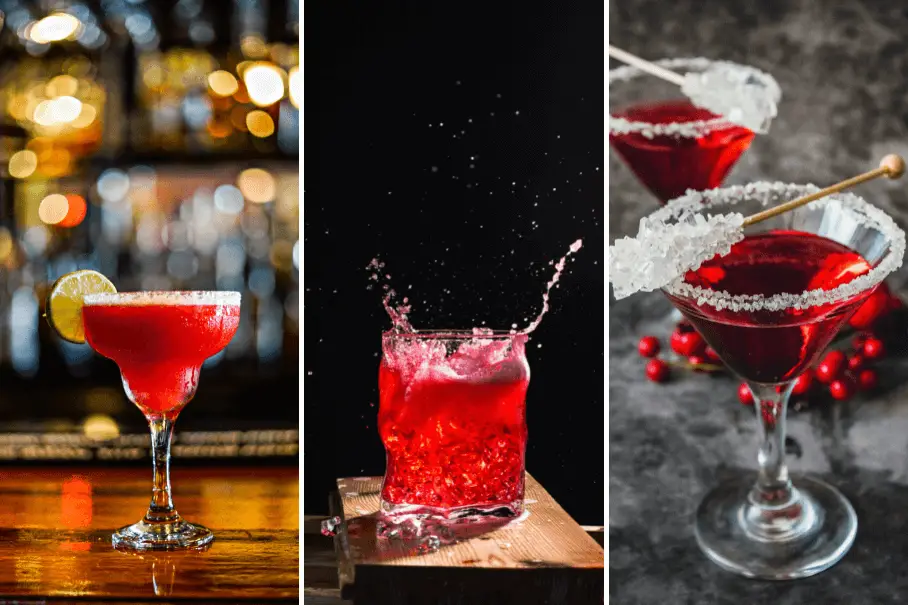 Instructions
Select your favorite red cocktail recipe.

Gather all necessary ingredients.

Create sophisticated red cocktails using simple steps and raise a glass to the crimson charm!