Indulge in these tantalizing key lime recipes that are perfect for any summer occasion. From pies to parfaits, these treats are a must-try!
ENJOY THE FLAVORS OF THE KEYS WITH THESE KEY LIME RECIPES
Fellow key lime lovers! I hear you, I see you, I stand with you! As the temperatures start to rise, I can't help but crave a refreshing and zesty treat to cool me down. Lucky for me (and you!), I've gathered these mouth-watering Key Lime recipes that are perfect for satisfying those cravings. Whether you're in the mood for a creamy pie, a citrusy cookie, or a cool parfait, these recipes are sure to delight your taste buds and transport you to a tropical paradise.
This super simple, delicious Key Lime Sugar Cookies recipe will surely put a smile on your face and have you daydreaming about your next trip to Key West.
Get ready for a deliciously healthy treat with these No Bake Key Lime Pie Bites! Not only are they paleo, low carb, keto, dairy free, gluten free and vegan, but they're also wicked yummy and incredibly easy to make.
If you're a fan of truffles and key lime pie, then you have to try these silky smooth Key Lime Pie Truffles! Each bite is a burst of sweet and tangy white chocolate lime ganache, perfectly balanced with crunchy graham cracker crumbs.
Treat yourself to a slice of heaven with this perfectly moist and flavorful Key Lime Bundt Cake! Topped off with a sweet glaze, every bite is an explosion of lime goodness that will transport you straight to the tropics.
You don't need a candy thermometer to make this deliciously easy Key Lime Fudge! With step-by-step instructions, mouth-watering photographs, and nutritional information, this recipe is a must-try.
Looking for a quick and elegant dessert? Try this light and refreshing citrus dessert that tastes just like your favorite key lime pie! Perfectly portioned in mini dessert dishes, everyone will rave about this easy treat.
If you love fondue, then you have to try this White Chocolate Key Lime Fondue! With graham crackers, fresh fruit, and cubed pound cake, each dip is a perfect combination of tangy and sweet.
Indulge in these Fluffy and Flavorful Key Lime Coconut Donuts that are baked, not fried, and ready in under 30 minutes! This baked lime coconut donut recipe is truly a hallelujah moment.
These Key Lime Cupcakes are the perfect combination of tart and sweet, with all the flavors of key lime pie in a pretty little cupcake. Enjoy a burst of flavor with each bite!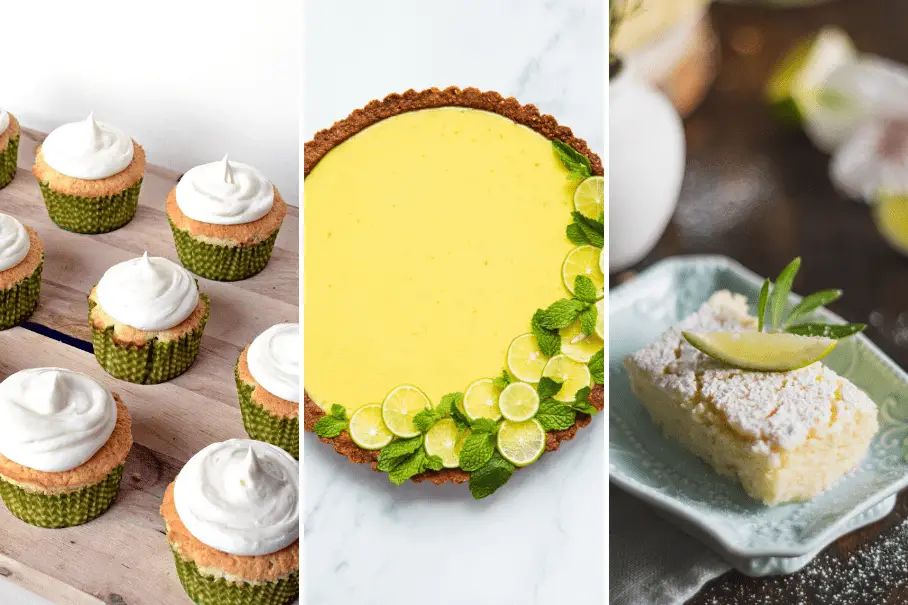 Instructions
Choose your favorite Key Lime recipe.

Gather all the necessary ingredients.

Prepare a delightful Key Lime recipe and enjoy!