Explore the sweet side of chickpeas with these 14 delectable chickpea dessert recipes! From cookies to cakes, and everything sweet!
PROTEIN-PACKED CHICKPEA DESSERTS
Chickpeas are not only great for savory dishes, but also for sweet treats. They add protein, fiber, and creaminess to desserts, while also being gluten-free, vegan, and nut-free. You can use chickpeas to make brownies, muffins, cookies, cakes, and even ice cream. In this list, you'll find 14 chickpea dessert recipes that are easy, delicious, and healthy. You'll be surprised by how good chickpeas can taste in desserts. Whether you're looking for chocolate, peanut butter, vanilla, or fruit flavors, there's a chickpea dessert for you in this list. So grab your blender, food processor, or mixer, and get ready to make some of the best chickpea desserts ever.
Chickpea brownies are a delicious way to enjoy a chocolate treat without any guilt. They're fudgy, rich, and gluten-free. Plus, they're packed with protein and fiber from the chickpeas. You won't believe how easy they are to make with just a few ingredients and a blender.
If you love muffins, you'll adore these chocolate chip chickpea muffins. They're moist, fluffy, and loaded with chocolate chips. They're also vegan, gluten-free, and low in sugar. Chickpeas add a nutty flavor and a boost of nutrition to these yummy breakfast or snack muffins.
Who says cookies can't be healthy? These chickpea peanut butter cookies are soft, chewy, and full of peanut butter goodness. They're also vegan, gluten-free, and refined sugar-free. All you need is a food processor and six ingredients to whip up a batch of these irresistible cookies.
For a decadent dessert that's also good for you, try these flourless chocolate chip chickpea blondies. They're vegan, gluten-free, and healthy, but you'd never guess from their amazing taste and texture. They're sweet, salty, and studded with chocolate chips. You'll want to eat the whole pan.
Chickpea cake might sound strange, but it's actually a wonderful way to make a moist and tender cake with no eggs or dairy. This vegan chickpea cake is flavored with lemon and vanilla, and topped with a simple glaze. It's perfect for any occasion, from birthdays to tea parties.
Chickpea cookie dough is a dream come true for anyone who loves eating raw cookie dough. It's vegan, gluten-free, and safe to eat without baking. It's also creamy, smooth, and satisfying. You can eat it by the spoonful, or roll it into balls and dip them in chocolate.
If you're looking for a light and refreshing cake that's also gluten-free and vegan, look no further than this chickpea strawberry cake. It's made with chickpea flour, almond milk, and fresh strawberries, and baked in a springform pan. It's sweet, fruity, and fluffy.
Vanilla layer cake is a classic dessert that everyone loves. But did you know that you can make it grain-free and vegan with chickpeas? This recipe uses chickpea flour, coconut milk, and vegan butter to create a moist and tender cake that's frosted with vanilla buttercream.
Chickpea chocolate chip cookies are a great way to satisfy your sweet tooth without compromising your health goals. They're vegan, gluten-free, and oil-free, but still soft and chewy. They're also easy to make with just one bowl and eight ingredients.
Nan-e nokhodchi are Persian chickpea cookies that are melt-in-your-mouth delicious. They're shaped like flowers and dusted with powdered sugar for a beautiful presentation. They're also gluten-free, dairy-free, and vegan-friendly.
Chocolate chickpea muffins are a chocolate lover's dream come true. They're moist, rich, and bursting with chocolate flavor. They're also gluten-free, dairy-free, and refined sugar-free. Chickpeas add protein and fiber to these indulgent muffins that are perfect for breakfast or dessert.
Chickpea chocolate cupcakes are a low-carb and gluten-free alternative to regular cupcakes. They're made with chickpeas, cocoa powder, eggs, and sweetener, and baked in a muffin tin. They're topped with a creamy chocolate frosting that's sugar-free and keto-friendly.
Chickpea banana muffins are a delicious way to use up ripe bananas and add some extra nutrition to your baked goods. They're gluten-free, dairy-free, and naturally sweetened with bananas and maple syrup. They're also moist, fluffy, and full of banana flavor.
Chocolate chickpea ice cream is a creamy and decadent treat that's vegan, gluten-free, and refined sugar-free. It's made with chickpeas, coconut milk, cocoa powder, dates, and vanilla extract, and churned in an ice cream maker. It's the ultimate summer dessert for chocolate lovers.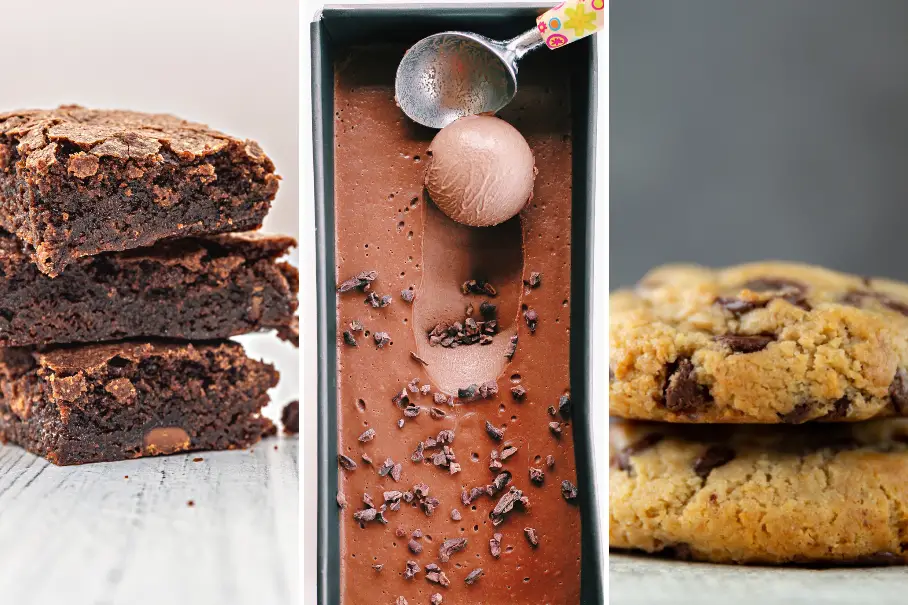 Instructions
Select your favorite chickpea dessert recipe.

Gather all necessary ingredients.

Create a tasty chickpea dessert using simple steps and enjoy!