Explore 17 delectable Chinese soup recipes, a warm and flavorful journey for your taste buds.
CHINESE SOUPS FOR HEARTY SATISFACTION
Chinese soups are warm, comforting, and delicious. They can be enjoyed as a starter, a main course, or even a dessert. Whether you're looking for a hearty noodle soup, a tangy hot and sour soup, or a sweet fruit soup, I've got you covered with 17 Chinese soup recipes that you can easily make at home. From mushroom noodle soup to coconut mango sago dessert, these recipes are simple, satisfying, and full of flavor. Plus, they are all vegetarian-friendly or can be easily adapted to suit your dietary needs. So grab your ladle and get ready to slurp up some amazing Chinese soups!
Warm up with a hearty and savory soup that features noodles, mushrooms, bok choy, and tofu in a flavorful broth. It's easy to make and customizable with your favorite toppings. Enjoy it as a main course or a side dish for a delicious meal.
Treat yourself to a sweet and refreshing soup that showcases fresh pears, dates, goji berries, and ginger in a light syrup. It's simple to prepare and soothing for your throat. Serve it hot or cold for a delightful dessert or snack.
Spice up your soup night with a zesty and satisfying soup that combines tofu, mushrooms, bok choy, and rice vinegar in a hot and sour broth. It's vegan and gluten-free and ready in 30 minutes or less. Serve it with some rice or noodles for a filling and tasty meal.
Make this Chinese noodle soup for a quick and easy dish that's loaded with noodles, chicken, vegetables, and broth. It's customizable with your choice of noodles, toppings, and seasonings. It's a cozy and comforting dish that's perfect for any occasion.
Enjoy this Chinese vegetable soup for a healthy and delicious dish that's packed with vegetables, tofu, and noodles in a clear broth. It's vegan and low-calorie and can be made in one pot. Serve it with some soy sauce or chili oil for extra flavor.
Celebrate the Lunar New Year with this Chinese rice cake soup that's a traditional and auspicious dish that symbolizes prosperity and longevity. It's made with rice cakes, pork, napa cabbage, mushrooms, and broth. It's a hearty and flavorful dish that's easy to make and enjoy.
Indulge in this homemade wonton soup that's a classic Chinese dish that features wontons filled with pork and shrimp in a savory broth. It's fun to make and freeze the wontons for later use. Serve it with some green onions and sesame oil for a delicious dinner.
Transport yourself to China with this Yunnan rice noodle soup that's a fragrant and spicy dish that features rice noodles, ground pork, tomatoes, cilantro, and broth. It's seasoned with Sichuan peppercorns, star anise, cinnamon, and chili oil. It's a filling and flavorful dish that's perfect for any season.
Nourish your body with this Chinese watercress soup with pork that's a nutritious and soothing dish that features watercress, pork ribs, dates, goji berries, and broth. It's cooked in a slow cooker or on the stovetop until tender and delicious. Serve it with some rice or bread for a simple and satisfying meal.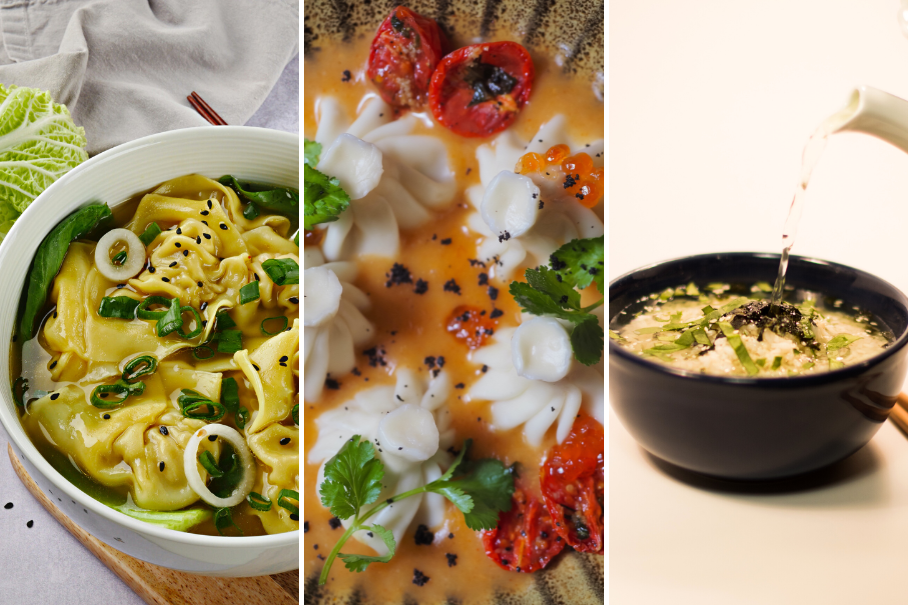 Instructions
Select your favorite Chinese soup recipe.

Gather all necessary ingredients.

Create a tasty Chinese soup using simple steps and enjoy!