Discover a tasty and satisfying collection of vegan soup recipes, from classics to creative twists. Soup's on!
HEARTY AND SATISFYING VEGAN SOUP RECIPES
Welcome to a realm of culinary delight as we delve into a collection of exquisite vegan soup recipes. Prepare to be enchanted by a symphony of flavors that will captivate your senses and warm your soul. Join us on a flavorful journey where we explore a wide range of ingredients, techniques, and global inspirations. Whether you're a seasoned vegan or simply curious about incorporating more plant-based options into your menu, these recipes are guaranteed to impress and satisfy. Get ready to immerse yourself in a world of tantalizing tastes and comforting aromas that will leave you yearning for seconds.
Experience the ultimate comfort and warmth with this hearty soup that adds a delightful twist to the classic Italian flavors. Immerse yourself in a bowl of tender pasta, velvety tomato sauce, and a medley of nutritious spinach and lentils, making it the perfect choice to cozy up on a chilly day.
Indulge in the creamy goodness of this dairy-free Vegan Mushroom Wild Rice Soup, crafted to perfection in just one pot. This recipe not only caters to vegans and those following a gluten-free diet but also offers a satisfying dinner option. Delight your taste buds with the earthy flavors of mushrooms and the wholesome goodness of wild rice.
Uncover the secret to creating the most exquisite Vegan Tomato Soup that will leave you speechless. With its smooth and velvety texture, this dairy-free delight will astound you. Prepare to be amazed as you whip up this culinary masterpiece using simple pantry staples, transforming them into a creamy and luscious soup.
Immerse yourself in a culinary experience like no other with this vibrant and creamy Sweet Potato Soup. Overflowing with a symphony of flavors, including the richness of smoked paprika, the freshness of coriander, the gentle aroma of thyme, and a luscious drizzle of coconut milk, this soup is a true delight for the senses.
Embark on a journey of exquisite flavors with this tantalizing Vegan Wonton Soup. Each delicate wonton is generously filled with a marinade-infused mushroom and chopped walnut mixture, perfectly balanced with a hint of soy sauce, ginger, garlic, and rice vinegar. Prepare yourself for an explosion of flavors that will leave you craving more.
Embrace the nourishing qualities of this Easy Vegan Chili Recipe, meticulously crafted to provide you with a healthy and satisfying meal. Bursting with protein and fiber from an abundance of beans and veggies, this hearty chili is the epitome of comfort on chilly days. Allow yourself to revel in the warm and comforting embrace of this culinary masterpiece.
Treat your taste buds to a symphony of flavors with this creamy Vegan Stew with Dumplings. In just 30 minutes, you can enjoy a delectable and satisfying meal featuring fluffy dumplings immersed in a velvety stew. Experience the magic as each spoonful transports you to a world of culinary bliss.
Elevate your soup game with this remarkable Vegan French Onion Soup. Immerse yourself in the harmonious blend of caramelized onions, fragrant thyme, and a subtle hint of wine. This savory and comforting soup will warm your heart and captivate your senses. Prepare to be enchanted by this plant-based wonder.
Uncover the secret to the BEST Butternut Squash Soup, a recipe that strikes the perfect balance between cozy and flavorful. Laden with healthy veggies and brimming with cozy goodness, this soup requires no cream to achieve its luxurious texture. Prepare to savor the essence of fall in every spoonful.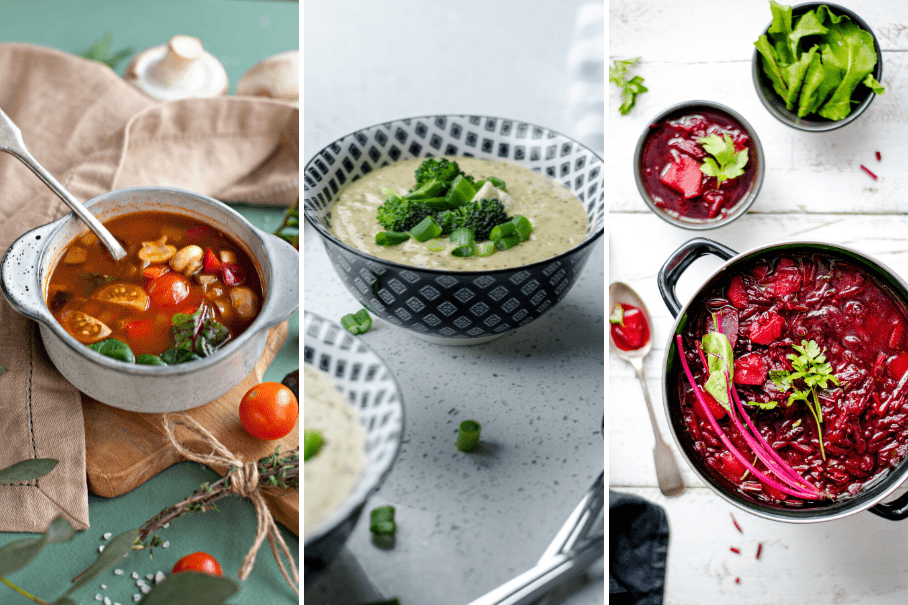 Instructions
Choose your favorite vegan soup recipe.

Gather all the necessary ingredients.

Prepare a delightful vegan soup recipe and enjoy!