Embark on a culinary adventure with these tantalizing sushi recipes. From Dragon Rolls to Natto Roll, master the art of sushi-making at home and indulge in the flavors of the East.
SENSATIONAL HOMEMADE SUSHI RECIPES
Indulge in a culinary escapade that transcends borders and tantalizes the taste buds. Welcome to the captivating world of sushi, where precision meets artistry, and every bite is a voyage of flavors. I invite you to embark on a journey through 13 remarkable sushi recipes. From the classic Dragon Rolls and Futomaki to vibrant Rainbow Rolls and the exquisite Natto Roll, these sushi recipes will unlock the secrets, share expert tips, and guide you step by step to recreate these iconic dishes in the comfort of your own kitchen. Get ready to elevate your dining experience and immerse yourself in the rich tapestry of Japanese cuisine.
Indulge in the exquisite delight of crafting your beloved Dragon Rolls from the comfort of your own kitchen! Unravel the secrets of this iconic sushi dish as we delve into the essential ingredients and expert tips to ensure your success.
Prepare to embark on a culinary journey steeped in tradition with Futomaki or Maki Sushi. These generous and plump sushi rolls, renowned for their thickness, gracefully embrace a medley of vibrant vegetables and occasionally feature the succulent essence of cooked fish such as unagi.
Unleash a symphony of flavors and hues with a homemade masterpiece – the delectable Rainbow Roll sushi. Venture into the realm of culinary artistry as you adorn the sushi canvas with a harmonious blend of seafood, creamy avocado, and luscious mango, resulting in a visually stunning and exquisitely delicious creation.
Step into a world of celebration and enchantment with Scattered Sushi, an ethereal dish commonly prepared for momentous occasions like the Doll Festival and birthdays. Embodying simplicity and grace, this meticulously arranged sushi creation proves to be the most accessible of all sushi varieties, yet emanates an irresistible allure.
Embark on a captivating exploration of tobiko, an exquisite ingredient that adds a burst of flavor and texture to your sushi. Immerse yourself in the realm of tobiko caviar, ranging from the vibrant orange hue to the alluring black, green, and red roe. Learn the secrets behind crafting a delectable tobiko sushi recipe that effortlessly combines ease and flavor.
Delight your palate with the tantalizing simplicity of Kappa Maki, an unassuming yet irresistible vegetarian sushi roll. Comprising just a handful of ingredients, this recipe invites you to revel in the refreshing crunch of cucumber, harmoniously intertwined with the subtle nuances of sushi rice and seaweed, creating an unforgettable taste experience.
Embark on a culinary adventure filled with joy and creativity as you craft Temaki Sushi, a delightful hand-rolled sushi creation. Relish the interactive nature of this communal dining experience, where each person can revel in the art of hand-rolling sushi with their favorite fillings, making every bite a personalized masterpiece.
Ignite your taste buds with the fiery allure of the Spicy Tuna Roll, featuring sashimi-grade tuna tantalizingly tossed in a seductive sesame Sriracha sauce. Crowned with a dollop of spicy mayo, this sushi roll transcends the ordinary, delivering an explosion of flavors that will leave you craving for more.
Delve into the realm of simplicity and elegance with Inari Sushi, an enchanting creation that pairs vinegared rice with the delicate sweetness of deep-fried tofu pockets. Savory and subtly sweet, this vegan-friendly sushi dish effortlessly captures the essence of minimalism while offering a delightful blend of flavors.
Unveil the secrets of crafting the quintessential California Roll, accompanied by the art of perfecting sushi rice. Engage in a step-by-step photo tutorial that demystifies the process, ensuring your homemade California Rolls are a resounding success. To further elevate your creation, we've even included a tantalizing recipe for homemade spicy mayo.
Brace yourself for an extraordinary gustatory adventure with Uramaki Sushi featuring Chilli Crab. This unconventional sushi roll challenges tradition by reversing its assembly, yet rewards the adventurous palate with a delightful fusion of flavors. Prepare to be captivated by the tantalizing combination of fiery crab and invigorating spices that make this roll a true masterpiece.
Embrace the allure of culinary creativity while saving a dime with the sheer joy of preparing Homemade Sushi. Discover the satisfaction of crafting this beloved delicacy in the comfort of your own home, as we unravel the step-by-step process that makes sushi-making a pleasurable and cost-effective endeavor.
Prepare to be enraptured by the timeless charm of the Natto Roll, a classic Japanese sushi recipe that beckons you to return time and time again. Perfect for indulging in finger foods or packing in your lunchbox for a delectable on-the-go treat, this sushi creation combines the unmistakable umami of natto with a symphony of complementary flavors, leaving a lasting impression on your taste buds.
MORE FUN STUFF TO CHECK OUT: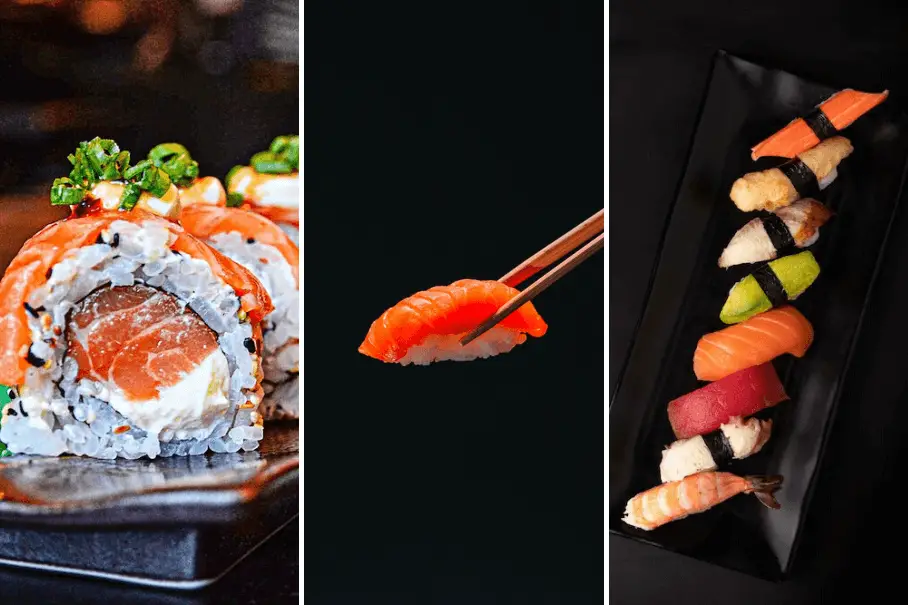 Instructions
Choose your favorite homemade sushi recipe.

Gather all the necessary ingredients.

Prepare a delightful homemade sushi recipe and enjoy!