Satisfy your sweet tooth with these 20 decadent cheesecake recipes. From chocolate to fruit, these desserts are easy to make and perfect for any occasion!
JAW DROPPING CHEESECAKE RECIPES
As a self-proclaimed dessert lover, I am always on the hunt for new and exciting recipes to satisfy my sweet tooth. When it comes to desserts, cheesecake is definitely a favorite of mine. There's just something about the creamy, rich texture and the endless flavor possibilities that make it irresistible. That's why I've rounded up 20 of the most delicious cheesecake recipes that will have you drooling in no time.
Indulge in the ultimate chocolate hazelnut goodness with this Rich Chocolate Hazelnut Cheesecake! Made with Chocmeister Milk Chocolatey Hazelnut Spread, a chocolate cookie crust, and topped with a thick, glossy chocolate ganache, this cheesecake is a chocolate lover's dream come true.
Are you ready for a flavor explosion? You need to make this Cinnamon Roll Cheesecake! With the perfect balance of creamy cheesecake and cinnamon roll flavors, this mash-up dessert will leave you wanting more.
Travel to the Basque Country without leaving your kitchen with this delicious Burnt Basque Cheesecake recipe! Creamy and rich, this cheesecake is a staple at La Viña in San Sebastian and is sure to impress your taste buds.
Elevate your dessert game with this decadent Dulce de Leche Cheesecake! Sweet and creamy with a touch of sea salt, this cheesecake is a treat for any occasion. Plus, the easy-to-follow visuals make this recipe a breeze to follow.
Whip up a light and creamy treat with this Whipped Lemon Ricotta Cheesecake! Bursting with fresh lemon and vanilla flavors, this unique cheesecake requires no fancy water bath and is perfect for any summer gathering.
Looking for a quick and easy dessert? Check out this No-Bake Lemon Cheesecake! Made with fresh lemon juice and zest and no artificial flavors, this light and fluffy cheesecake is sure to impress.
Mini Turtle Cheesecakes are the perfect bite-sized indulgence! With a thick graham cracker crust, vanilla cheesecake filling, and topped with caramel, toasted pecans, and chocolate, these mini cheesecakes are the ultimate sweet treat.
Add a touch of Italian flair to your dessert spread with this Creamy Italian Amaretto Mascarpone Cheesecake! Made with amaretto liqueur and mascarpone cheese and topped with a crunchy amaretti cookie crust, this cheesecake is sure to impress your guests.
Fall in love with the taste of autumn with this Caramel Apple Cheesecake! Featuring a homemade graham cracker crust and filled with sweet, juicy apples and creamy caramel, this cheesecake is a must-try.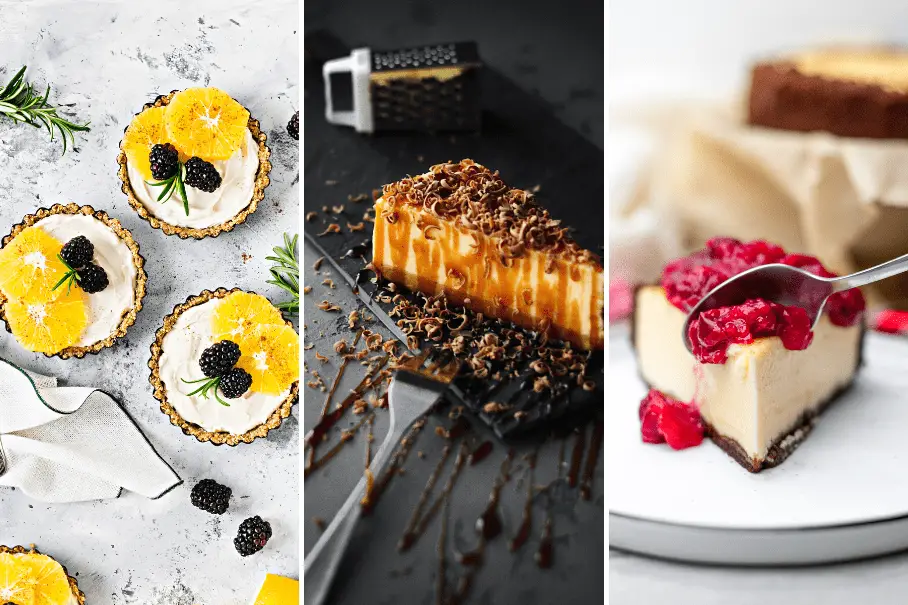 Instructions
Choose your favorite cheesecake recipe.

Gather all the necessary ingredients.

Prepare a delightful cheesecake recipe and enjoy!