Discover delicious sugar free muffin recipes that are healthy, delicious, and oh so satisfying. Have them for breakfast or snack!
INDULGE IN THESE SUGAR FREE MUFFINS
Take part in a culinary adventure that marries health-conscious choices with tantalizing flavors. Get ready to awaken your taste buds and embark on a journey through some incredible muffin recipes. From almond flour wonders to low-carb and sugar-free delights, this collection has it all. Each recipe will transport you to a world of mouthwatering goodness, where moist textures, vibrant fruits, and wholesome ingredients harmonize to create muffins that are both satisfying and guilt-free. Get your aprons ready as we dive into the enticing realm of sugar free muffin perfection!
Indulge in the delightful allure of Almond Flour Pumpkin Muffins, exuding moisture and unrivaled taste. This effortless baking adventure yields scrumptious treats that cater to the health-conscious, as they embrace a low carb Paleo and gluten-free lifestyle.
Prepare to be enchanted by the enchanting harmony of flavors in these keto cinnamon muffins. A tender, airy interior harmonizes with a crunchy pecan streusel topping, creating a symphony of textures and tastes. An ideal choice for a low carb breakfast indulgence or a guilt-free sugar-free snack.
Elevate your mornings with the exquisite charm of almond flour-based keto cinnamon muffins. Their aromatic essence and tender crumb prove to be an impeccable companion to a captivating novel and a steaming mug of coffee. It's a divine pairing that awakens the senses and transports you to a realm of pure bliss.
Embark on a culinary journey of delectable pleasures with the Recipe for Tasty Sugar-Free Chocolate Chocolate Chip Muffins. Be prepared to surrender to their irresistible allure as they effortlessly transition from a mouthwatering breakfast option to a divine dessert or an exquisite treat that will undoubtedly capture your heart.
Savor the blissful symphony of flavors in Sugar-Free Apple Muffins, where succulent apples, juicy blueberries, and essential baking staples intertwine. Nourish yourself with these delectable delights, perfect for a wholesome breakfast or an invigorating afternoon snack that will leave you yearning for more.
Experience the epitome of healthy indulgence with these naturally sweetened zucchini muffins, crafted with whole wheat flour. Their delicate texture, remarkable moisture, and enticing flavor make for an unforgettable culinary encounter that will tantalize your taste buds and leave you craving another bite.
Immerse yourself in the realm of guilt-free indulgence with these easy-to-make oatmeal muffins, boasting a harmonious blend of toasted oats, delightful fruit accents, and a touch of honey to satisfy your sweet cravings. This oil-free and flourless creation is sure to captivate your senses, providing a slightly nutty flavor and a gentle hint of sweetness.
Revel in the wholesome delight of carrot muffins, elevated by the natural sweetness of bananas and enriched with grated carrots, almond flour, walnuts, and raisins. Bid farewell to grains and embrace these sugar-free marvels, packed with goodness and crafted to perfection.
Delight in the perfect union of flavor and healthfulness with the recipe for yummy Sugar-Free Banana Muffins. Indulge in these tantalizing treats for breakfast, brunch, or a satisfying snack that will undoubtedly win over your taste buds and leave you yearning for more.
Unveil the secrets of crafting Sugar-Free Blueberry Muffins with this exceptional recipe, allowing you the flexibility to embrace gluten-free, low carb, and low-sugar variations. These delectable treats are an ode to balanced indulgence, offering a burst of blueberry goodness in every bite.
Embark on a guilt-free journey of soft, buttery sweetness with this effortless Keto Cinnamon Sugar Muffins Recipe. Captivate your senses with these donut-style delights, boasting a mere 1 net carb per muffin. This breakfast or snack option will transport you to a realm of guilt-free pleasure.
Unlock the potential for a quick, low carb, gluten-free, and sugar-free breakfast to fuel your busy weekday mornings. Allow these Grab & Go Low Carb Muffins to become your ally, offering convenience and nutrition in a single, mouthwatering bite.
Embrace the tantalizing allure of Coconut Flour Muffins, a divine breakfast or snack option for those seeking a quick yet gratifying experience. Discover the magic of coconut flour as it effortlessly combines with other wholesome ingredients, resulting in a delightful treat that will leave you longing for more.
Immerse yourself in the world of nutritious indulgence with these healthy sugar-free almond butter banana muffins. Prepared with the utmost care, they feature wholesome ingredients that provide a generous dose of fiber, ensuring a satisfying and guilt-free culinary experience.
Experience the ethereal joy of wholesome strawberry muffins, crafted with an abundance of fresh strawberries and whole grains. The tender and fluffy texture, infused with the essence of vibrant strawberries, will entice your taste buds and awaken your senses. Best of all, no mixer is required, allowing you to revel in the simplicity of this delightful creation.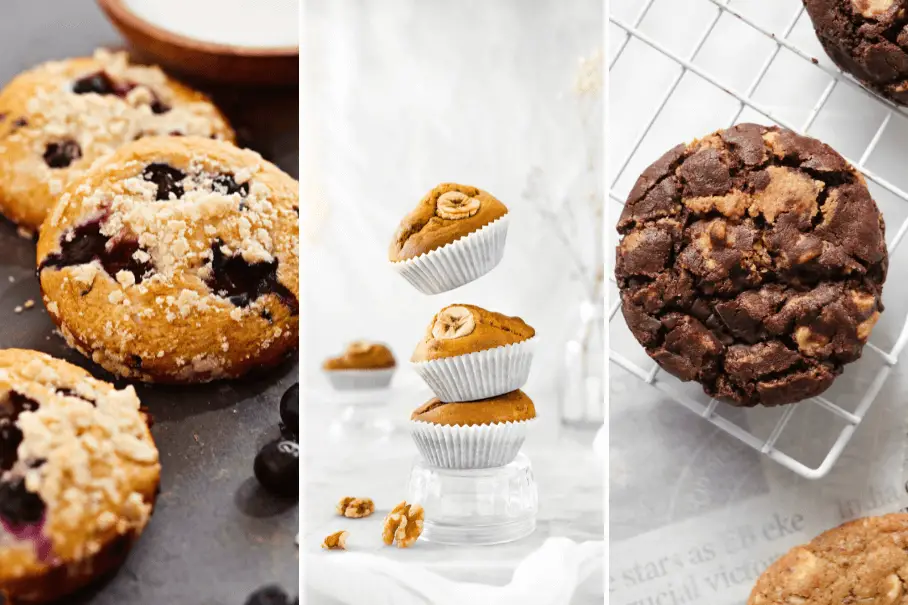 Instructions
Choose your favorite sugar-free muffin recipe.

Gather all the necessary ingredients.

Prepare a delightful sugar-free muffin recipe and enjoy!