Indulge in the sweetest flavors with these mouthwatering apple desserts! From pies to cookies, you won't be able to resist these treats.
Craving a delicious and easy dessert? Look no further than these mouth-watering apple dessert recipes! From classic apple pie bars to creamy apple cheesecake and everything in between, these recipes are sure to satisfy your sweet tooth. Each recipe is packed with the warm flavors of cinnamon, nutmeg, and of course, fresh apples. Whether you're looking for a quick and easy dessert or a show-stopping treat for your next gathering, these apple dessert recipes will not disappoint!
RELATED: Homemade Apple Pie Spice
Indulge in one of the best apple desserts with a Caramel Apple Poke Cake that is not only easy to make but is also irresistible with its caramel drizzle and toffee bits that add a crunch to the moist cake. It's the perfect dessert for the season!
Get ready for a cookie party with these delicious Apple Peanut Butter Cookies. With soft, chewy texture and a blend of peanut butter, cinnamon, and fresh apples, these cookies are a perfect treat for any time of the day!
Satisfy your sweet tooth with the delicious Apple Pie Fudge, a bite-sized version of the classic pie. Made with apple pie filling and warming spices, this homemade fudge is an easy treat that requires no candy thermometer.
Fall in love with the sweet and fluffy Apple Cider Cupcakes made with fresh apple cider. These delightful apple desserts are perfect for the season and a must-try for anyone with a sweet tooth!
Sink your teeth into the decadent Apple Crumb Bars that come with a shortbread crust, cinnamon apples, oat crumble topping, and a generous drizzle of salted caramel. With every bite, you'll be transported to a world of sweet and spicy goodness.
Apple desserts for breakfast? You betcha! Start your day on a sweet note with these easy apple turnovers made with puff pastry and a delicious apple filling. Perfect for breakfast or dessert, these turnovers are a must-try!
Elevate your caramel apple game with these easy-to-make caramel apples topped with chopped nuts, sprinkles, chocolate drizzle, and more. A perfect fall treat for everyone!
Apple Pie Bars are like a slice of heaven, but with a twist! With a buttery shortbread crust, a delicious apple filling, a streusel topping, and a drizzle of salted caramel, these bars are a mouthwatering treat that will leave you wanting more.
Imagine the aroma of cinnamon and warm apples filling your kitchen as you prepare this Crock Pot Apple Pudding Cake. With just a few simple ingredients and your trusty crock pot, you can create a dessert that will impress your taste buds and your guests.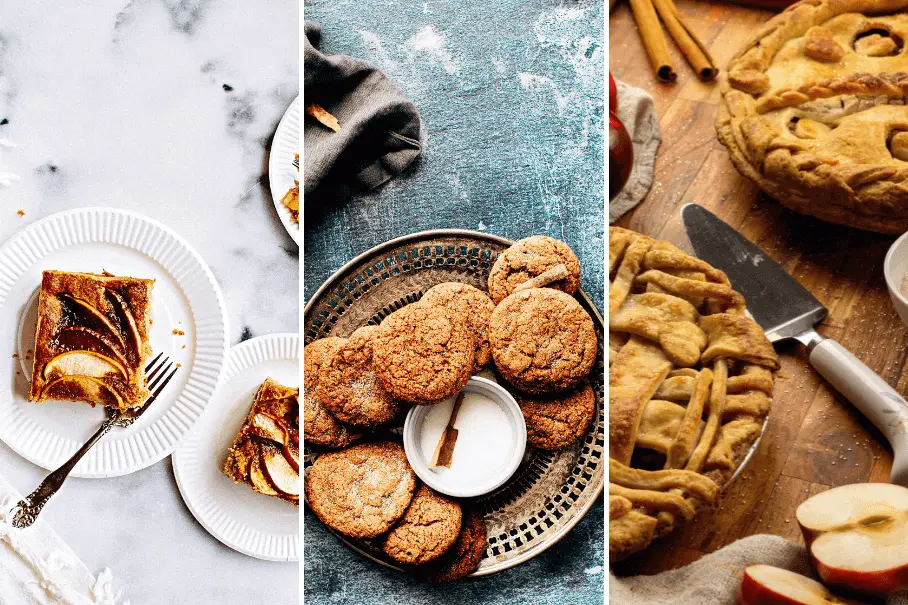 Instructions
Choose your favorite apple dessert recipe.

Gather all the necessary ingredients.

Prepare a delightful apple dessert recipe and enjoy!