Discover a world of flavors with these vegetable side dish recipes. From Parmesan asparagus to Mexican-themed salads, elevate your culinary repertoire and tantalize your taste buds.
HEALTHY AND HEARTY VEGETABLE SIDE DISHES
Immerse yourself in the world of vegetable side dishes as we embark on a culinary journey.This collection transcends boundaries and aims to tantalize your palate. Explore a wide variety of flavors from around the globe, ranging from the refreshing blend of green peas with mint inspired by Irish cuisine to vibrant salads with a Mexican flair. Experience the versatility and deliciousness of vegetables in each mouthwatering bite. Get ready to savor the art of vegetable cooking and discover new and exciting ways to enjoy these wholesome delights.
Indulge in the simplicity and elegance of Parmesan Asparagus, a delectable sautéed dish that showcases the vibrant flavors of tender asparagus combined with the irresistible allure of Parmesan cheese. This recipe is a breeze to prepare, taking a mere 10 minutes of your time, and rewards you with a wholesome and mouthwatering creation.
Transport yourself to the enchanting landscapes of Ireland with the Super Easy Green Peas With Mint Recipe. This traditional Irish delicacy harmoniously combines freshly picked peas with the invigorating essence of mint. Whether you're celebrating St. Patrick's Day or simply seeking a delightful addition to your meal, this recipe will undoubtedly impress your taste buds and add a touch of Irish charm to your table.
Elevate your snacking experience with these Easy, 30-minute kale chips, boasting a foolproof baking method that guarantees perfect crispiness with every bite. This wholesome treat not only satisfies your cravings but also offers a plethora of flavor variations, allowing you to explore different taste profiles. In addition, you'll find invaluable tips on how to store these delectable chips, ensuring they remain as irresistibly crispy as the day they were made.
Prepare to be captivated by these heavenly potato wedges, enveloped in a delectable parmesan seasoning and cooked to crispy perfection. This recipe promises consistent excellence, ensuring that each batch emerges flawlessly delightful. Immerse yourself in the irresistible combination of flavors and textures that make these potato wedges an absolute triumph, leaving you craving more with every single bite.
Behold a ridiculously tasty chopped salad recipe, featuring a luxuriously creamy dressing that flawlessly complements the vibrant heat of spicy radishes, the delightful tang of Gorgonzola crumbles, and the refreshing crunch of crisp romaine lettuce. Indulge your senses as this masterpiece of a salad harmonizes the finest ingredients to create a harmonious medley that will leave you longing for another forkful.
Enhance your holiday feast with these delectable baked parsnip fries or parsnip chips, offering a delightful alternative to the traditional roast potatoes. Whether it's Christmas dinner or any special occasion, these crispy delights will captivate your taste buds. Delight in the comforting flavors and textures of these perfectly seasoned parsnips, providing a satisfying accompaniment to your celebratory spread.
Celebrate the joy of good food and good company with this healthy sweet potato salad recipe, perfect for parties, potlucks, barbecues, or any gathering where you need a crowd-pleasing vegan side dish. Revel in the medley of flavors and textures as tender sweet potatoes mingle with vibrant vegetables, creating a harmonious balance of sweetness, tanginess, and crunch. This delightful salad is sure to impress and satisfy all palates.
Indulge in the velvety goodness of mashed turnips with this simple yet divine recipe. Experience the rich, creamy texture and delicious flavor of turnips, enhanced by a hint of sweetness thanks to a touch of sugar. Whether you're a turnip enthusiast or new to this root vegetable, this side dish is bound to win the hearts of all who taste it.
Delight your taste buds with the exquisite simplicity of Sauteed Green Beans with Garlic, a quick and easy dish bursting with incredible flavors. Experience the vibrant essence of fresh green beans as they are skillfully pan-fried and tossed with fragrant garlic, creating a symphony of tastes that will leave you craving more. Discover the perfect balance between freshness and savoriness in this delightful side dish.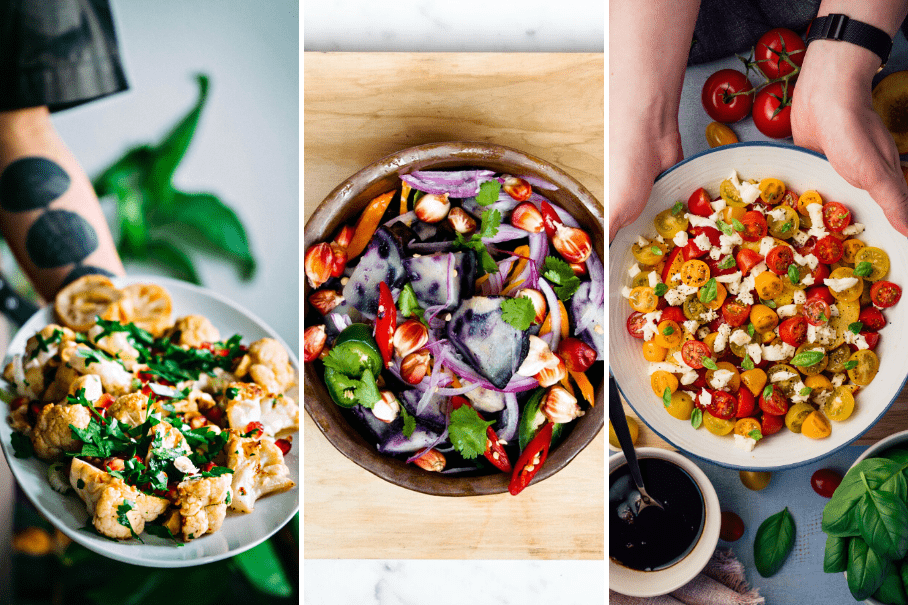 Instructions
Choose your favorite vegetable side dish recipe.

Gather all the necessary ingredients.

Prepare a delightful vegetable side dish recipe and enjoy!