Elevate your rice game with these 18 easy and delicious rice side dishes. From pilaf to risotto, there's something for every rice lover!
EASY AND DELICIOUS RICE SIDE DISH RECIPES
Are you tired of the same old boring side dishes? Well, I've got you covered with some delicious rice side dishes that will take your taste buds on a wild ride! From one-pot wonders to exotic flavors, you naked plate will thank you! So what are you waiting for? Try one of these delicious rice side dishes today and take your taste buds on a culinary adventure!
Looking for an easy and tasty side dish that will go well with any main? Try making some delicious rice pilaf with flavorful rice and orzo! It's so simple to whip up, you'll be enjoying it in no time.
Want a dish that's packed with juicy mushrooms and fluffy rice? Look no further than this oven-baked mushroom rice recipe! With a golden-brown crust and a garlic-buttery flavor, it's sure to be a hit at your next meal.
Craving a flavorful rice dish that won't disappoint? Give this curried rice recipe a try! Made with basmati rice and a blend of spices, it's the perfect way to add some zing to your next meal.
Love Greek cuisine? Then you'll definitely want to try this lemon rice recipe! With plenty of fresh herbs, garlic, and lemon juice, it's bursting with flavor.
Looking for a quick and easy way to add some color to your dinner table? Try making this vibrant turmeric rice recipe! It's the perfect side dish to brighten up any weeknight meal.
If you're a fan of Chipotle's cilantro lime rice, you won't want to miss this copycat version! With its tangy flavor and fluffy texture, it's sure to satisfy your cravings.
Short on time but still want a delicious side dish? Whip up some salsa rice in just 20 minutes! With easy-to-find ingredients and a zesty flavor, it's the perfect choice for a busy weeknight.
Looking for a healthy and flavorful casserole that can serve as both a main dish and a side? Look no further than this cheesy broccoli and rice recipe! With roasted broccoli, fresh herbs, and plenty of melty cheese, it's sure to be a crowd-pleaser.
Want a simple and satisfying meat-free dish that you can make in just one pot? Try this southwestern-style veggie and rice recipe! It's packed with flavor and takes only 30 minutes to make.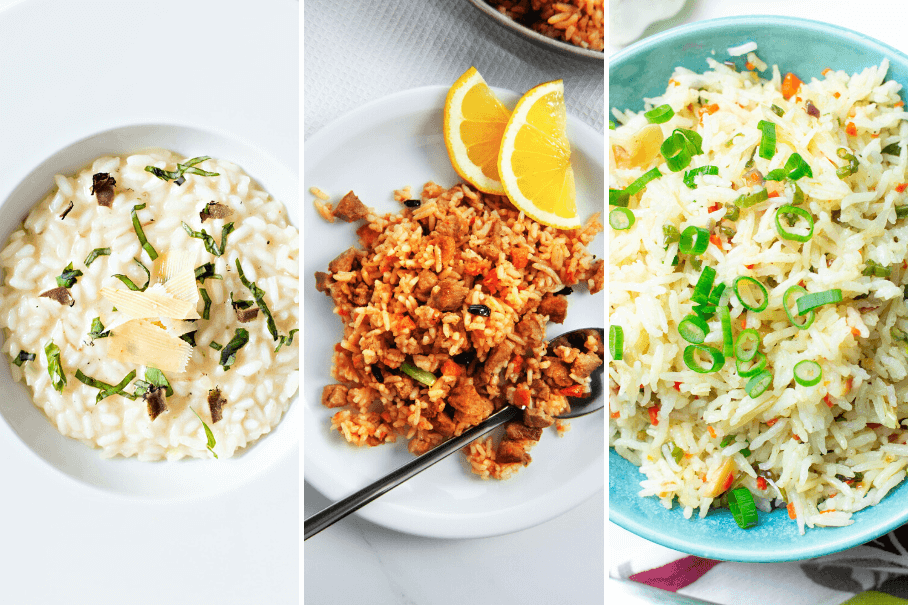 Instructions
Choose your favorite rice side dish recipe.

Gather all the necessary ingredients.

Prepare a delightful rice side dish recipe and enjoy!