Get ready to make your mornings more delicious with these frittata recipes! From hash brown to Southwest, goodness awaits!
Good morning (or good day, depending on which side of the pond you live on)! Are you ready to add some excitement to your breakfast routine? Today, I am sharing with you 12 amazing frittata recipes that are guaranteed to take your mornings to the next level. Whether you're in the mood for a classic ham and potato frittata or a veggie-packed pasta frittata, these recipes are sure to impress. And the best part? They're easy to make and perfect for any time of day!
Are you tired of rushing out the door in the morning without a proper breakfast? Look no further than this Hash Brown Frittata! With protein-rich eggs and crispy hash browns baked to perfection in a skillet, this breakfast dish is the ultimate time-saver. Plus, it's so easy to make, you'll be able to whip it up in no time.
Who says you have to choose between your favorite breakfast foods? This frittata has got it all – potatoes, eggs, and ham – combined in one delicious dish! And the best part? It won't break the bank! With step-by-step photos, you'll have no trouble recreating this filling and flavorful breakfast frittata.
Pasta for breakfast? You bet! This Pasta Frittata is so delicious, you'll be making extra pasta just so you can enjoy it again the next day. It's quick, easy, and perfect for any meal of the day. Serve it hot or cold – either way, it's sure to be a hit!
Looking for a versatile dish that can be enjoyed at any time of the day? Check out this vegetable frittata! Whether you're serving it for breakfast, lunch, or dinner, this dish is sure to please. And with bite-sized pieces, even the little ones can enjoy it!
Spring has sprung and what better way to celebrate than with this quick and easy asparagus frittata? With the perfect combination of eggs, Gruyere or Swiss cheese, shallots, and asparagus, this dish is a must-try for any brunch lover.
Bacon lovers rejoice! This simple yet satisfying frittata is packed with flavor thanks to crispy bacon, sautéed onions, and fresh tomatoes. Topped off with melted cheese, this dish is perfect for breakfast or a light dinner.
Looking for a healthy breakfast option that doesn't skimp on flavor? This egg white frittata has got you covered! Packed with spinach and veggies, it's high in protein, low in calories, and perfect for any diet.
Say hello to your new favorite breakfast! This healthy veggie frittata is not only simple to make, but it's also bursting with colorful vegetables. And with plenty of protein, it'll keep you full all morning long.
Who says vegetarian dishes can't be filling and delicious? This broccoli and cauliflower frittata is the perfect example of a healthy dish that doesn't compromise on taste. Whether you're enjoying it for breakfast, lunch, dinner, or a snack, this frittata is sure to satisfy.
Don't have much time in the morning but still want a tasty breakfast? This frittata is the answer! Made with eggs, bacon, tomatoes, spinach, and creamy Swiss cheese, this dish is both quick and flavorful.
Looking for a breakfast dish that will please everyone? This frittata is the perfect solution! With chunks of sausage, slices of mushrooms, and sweet tomatoes, it's a breakfast that's both hearty and delicious.
Spice up your breakfast routine with this Southwest Frittata! Made with black beans, red peppers, and seasonings, this dish is a delicious Mexican-inspired meal that's baked to perfection in the oven.
MORE FUN STUFF TO CHECK OUT: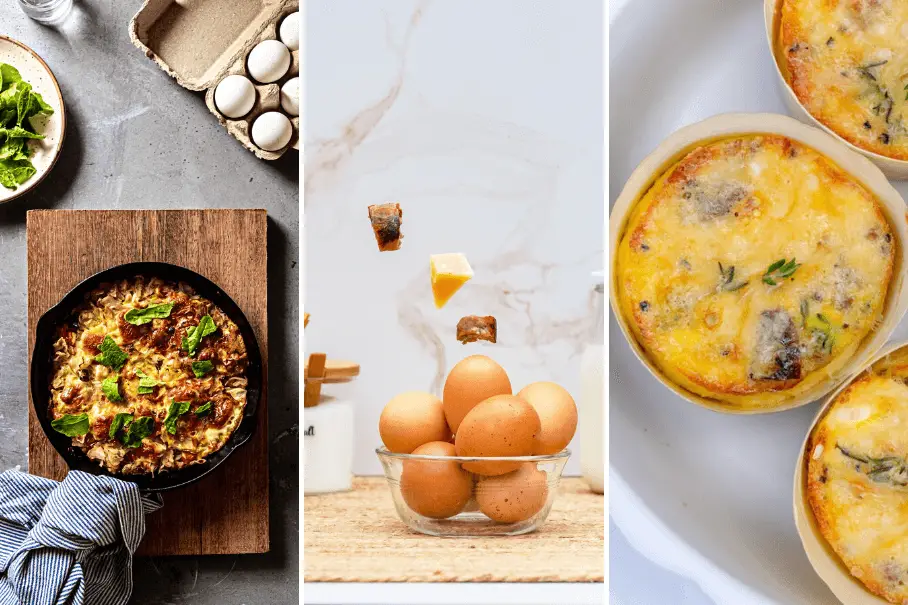 Instructions
Choose your favorite frittata recipe.

Gather all the necessary ingredients.

Prepare a delightful frittata recipe and enjoy!