Explore a comforting collection of chicken casserole recipes. From cheesy classics to keto-friendly options.
Flavorful and Easy Chicken Casserole Creations
Chicken casseroles are the ultimate comfort food for any season. They are easy to make, versatile, and satisfying. Whether you crave cheesy, creamy, spicy, or crunchy, we have a chicken casserole recipe for you. From chicken tortilla casserole to chicken cauliflower casserole, these dishes are loaded with flavor and texture. You'll love how simple they are to prepare with pantry staples and rotisserie chicken. Ready to cozy up with a warm and hearty meal? Check out these 24 delicious chicken casserole recipes that will make your mouth water.
Layer tortillas, chicken, cheese, and salsa in a baking dish for a cheesy and easy dish. It's perfect for a weeknight dinner or a potluck. Just bake it until bubbly and serve with your favorite toppings.
Combine chicken, spinach, sun-dried tomatoes, and cheese in a creamy sauce for a low-carb and keto-friendly dish. It's simple to make and full of flavor. Serve it with a green salad or cauliflower rice for a complete meal.
Turn nachos into a hearty meal with this fun and festive dish. It's made with chicken, beans, cheese, salsa, and tortilla chips. It's a great way to use up leftover chicken or rotisserie chicken.
Indulge in this decadent and addictive dish that's made with chicken, bacon, ranch dressing mix, cream cheese, cheddar cheese, and pasta. It's a creamy and cheesy dish that's sure to please. It's easy to make and freeze for later.
Enjoy this cozy and comforting dish that's made with chicken, vegetables, cream of chicken soup, and biscuits. It's a classic comfort food that's easy to make and bake. Serve it with some cranberry sauce for a touch of sweetness.
Make this hash brown chicken casserole for a cheesy and crunchy dish that's loaded with chicken, cheese, sour cream, cream of chicken soup, and hash browns. It's a simple and satisfying dish that's great for breakfast or dinner.
Whip up this easy chicken enchilada casserole for a spicy and cheesy dish that layers tortillas, chicken, enchilada sauce, cheese, and black beans. It's perfect for a busy weeknight when you need a satisfying meal with minimal cleanup.
Use up your summer produce or sneak in some greens with this chicken zucchini casserole that's a cheesy and veggie-packed dish that's easy to make and customize. You can use fresh or frozen zucchini, cooked or rotisserie chicken, and your favorite cheese. It's a great side dish or main course.
Try this pesto chicken casserole for a flavorful and creamy dish that combines chicken, pesto sauce, cream cheese, mozzarella cheese, and pasta. It's simple to make and bake in one dish. Serve it with some garlic bread for a delicious dinner.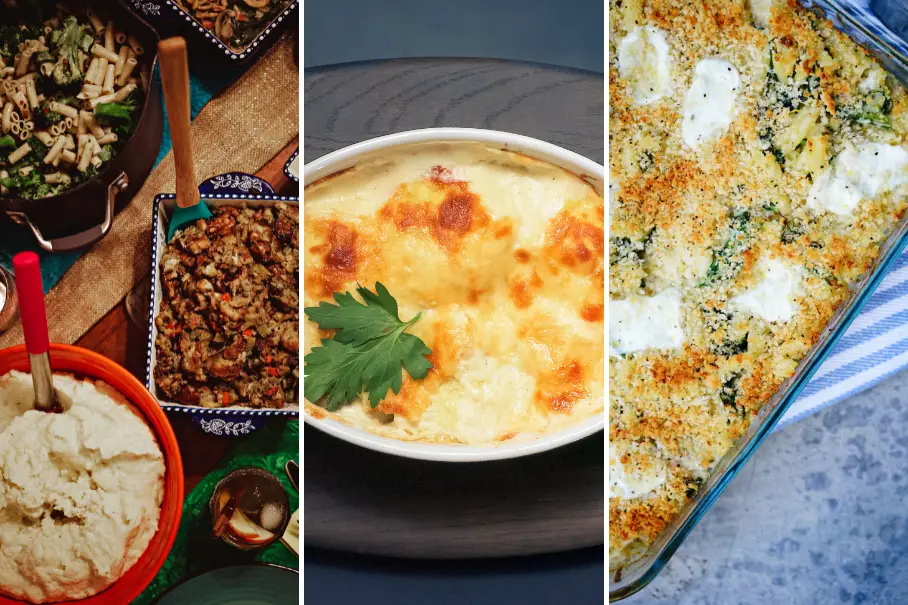 Instructions
Select your favorite chicken casserole recipe.

Gather all necessary ingredients.

Create a tasty chicken casserole using simple steps and enjoy!