Explore 9 delectable chipolata sausage recipes for quick, flavorful meals.
ENJOY SAVORY SNACKS WITH THESE CHIPOLATA SAUSAGE RECIPES
Chipolata sausages are small, thin, and full of flavor. They are perfect for making quick and easy meals that are satisfying and delicious. Whether you want to enjoy them for breakfast, lunch, or dinner, I have 9 chipolata sausage recipes that will have you reaching for your frying pan. From creamy mushroom pasta to sticky teriyaki bites, these recipes are simple, versatile, and fun to make. So grab your chipolatas and get ready to cook up some tasty dishes!
Enjoy a creamy and comforting meal with this mushroom pasta and chipolata sausages recipe. It's made with fresh mushrooms, cream, garlic, parsley, and cheese, and tossed with cooked pasta and browned chipolata sausages. It's ready in 30 minutes and serves four people.
Make your own mini toad in the hole with this easy and fun recipe. It's a British classic that features chipolata sausages baked in a fluffy batter with rosemary and onion. You can serve it with gravy, mashed potatoes, and veggies for a cozy dinner.
Spice up your chipolata sausages with this tomato, onion, and spinach sauce recipe. It's a simple and tasty sauce that's made with canned tomatoes, onion, garlic, spinach, and herbs. You can simmer the chipolata sausages in the sauce until tender and juicy, and serve them with rice or bread.
Satisfy your cravings with this sausages, peppers, onions, and smoky ketchup recipe. It's a hearty and flavorful dish that's made with chipolata sausages, bell peppers, red onion, and a homemade smoky ketchup that's sweet, tangy, and spicy. You can serve it as a main course or as a sandwich filling.
Whip up a quick and easy meal with this chipolatas with baked beans recipe. It's a kid-friendly dish that's made with chipolata sausages, baked beans, barbecue sauce, cheese, and bread crumbs. You can bake it in the oven until bubbly and golden, and serve it with salad or bread.
Impress your guests with these sticky teriyaki chipolata bites. They are bite-sized appetizers that are coated in a sticky teriyaki sauce that's sweet, salty, and savory. You can make them in the oven or on the grill, and serve them with toothpicks and sesame seeds.
Warm up with this sausage casserole recipe. It's a rich and hearty casserole that's made with chipolata sausages, bacon, onion, garlic, mushrooms, red wine, stock, tomato paste, and herbs. You can cook it in a slow cooker or on the stovetop, and serve it with mashed potatoes or bread.
Try this red potato and sausage bake recipe for a simple and delicious weeknight meal. It's a one-pan dish that's made with red potatoes, chipolata sausages, garlic, rosemary, and olive oil. It's roasted in the oven until crisp and tender. You can serve it with green beans or salad.
Enjoy a low-carb and keto-friendly snack with these keto pigs in blankets. They are made with chipolata sausages wrapped in a mozzarella cheese dough that's seasoned with garlic powder and Italian herbs. They are baked until golden and cheesy, and served with sugar-free ketchup or mustard.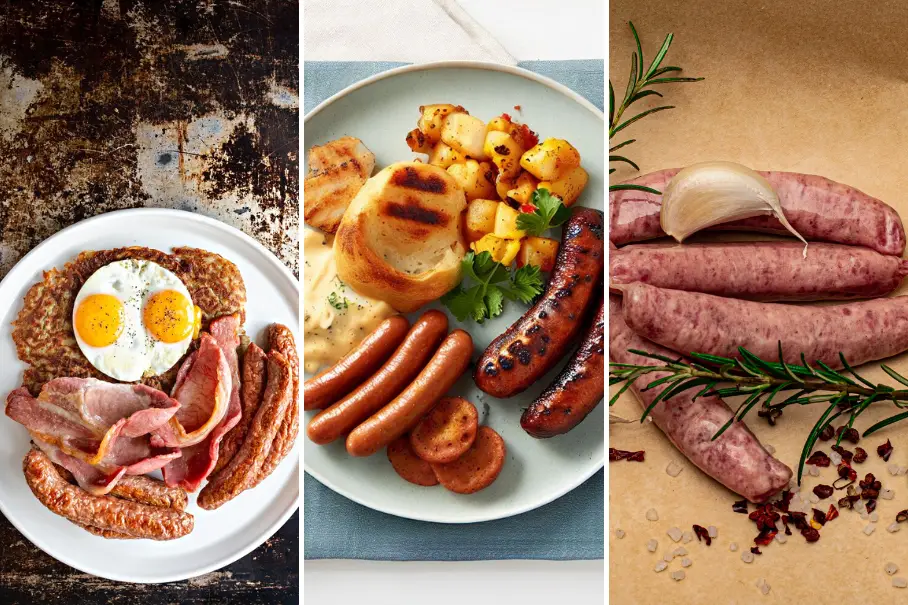 Instructions
Select your favorite chipolata sausage recipe.

Gather all necessary ingredients.

Create a tasty chipolata sausage dish using simple steps and enjoy!