Experience the magic of air frying with a delectable collection of air fryer fish recipes. From tacos to fillets, enjoy some seafood tonight!
OCEAN'S BOUNTY, AIR FRIED
Brace yourself for a culinary thrill that will boost your seafood skills to a new high. If you're a fan of all things fishy and crave that crispy crunch with every bite, you're in for a treat. Today, I'm excited to show you a bunch of air fryer fish recipes that'll change the way you enjoy seafood. From zesty mango-topped Cajun spiced fish tacos to mouthwatering parmesan-crusted halibut, we're diving into the realm of crunchy perfection. These recipes perfectly blend the crunchy texture of air frying with the juicy quality of fish, creating dishes that are easy to whip up and a delight for the taste buds. So, grab your air fryers and start a flavorful journey that'll make you a seafood master in no time!
Enjoy these Cajun spiced fish tacos with a crispy air fryer twist. They are served on fire-grilled corn tortillas and topped with a zesty mango salsa. They are a delicious and easy meal!
This recipe for air fryer fried catfish is low-calorie, low-fat and low-carb. It only requires three ingredients and is ready in minutes. It has a crispy and crunchy texture that you will love!
These fish fillets are cooked in the air fryer until they are golden and crispy on the outside and soft and velvety on the inside. They are done in just 20 minutes and are perfect for any occasion. They are simple and tasty!
These air fryer fish tacos are crispy and flavorful and come with a zesty cilantro lime slaw. They are healthy and easy to make in 30 minutes. They are a great weeknight meal that everyone will enjoy!
Walleye is a freshwater fish that tastes delicious when cooked in the air fryer. You can make it with or without breading and it will be tender and flaky in less than 20 minutes. This recipe will show you how to do it!
You can enjoy beer-battered fish without the guilt by using your air fryer. It is easy, tasty and goes well with some air fried chips and malt vinegar. It is a classic dish that you can make healthier!
These air fryer fish sticks are ready in just 25 minutes and are much healthier than deep-fried ones. They are easy to make and the kids will love them. They are crispy and delicious!
This air fryer parmesan-crusted halibut is an amazing dish. It is crunchy on the outside, tender and flakey on the inside, and full of flavor. It is a must-try recipe for any fish lover!
These air fryer tuna steaks are juicy, tender and divine. You don't need any skills to make them, just your air fryer. They are seared to perfection in minutes.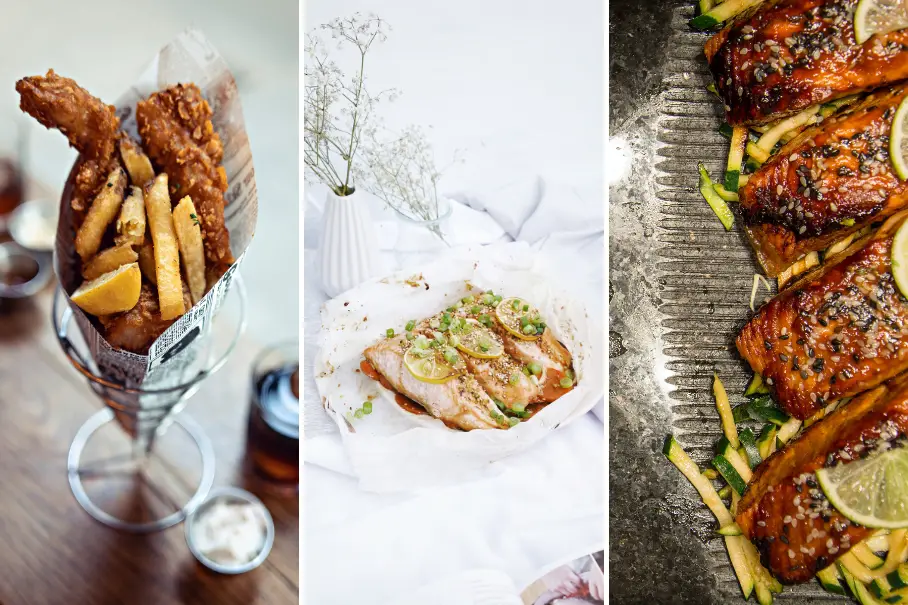 Instructions
Pick an air fryer fish recipe.

Gather all necessary ingredients.

Prepare a flavorful air fryer fish dish using simple steps and delight in the aquatic flavors!