Discover mouthwatering air fryer ground beef recipes that bring irresistible flavor to your table! No more boring dinners for you!
BEEFY BITES, AIR FRIED DELIGHTS
Today, we're embarking on a culinary adventure that's all about hearty satisfaction and unbeatable flavor. Our focus? The amazing world of air fryer ground beef recipes that are set to transform your mealtime game. From succulent Air-fried Pizza Burgers to tender Air Fryer Kofta Wraps, get ready to experience the mouthwatering magic that happens when ground beef meets the air fryer. These recipes promise to please your palate and make your kitchen a center of savory delights. So, join me as we explore these culinary creations that showcase the excellence of air frying combined with the tastiness of ground beef!
RELATED: How To Grind Your Own Beef At Home
Adored by many, the Taco Bell Crunchwrap becomes a breeze to prepare in the air fryer. Transform this iconic recipe into an air-fried delight that's sure to please.
Are air-fried nachos on your radar? Absolutely! These enchanting air fryer nachos, generously topped with ground beef, shredded cheese, salsa, and guac, are a flavor-packed sensation.
Embrace the versatility of the Air Fryer with these Manwich Sloppy Joe Bombs. This recipe is anything but ordinary—prepare for a love-at-first-bite experience.
Two favorites, pizza, and burgers, unite in the air-fried magic of Pizza Burgers. Witness the perfection of these culinary companions cooked to excellence in the air fryer.
Elevate your dining experience with gourmet Air Fryer Meatball Sub Skewers. Succulent all-beef meatballs with mozzarella cheese and savory garlic butter create a 10-minute masterpiece.
Experience a wholesome delight with Air Fryer Kofta Wraps. Juicy, flavorful kofta cooks to perfection in under 15 minutes—get ready to savor every bite.
Indulge in effortless elegance with Air Fryer Meatloaf. Delight in a crisp exterior and perfectly moist interior, all without the need for a meatloaf pan.
Answer the call for quick comfort with Air Fryer Cheeseburger Pockets. These kid-friendly delights are ready in 20 minutes or less, ensuring satisfaction in every bite.
Savor a frozen feast with Air Fryer Hamburgers. Quick, flavorful, and tender, these burgers are an effortless way to enjoy juicy goodness.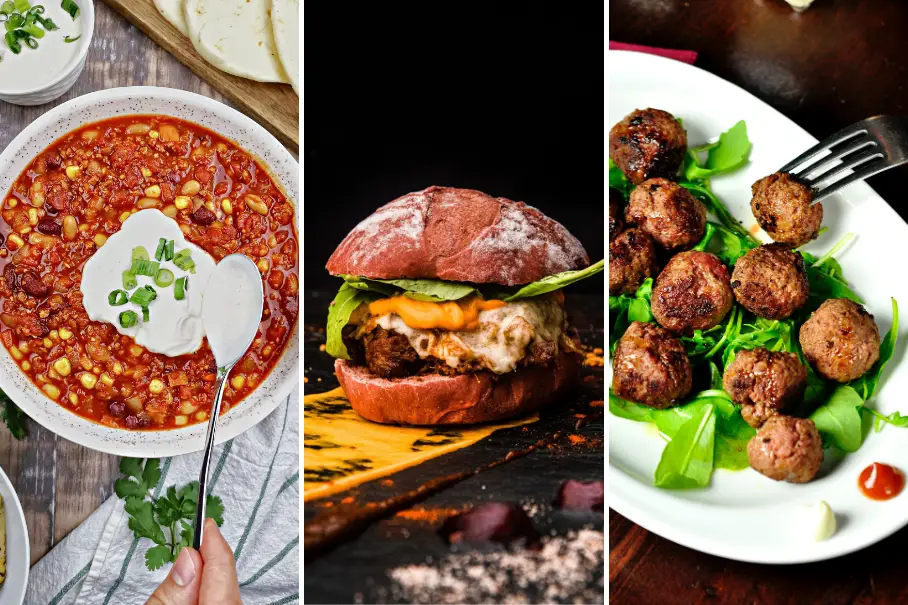 Instructions
Choose an air fryer ground beef recipe that tempts your palate.

Gather all the required ground beef ingredients.

Craft a delicious air fryer ground beef creation using simple steps and enjoy the savory result!