Explore 20 delectable chickpea salad recipes, a flavorful journey for your taste buds.
CHICKPEA SALADS THAT ARE FILLING AND FANTASTIC
Chickpea salad recipes are a great way to enjoy the flavor and nutrition of chickpeas in a fresh and satisfying way. Whether you're looking for a simple and easy salad, a hearty and filling salad, or a spicy and exotic salad, you'll find plenty of recipes to suit your taste buds in this list. From rosemary lemon garlic chickpea salad to chopped Thai chickpea salad, from chickpea and feta salad to chickpea tuna salad, from marinated zucchini and chickpea salad to outrageous herbaceous Mediterranean chickpea salad, and more, these chickpea salad recipes are easy to make and delicious to eat. You'll love the combination of crunchy, creamy, tangy, and sweet tastes that make chickpea salads so irresistible. So grab some chickpeas and get ready to toss these amazing dishes. These are the best chickpea salad recipes you need to try.
For a refreshing and satisfying salad, try this rosemary, lemon, and garlic chickpea salad. It's packed with protein, fiber, and flavor, and it only takes 10 minutes to make. You can enjoy it as a main dish or a side dish, or serve it on toast or lettuce wraps.
This chickpea and feta salad is a delicious way to add some Mediterranean flair to your meal. It's loaded with crunchy cucumbers, juicy tomatoes, tangy feta cheese, and fresh herbs. A simple lemon dressing ties it all together. It's perfect for picnics, potlucks, or meal prep.
If you love zucchini, you'll love this marinated zucchini and chickpea salad. It's a light and refreshing salad that's vegan and gluten-free. The zucchini is sliced thin and marinated in a lemony dressing, then tossed with chickpeas, olives, and basil. It's great for summer or anytime you need a burst of freshness.
This chickpea quinoa salad is a hearty and healthy salad that's easy to make and customize. It's made with cooked quinoa, chickpeas, cherry tomatoes, cucumbers, red onions, and parsley. A zesty lemon dressing adds some brightness and flavor. You can add some cheese, nuts, or avocado for extra creaminess and crunch.
Spice up your salad game with this curried chickpea salad. It's a creamy and flavorful salad that's vegan and gluten-free. It's made with mashed chickpeas, vegan mayo, curry powder, raisins, and celery. You can serve it on bread, crackers, or lettuce leaves for a satisfying snack or lunch.
This chopped chickpea Greek salad is a fun and easy twist on the classic Greek salad. It's made with chopped romaine lettuce, chickpeas, tomatoes, cucumbers, olives, red onions, and feta cheese. A homemade Greek dressing adds some tang and spice. It's a filling and flavorful salad that's ready in 15 minutes.
Transport yourself to the tropics with this tropical chickpea salad. It's a fruity and colorful salad that's vegan and gluten-free. It's made with chickpeas, pineapple, mango, bell pepper, cilantro, and lime juice. It's sweet, tangy, and refreshing.
This chickpea salad recipe is a family favorite that everyone will love. It's a simple and tasty salad that's made with chickpeas, avocado, cucumber, tomato, red onion, cilantro, and lemon juice. It's creamy, crunchy, and satisfying. You can eat it as a salad or use it as a filling for sandwiches or wraps.
This chickpeas cucumber tomato salad is a classic Romanian salad that's perfect for summer. It's a light and refreshing salad that's made with canned chickpeas, fresh cucumbers, tomatoes, green onions, parsley, and dill. A vinegar and oil dressing adds some acidity and flavor. It's a great way to use up your garden produce.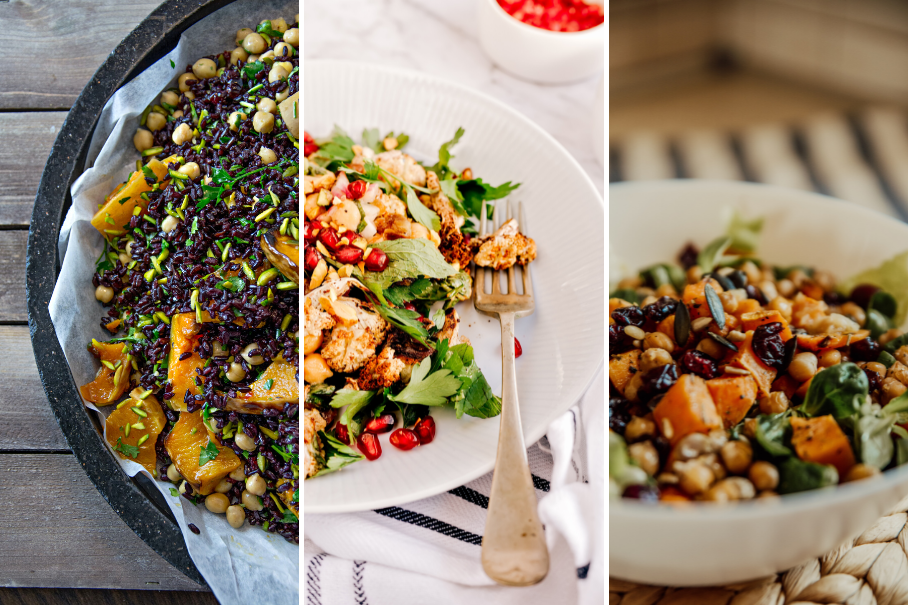 Instructions
Select your favorite chickpea salad recipe.

Gather all necessary ingredients.

Create a tasty chickpea salad using simple steps and enjoy!