Applesauce recipes for slathering and some for plain snacking! Get ready to use up all those extra apples with awesome recipes!
SERIOUSLY SWEET APPLESAUCE RECIPES
Applesauce is one of those foods that is incredibly versatile. It is a sauce, a snack, and even a whole meal for babies! I have even put some in the freezer and let it get semi-frozen for when I have been craving Italian Ice, but don't have any. However, sometimes plain applesauce just isn't going to cut it. Sometimes, we need more than crushed up apples. That's where these applesauce recipes come in handy. Think of them as your favorite fruit snack, just better!
Check out these applesauce recipes, grab a bushel of apples, and start sizzling up some pork chops, or make room in the freezer!
It's so simple to make your own wonderful homemade applesauce! This recipe is kid-friendly and contains additional vegetables with only a few simple ingredients.
Use this recipe for Instant Pot Rhubarb Applesauce, which just requires a few simple ingredients and can be made as smooth or chunky as you choose.
Fill your canning shelves for the winter with this warm, fragrant applesauce recipe that incorporates healthy ingredients!
The tartness of blackberries, and the super-sweet apples make this recipe for Blackberry Applesauce a winner.
Check out this homemade raspberry apple sauce! Simple fruity flavors come together to delight your taste buds! Sinfully sweet with just sun-ripened raspberries and luscious, juicy apples.
A tasty dessert, side dish, or snack to serve your family is Instant Pot Strawberry Applesauce. It is fresh and contains no secret additives.
Delicious homemade pumpkin applesauce. Apples, pumpkin, water, and spices are all you need. It's simple, healthy, and has a fall flavor.
Everyone will be begging you to make more of this delicious Crock Pot Peach Apple Sauce, it's just that good!
The use of the Instant Pot makes this simple homemade applesauce completely foolproof and makes it even better by including super-sweet pears.
Do you want to spice up your applesauce? This piping-hot applesauce will work. It has a lovely red color and is a fantastic way to use up leftover apples.
This year-round favorite recipe for homemade chunky maple cinnamon applesauce will undoubtedly become a fall staple.
This homemade blueberry applesauce is flavored more like apple pie than a nutritious whole-foods snack and is sweetened with vanilla and coconut sugar.
Applesauce cooked at home in a crock pot is the ideal way to welcome autumn. This applesauce recipe uses all of the excess apples you have lying around, is really flavorful, and only requires 5 ingredients.
Applesauce is the ideal method to use up a lot of apples. This applesauce is amazing! It resembles apple pie filling almost exactly. In addition to having brown sugar, cinnamon, and nutmeg, it is also quite simple to put together.
The ideal way to enjoy apple season is with simple homemade applesauce! It is bursting with warm cinnamon flavor and very simple to create!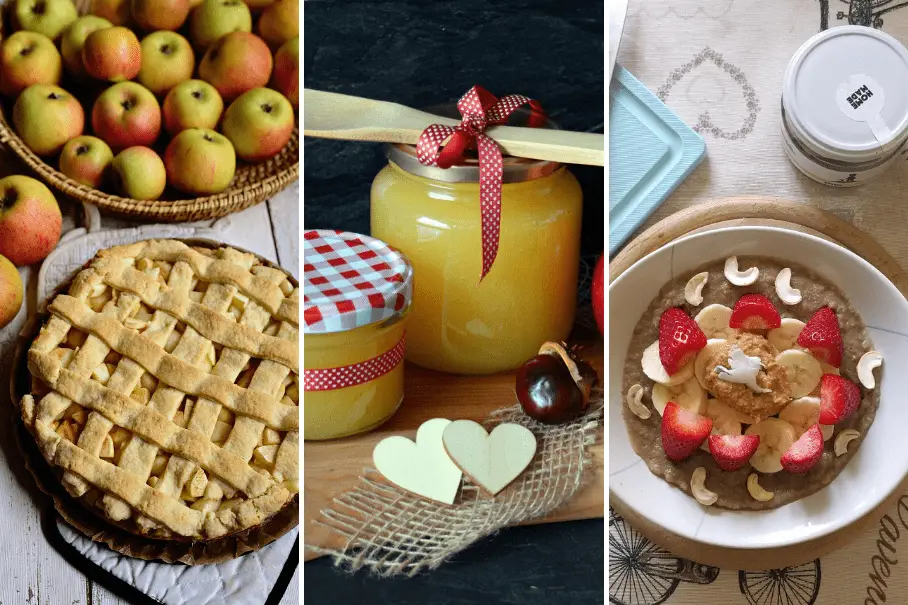 Instructions
Choose your favorite applesauce recipe.

Gather all the necessary ingredients.

Prepare a delightful applesauce recipe and enjoy!