Explore 24 versatile chickpea recipes packed with protein, fiber, and flavor!
THESE CHICKPEA RECIPES PROVIDE THE PERFECT PROTEIN PUNCH
Chickpeas are one of the most versatile and nutritious ingredients in your pantry. They are rich in protein, fiber, iron, and antioxidants, and they can be used in a variety of dishes, from dips and salads to curries and stews. Whether you call them chickpeas or garbanzo beans, these legumes can add flavor, texture, and health benefits to your meals. In this list, we have compiled 24 amazing chickpea recipes that you can try at home. You will find easy and delicious ways to make hummus, falafel, chana masala, and more. You will also discover some surprising and creative ways to use chickpeas in desserts, such as brownies, chocolate hummus, and banana cake. These chickpea recipes are perfect for any occasion, whether you need a quick lunch, a hearty dinner, or a sweet treat. Plus, they are all vegetarian-friendly and some are vegan and gluten-free as well. So grab a can of chickpeas and get ready to explore the wonderful world of chickpea recipes!
Learn how to make hummus, the creamy and versatile dip that's perfect for snacking or entertaining. All you need are a few ingredients and a food processor or blender. You can customize it with different flavors and toppings, or enjoy it plain with some pita bread or fresh veggies.
Chickpea salad is a delicious and easy dish that you can whip up in minutes. It's made with canned chickpeas, celery, onion, mayo, and seasonings. You can serve it on bread, crackers, lettuce, or as a side dish. It's a great way to use up leftover chickpeas or add some protein to your meal.
Chickpea pasta salad is a hearty and healthy salad that's packed with flavor and texture. It's made with chickpea pasta, cherry tomatoes, cucumber, olives, feta cheese, and fresh herbs. A homemade lemon dressing adds some zing and brightness. It's gluten-free, vegetarian, and perfect for picnics or potlucks.
Chickpea shawarma sandwich is a vegan version of the Middle Eastern street food that's full of spice and aroma. It's made with roasted chickpeas that are seasoned with shawarma spices, then stuffed into warm pita bread with lettuce, tomato, onion, and a creamy garlic sauce. It's satisfying, flavorful, and easy to make.
Roasted chickpeas are a crunchy and addictive snack that you can make in the oven with just a few ingredients. They are tossed with olive oil, salt, pepper, and your favorite spices, then baked until crisp and golden. You can enjoy them as a snack, salad topper, or even as a crouton substitute.
Chickpea burgers are a tasty and meatless alternative to regular burgers that are easy to make and customize. They are made with mashed chickpeas, oats, spices, and fresh herbs, then pan-fried until golden and crisp. You can serve them on buns with your favorite toppings or on a bed of greens for a low-carb option.
Falafel is a traditional Mediterranean dish that consists of deep-fried balls of spiced chickpea mixture. They are crispy on the outside and tender on the inside, and can be served in many ways. You can eat them as an appetizer with tahini sauce or hummus, or as a main dish in a pita sandwich with salad and pickles.
Chana masala is a popular Indian dish that features chickpeas cooked in a spicy tomato-based sauce. It's vegan, gluten-free, and full of flavor and nutrition. You can make it in one pot in less than 30 minutes, using pantry staples and fresh ingredients. You can serve it over rice or with naan bread for a satisfying meal.
Sausage and chickpea skillet is a quick and easy dish that you can make in one pan in less than 20 minutes. It's made with smoked sausage, canned chickpeas, spinach, garlic, and red pepper flakes. It's hearty, spicy, and delicious. You can serve it with crusty bread or over rice for a complete meal.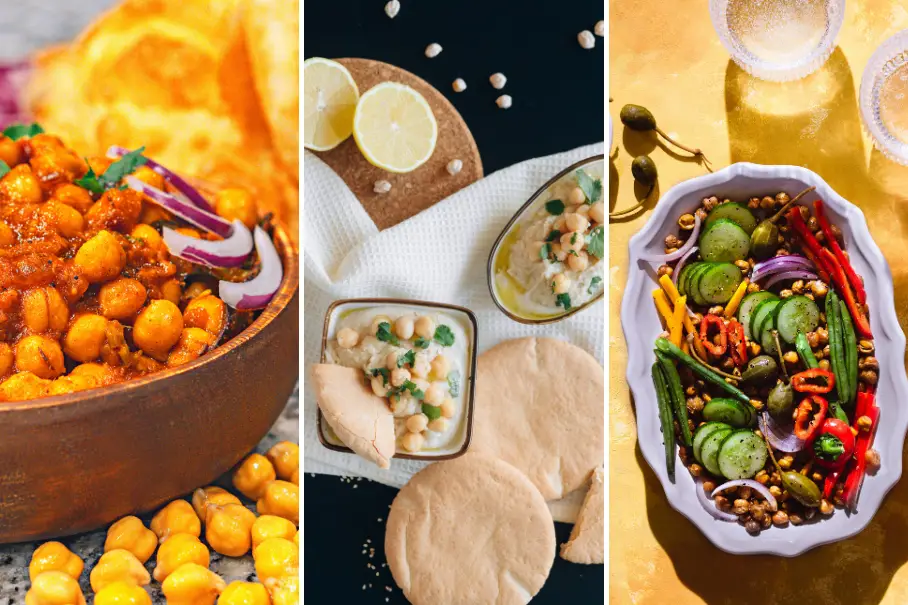 Instructions
Select your favorite chickpea recipe.

Gather all necessary ingredients.

Create a tasty chickpea dish using simple steps and enjoy!