Discover a collection of 25 savory chickpea flour recipes, perfect for every palate from morning to night.
CHICKPEA FLOUR RECIPES TO POWER YOU THROUGH THE DAY
Chickpea flour, also known as garbanzo bean flour or besan, is a gluten-free alternative to wheat flour that is rich in protein and fiber. It has a nutty flavor and a versatile texture that can be used for making bread, pizza, pancakes, muffins, and more. Chickpea flour is also a staple ingredient in many Indian dishes, such as pakoras, rotis, and curries. Whether you are looking for a gluten-free option or just want to try something new, chickpea flour is a great ingredient to experiment with. In this list, you will find 25 delicious chickpea flour recipes that are easy to make and full of flavor. From savory to sweet, there is something for everyone on this list. So grab your chickpea flour and get ready to explore these 25 amazing recipes.
Make your own vegan and grain-free sandwich bread with just five ingredients and a blender. Chickpea flour, seltzer water, oil, sugar, and baking soda are all you need to create a moist and tender loaf that's perfect for toasting or slicing.
Garbanzo gravy is a creamy and flavorful sauce that's vegan, gluten-free, and easy to make. It's made with chickpea flour, vegetable broth, nutritional yeast, and spices. Drizzle it over mashed potatoes, biscuits, or roasted vegetables.
Enjoy a savory breakfast with these chickpea flour pancakes. They're vegan, gluten-free, and high in protein and fiber. They're also customizable with your favorite toppings, such as avocado, tomatoes, or hummus.
For a filling and delicious lunch, try this chickpea omelette sandwich. It's vegan, gluten-free, and packed with veggies and greens. The omelette is made with chickpea flour, water, salt, and pepper, and cooked in a skillet until golden.
Pizza night just got easier and healthier with this chickpea crust pizza. It's gluten-free, dairy-free, and vegan-friendly. The crust is made with chickpea flour, water, oil, and salt, and baked until crisp. Then you can add your favorite sauce and toppings.
Chickpea flour tortillas are a great alternative to wheat or corn tortillas. They're gluten-free, grain-free, and vegan. They're also easy to make with just four ingredients: chickpea flour, water, oil, and salt. Use them for tacos, burritos, or wraps.
Crispy vegetable pakoras are a popular Indian snack that's crunchy on the outside and soft on the inside. They're made with chickpea flour, water, spices, and chopped vegetables. They're fried in oil until golden and served with chutney or sauce.
Socca is a traditional French flatbread that's made with chickpea flour, water, oil, salt, and rosemary. It's gluten-free, vegan, and high in protein. It's baked in a cast-iron skillet until crisp and cut into wedges.
Missi roti is a flavorful Indian flatbread that's made with chickpea flour, whole wheat flour, onion, cilantro, and spices. It's cooked on a griddle until browned and puffed. It's best served hot with yogurt or pickle.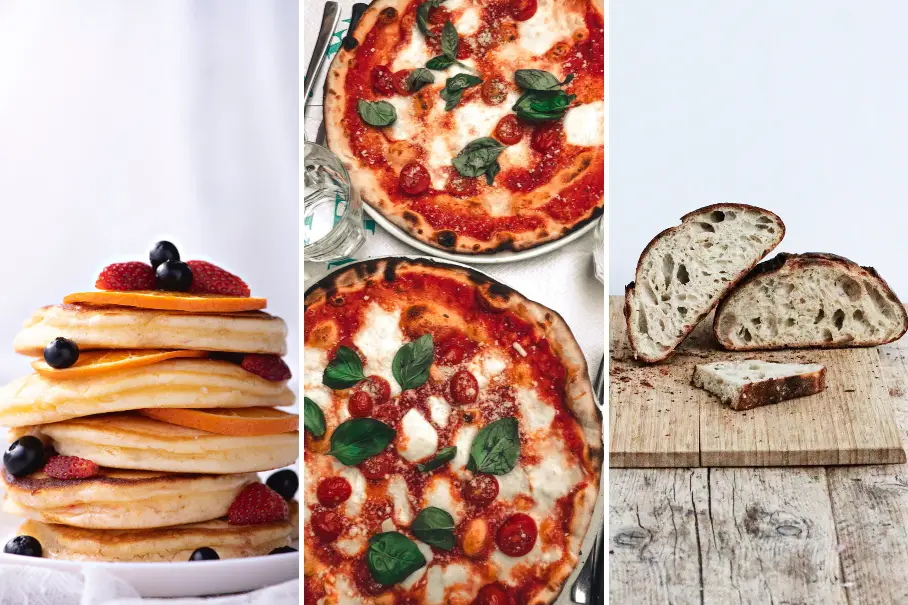 Instructions
Select your favorite chickpea flour recipe.

Gather all necessary ingredients.

Prepare a tasty chickpea flour creation using simple steps and enjoy!