Explore these delectable chicken broth recipes showcasing its in soups, casseroles, stews, and more!
Irresistible Chicken Broth Creations
Chicken broth is a versatile and flavorful ingredient that can be used in many delicious recipes. Whether you want to make a cozy and comforting soup, a creamy and cheesy casserole, a hearty and satisfying stew, or a simple and easy skillet dish, you'll find plenty of recipes to enjoy in this list. From chicken and broccoli rice to chicken pho, from chicken stew to chicken alfredo, from chicken noodle soup to chicken caesar pasta, and more, these chicken broth recipes are easy to make and delicious to eat. You'll love the combination of tender chicken and rich sauces that make these dishes so satisfying. So grab some chicken broth and get ready to cook these amazing dishes.
Whip up this one-pan dish for a cheesy, easy dinner that's loaded with simple ingredients like chicken, rice, and broccoli. It's perfect for a busy weeknight when you need a satisfying meal with minimal cleanup. Just sprinkle some cheddar cheese on top and enjoy.
Warm up with this hearty chicken stew that's packed with tender chunks of chicken, potatoes, carrots, and peas in a savory broth. It's a cozy and comforting dish that you can make in your slow cooker or on the stovetop. Serve it with some crusty bread for a complete meal.
Treat yourself to this skillet chicken and mushroom wine sauce that's a restaurant-quality meal that you can make at home in less than 30 minutes. The chicken is juicy and tender, and the mushroom sauce is rich and creamy. Pair it with pasta, rice, or bread for a delicious dinner.
Make this oven baked chicken and rice for a one-pot wonder that requires no fuss or stirring. The chicken is crispy on the outside and moist on the inside, and the rice is fluffy and flavorful. It's a family-friendly meal that everyone will love.
When it comes to chicken broth recipes, nothing beats this easy homemade chicken noodle soup that's a classic comfort food that you can make in 30 minutes or less. It's loaded with chicken, noodles, carrots, celery, and fresh herbs in a savory broth. It's the perfect soup for cold days or when you're feeling under the weather.
Enjoy this chicken pot pie casserole that's a creamy and delicious way to use up leftover chicken or turkey. It's topped with a cheesy biscuit crust that's golden and crisp. It's a warm and satisfying meal that the whole family will enjoy.
Use up your summer produce or sneak in some greens with this zucchini rice casserole that's a cheesy and veggie-packed dish that's easy to make and customize. You can use fresh or frozen zucchini, brown or white rice, and your favorite cheese. It's a great side dish or main course.
Save time and dishes with this one pot chicken minestrone soup that's a hearty and healthy meal that's ready in 30 minutes. It's loaded with chicken, beans, vegetables, and pasta in a tomato-based broth. It's a filling and flavorful soup that's perfect for any season.
Spice up your soup night with this chicken tortilla soup that's a spicy and satisfying soup that's made with shredded chicken, black beans, corn, tomatoes, and spices. It's topped with crunchy tortilla strips, cheese, sour cream, and cilantro. It's a crowd-pleasing soup that's easy to make and freeze.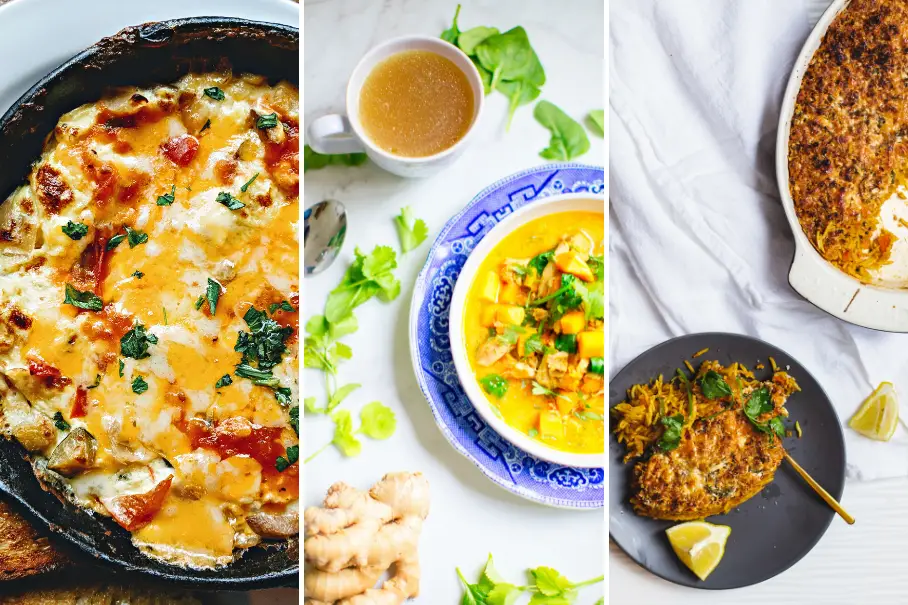 Instructions
Select your favorite chicken broth recipe.

Gather all necessary ingredients.

Create a tasty chicken broth dish using simple steps and enjoy!