Dive into a world of tantalizing chicken wing recipes, from fiery Nashville Hot to sweet Maple Glazed. Discover a wing for every craving and occasion!
CHICKEN WINGS THAT ARE MORE THAN JUST FINGER LICKIN' GOOD
Chicken wings are a crowd-pleasing appetizer, snack, or main course that can be enjoyed any time of the year. Whether you like them spicy, sweet, tangy, or savory, there is a chicken wing recipe for you. Here are 16 chicken wing recipes that will make you lick your fingers and ask for more. From buffalo chicken wing soup and Nashville hot chicken wings, to Caribbean pineapple baked chicken wings and Thai chicken wings with spicy peanut sauce, there is something for everyone in this list. Plus, you'll find some healthy and gluten-free options as well. So grab your napkins and get ready to make some amazing chicken wings with these chicken wing recipes.
If you love buffalo chicken wings, you'll love this buffalo chicken wing soup. It's a creamy and spicy soup that's loaded with chicken, cheese, celery, and carrots. You can top it with blue cheese and green onions for extra flavor. Who said that all chicken wing recipes have to be on the bone?!
Nashville hot chicken wings are a fiery and flavorful treat that will make your mouth water. They are coated in a spicy batter and fried until crispy, then tossed in a hot sauce made from cayenne pepper, brown sugar, paprika, and garlic. They are served with pickles and white bread to balance the heat.
Soy garlic ginger chicken wings are a delicious and easy appetizer or snack that you can make in the oven or air fryer. They are marinated in a savory sauce made from soy sauce, garlic, ginger, honey, and vinegar, then baked or air fried until golden and sticky. They are sprinkled with sesame seeds and scallions for some crunch and freshness.
Chicken broccoli stir fry is a healthy and satisfying dish that's Whole30 compliant and gluten-free. It's made with tender chicken, crisp broccoli, and a flavorful sauce made from coconut aminos, sesame oil, ginger, garlic, and arrowroot starch. It's ready in 20 minutes and tastes great with cauliflower rice or zoodles.
Honey garlic chicken wings are a sweet and savory dish that's perfect for any occasion. They are baked in the oven until crispy, then coated in a sticky sauce made from honey, garlic, soy sauce, and vinegar. They are finger-licking good.
Crispy fried chicken wings are a classic dish that's easy to make at home. They are seasoned with salt, pepper, garlic powder, and onion powder, then dipped in flour and fried until golden and crunchy. You can serve them with your favorite dipping sauce or enjoy them plain.
Red chimichurri chicken wings are a tasty and tangy dish that's inspired by the Argentinean sauce. They are grilled until charred and juicy, then brushed with a red chimichurri sauce made from red wine vinegar, olive oil, parsley, oregano, garlic, red pepper flakes, and smoked paprika. They are bursting with flavor.
Grilled chicken wings are a simple and delicious dish that's great for summer. They are seasoned with salt, pepper, garlic powder, onion powder, and paprika, then grilled over high heat until crispy and charred. You can toss them in your favorite sauce or serve them with lemon wedges for some acidity.
Caribbean pineapple baked chicken wings are a tropical and tasty dish that's easy to make in the oven. They are marinated in a sweet and spicy sauce made from pineapple juice, brown sugar, soy sauce, ketchup, vinegar, garlic, and ginger. Then, they are baked until sticky and caramelized. They are garnished with cilantro and lime juice for some freshness.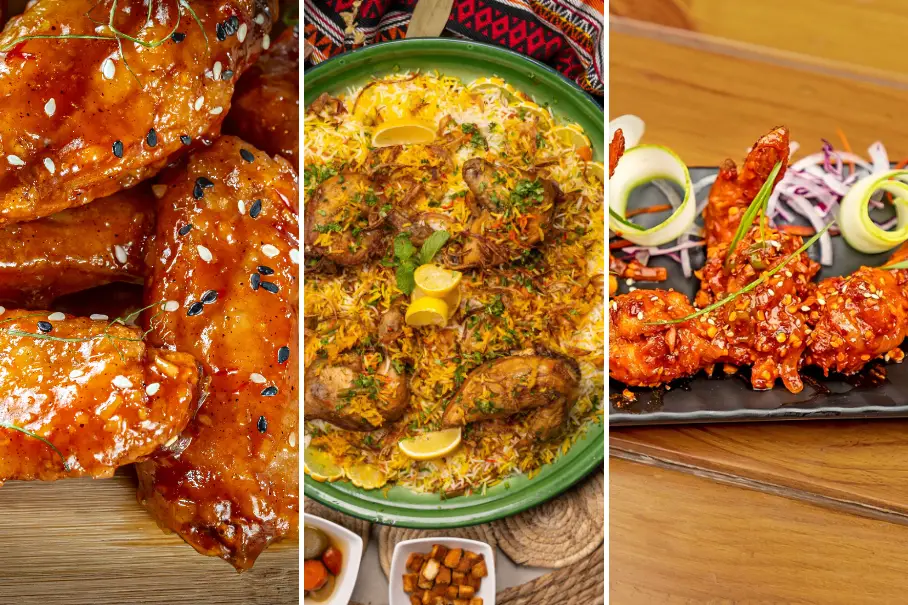 Instructions
Select your favorite chicken wing recipe.

Gather all necessary ingredients.

Create a tasty chicken wing dinner using simple steps and enjoy!