Discover 18 unique chicory recipes for flavorful meals.
GET A VEGGIE BOOST THAT IS ANYTHING BUT BORING
Chicory is a leafy vegetable that comes in different varieties, such as endive, radicchio, escarole, and frisée. It has a crisp texture and a slightly bitter taste that adds a lot of flavor and contrast to any dish. Whether you want to enjoy it raw, cooked, or grilled, you'll find plenty of chicory recipes to inspire you in this list. From caramelized chicory with orange and thyme to chicory soup, from beet citrus chicory salad to chicory caesar salad, from passatelli in broth with chicken and chicory to steak salad with chicory, and more, these chicory recipes are easy to make and delicious to eat. You'll love the combination of sweet, sour, salty, and bitter tastes that make chicory recipes so unique and satisfying. So grab some chicory and get ready to cook these amazing dishes. These are the best chicory recipes you need to try.
Caramelised chicory with orange and thyme is a simple yet elegant side dish that pairs well with roasted meats or fish. The bitter chicory is balanced by the sweet and tangy orange sauce, while the thyme adds a fragrant touch. Ready in just 20 minutes, this recipe is perfect for a weeknight dinner or a special occasion.
Beet, citrus, and chicory salad with ricotta salata and pistachios is a stunning winter salad that showcases seasonal produce. The vibrant colors and flavors of the roasted beets, juicy citrus, and crisp chicory are enhanced by the salty cheese and crunchy nuts. A lemony dressing ties everything together in this healthy and delicious salad.
Passatelli in broth with chicken and chicory is a traditional Italian dish that warms you up from the inside out. Passatelli are small noodles made from bread crumbs, eggs, and cheese, cooked in a rich chicken broth. Chicory adds a touch of bitterness and freshness to the soup, making it a satisfying and comforting meal.
Sauteed chicory is a quick and easy way to enjoy this leafy green vegetable. All you need is some olive oil, garlic, salt, and pepper to bring out the best of its flavor and texture. Sauteed chicory makes a great side dish for any Italian-inspired main course, or you can toss it with some pasta for a simple vegetarian meal.
Braised chicory is a delicious way to transform this bitter vegetable into a tender and flavorful dish. The chicory is cooked slowly in a mixture of butter, sugar, and vinegar, creating a sweet and sour glaze that caramelizes the leaves. Braised chicory can be served hot or cold, as a side dish or a salad.
Grilled chicory salad with chile-fennel dressing is a smoky and spicy salad that will wake up your taste buds. The grilled chicory has a charred and nutty flavor that contrasts with the creamy and tangy dressing. The dressing is made with yogurt, fennel seeds, chile flakes, lemon juice, and honey, and it's drizzled over the warm chicory and sprinkled with fennel fronds.
Pan-fried chicory is a simple but tasty way to prepare this versatile vegetable. The chicory is cut into wedges and fried in a hot skillet until golden and crisp on the outside and soft on the inside. A splash of lemon juice and some salt and pepper are all you need to season this dish, which can be enjoyed as a snack or a side.
Bar Tartine's chicory salad with anchovy dressing is a hearty and flavorful salad that features an assortment of chicories, such as endive, radicchio, and escarole. The anchovy dressing is rich and savory, with garlic, lemon juice, olive oil, and parmesan cheese. The salad is topped with toasted bread crumbs and hard-boiled eggs for extra crunch and protein.
Chicory Caesar salad is a twist on the classic Caesar salad that uses chicory instead of romaine lettuce. The chicory has a crisp and bitter taste that pairs well with the creamy and garlicky dressing. The dressing is made with mayonnaise, anchovies, lemon juice, Worcestershire sauce, and parmesan cheese, and it's tossed with the chicory and croutons.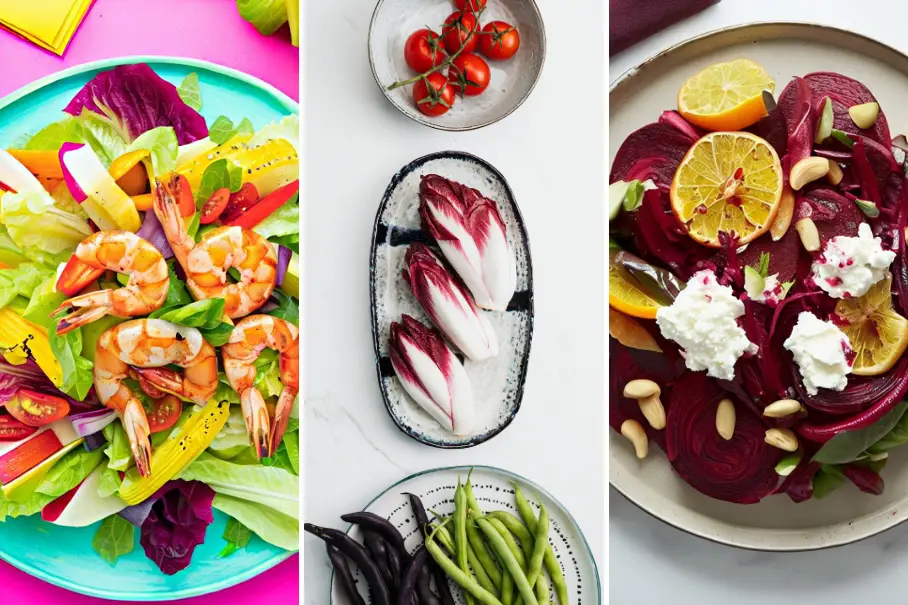 Instructions
Select your favorite chicory recipe.

Gather all necessary ingredients.

Create a tasty chicory dish using simple steps and enjoy!