Explore a world of chicken sandwich creations, from classic Philly Cheesesteak to exotic Banh Mi. These recipes offer a delightful twist on the traditional sandwich experience.
TASTY AND VERSATILE CHICKEN SANDWICHES
Chicken sandwiches are a staple for lunch or dinner, but they don't have to be boring. You can make them with different kinds of bread, cheese, sauces, and toppings to create a variety of flavors and textures. Whether you want a crispy, cheesy, spicy, or fruity chicken sandwich, we have a recipe for you. Here are 19 chicken sandwich recipes that will make your mouth water. From chicken cordon bleu sandwich and chicken parmesan sliders, to mango chicken salad sandwich and Vietnamese chicken sandwich (banh mi), there is something for everyone in this list. Plus, you'll find some easy and healthy options as well. So grab your bread and get ready to make some delicious sandwiches with these chicken sandwich recipes.
Transform a classic French dish into a mouthwatering sandwich with this chicken cordon bleu recipe. You'll need only six ingredients and 15 minutes to make it. Juicy chicken, smoky ham, and melty cheese are sandwiched between two slices of buttery bread and toasted until golden. It's a simple yet satisfying way to enjoy a gourmet lunch or dinner.
These chicken parmesan sliders are the perfect bite-sized appetizers for any occasion. They're easy to make with shredded chicken, marinara sauce, cheese, and slider buns. You can bake them in the oven or cook them in the air fryer for extra crispiness. Serve them with a sprinkle of parsley and some extra sauce for dipping. An OG when it comes to chicken sandwich recipes!
Monterey chicken sandwiches are loaded with flavor and texture. They feature grilled chicken breasts topped with barbecue sauce, bacon, cheese, and fresh tomatoes. The sandwiches are served on soft buns with lettuce and mayonnaise. They're hearty, delicious, and ready in under 30 minutes.
If you love chicken salad, you'll adore this chicken Waldorf salad sandwich. It's made with shredded chicken, apples, grapes, celery, walnuts, and a creamy dressing. The salad is sweet, crunchy, and refreshing, and pairs well with whole wheat bread or croissants. It's a great way to use up leftover chicken or rotisserie chicken.
For a fresh and light sandwich, try this chicken caprese recipe. It's made with grilled chicken, fresh mozzarella, basil, and tomatoes, drizzled with balsamic glaze. The sandwich is served on ciabatta bread that's toasted until crisp on the outside and soft on the inside. It's a summer favorite that you can enjoy all year round.
Classic chicken salad is a versatile and easy recipe that you can make ahead of time and store in the fridge. It's made with cooked chicken, mayonnaise, celery, onion, lemon juice, and seasonings. You can customize it with your favorite add-ins, such as nuts, cranberries, or herbs. Enjoy it on bread, crackers, lettuce wraps, or salads.
Spice up your sandwich game with this buffalo chicken panini recipe. It's made with shredded chicken tossed in buffalo sauce, cheese, ranch dressing, and green onions. The sandwich is pressed in a panini maker or skillet until hot and melty. It's a spicy and cheesy treat that will satisfy your cravings.
Impress your guests with this party-sized chicken parm sandwich that feeds a crowd. It's made with breaded chicken cutlets baked in tomato sauce and cheese, then layered on a large loaf of bread with more sauce and cheese. The sandwich is sliced into individual portions that are easy to grab and enjoy.
This spicy chicken bacon avocado grilled cheese sandwich is a decadent and delicious way to indulge your taste buds. It's made with shredded chicken seasoned with cumin and chili powder, crispy bacon, sliced avocado, cheese, and buttery bread. The sandwich is grilled until ooey-gooey and served with salsa or sour cream.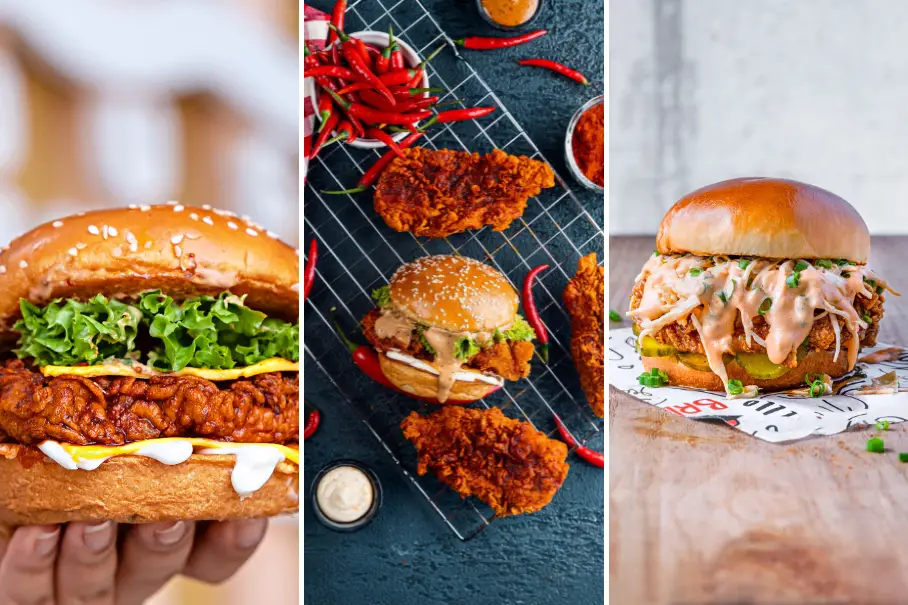 Instructions
Select your favorite chicken sandwich recipe.

Gather all necessary ingredients.

Create a tasty chicken sandwich using simple steps and enjoy!